Publisher:

Ubisoft

Release Date:

Nov 17, 2009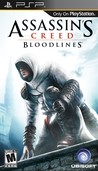 Summary:

For the first time, become a Master Assassin on the PSP system with Assassin's Creed: Bloodlines. Follow the story of Altair immediately following the events of Assassin's Creed and track down the last of the Templars who have fled the Holy Land and retreated to the Island of Cyprus. [SCEA]
Developer:

Griptonite Games

Genre(s):

Action Adventure

,

Historic

,

Historic

,

Open-World

# of players:

No Online Multiplayer

Cheats:

On GameFAQs

Rating:

M
A great sequel to the first Assassin's Creed (PS3, X360). If you played it you definitely have to buy this one as well.

Great location, good gameplay and very interesting story. Assassin's Creed Bloodlines achieves the goal of reproducing console's style into the PSP. Good visuals, enhanced combat system and new money-system could be what the entire saga needed in order to evolve. Bad A.I. influences some fighting sessions, and the too repetitive mission can slow down the pace. Every PSP owner should at least try this fairly good title.

Assassin's Creed: Bloodlines is in many ways the fulfillment of a dream: a portable version of Assassin's Creed that loses as little as possible in terms of graphics and freedom of movement. The result is a product of good quality, a little short (the total length would be around six to seven hours) and plagued by some problems about the controls and the camera.

After 2 showed us what Assassin's should be like, Bloodlines feels like a step backwards. [Jan 2010, p.94]

Despite some obvious talent on the part of Griptonite Games, Assassin's Creed: Bloodlines smacks a little too much of an unloved, unwanted by-product birthed from the success of the franchise.

The game keeps with the spirit of the original Assassin's Creed, but fails to comply with the letter. Its technical flaws outweigh the artistic merits.

Simply put, there are too many negatives here and too many other excellent action games on the PSP to justify spending time with this jumbled mess. This is one set of memories best left forgotten.
It is such a good game in fact one of the best. It has a splendid story with awesome moves to kill the templars. Great upgrades, and best of

It is such a good game in fact one of the best. It has a splendid story with awesome moves to kill the templars. Great upgrades, and best of all you can do so many things in the game. Indeed it has bad cut-scenes. But on a whole, it is great. I would give it a score of atleast 8.5 - 9.5. Well done Ubisoft! Users rating should defenitely be higher. Metascore should also be higher.

…

Expand

This is a awesome game,good graphics,good gameplay system,good story,but the controls could be better and some bugs happened to me like

This is a awesome game,good graphics,good gameplay system,good story,but the controls could be better and some bugs happened to me like entering in the ground but nothing that made me don't like the game,i recommend this game to everyone that haves a psp.

…

Expand

The plot of the game was satisfying and attractive enough to make the gamer follow it and keep him/her passionate to continue playing. For me,

The plot of the game was satisfying and attractive enough to make the gamer follow it and keep him/her passionate to continue playing. For me, it was unexpected to see such graphics in the game, due to hardware limits of PSP. Overall, I enjoyed playing the game and considering some defects in the game, I would like to give it an 8. I know the developers have tried their best to make the best possible within the limitations.

…

Expand

I was surprised that a handheld version of this game was actually pretty good for a playstation portable game. I purchased it at 20 bucks and

I was surprised that a handheld version of this game was actually pretty good for a playstation portable game. I purchased it at 20 bucks and give it a 7.9 out of 10.

…

Expand

Игра слишком поздно вышла на PSP. Однако, это не причина проходить мимо всем любителям серии.

Игра слишком поздно вышла на PSP. Однако, это не причина проходить мимо всем любителям серии.

poor gameplay not worth your money dont get it unless your depressedits really that bad
| | |
| --- | --- |
| 49 | |
| 4 | #4 Most Discussed PSP Game of 2009 |
| 4 | #4 Most Shared PSP Game of 2009 |