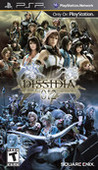 Developer:

Square Enix

Genre(s):

Action

,

Fighting

,

Fighting

,

3D

,

3D

# of players:

No Online Multiplayer

Cheats:

On GameFAQs

Rating:

T
Please enter your birth date to watch this video:
You are not allowed to view this material at this time.
Dissidia 012: Duodecim Final Fantasy TGS 2010 Official Trailer
It improves on the original adding more fighters, movements, exploration and customization options. Possibly one of the best fighting games of the system, and in recent years.

This is one of those few games that justify Sony's portable console's existence. If you own a PSP you absolutely cannot miss it.

With a 20+ hour long story mode, a lengthy game+ mode, plenty of extras, and unlockable content, you won't be able to put Duodecim down any time soon.

This sequel is slow to show off its best features, but once it does, you won't want to stop playing.

A comprehensive Who's Who of Final Fantasy, DDFF manages to transpose the core elements of Square Enix's long running franchise into a highly polished fighter with depth.

Ultimately I can only recommend Dissidia 012 if you really liked the first Dissidia. If that's the case then you should think about selling or trading in the original game, since Dissidia 012 is essentially the same game, only with a new story mode and a character assist mechanic thrown in.

Unless you're truly a glutton for punishment or simply have to own everything the words "Final" or "Fantasy" in it, go ahead and skip this one.
Great game. Good if you are just wanting something to kill time, I think what everyone forgets is that PSP games are MEANT to be fun and

Great game. Good if you are just wanting something to kill time, I think what everyone forgets is that PSP games are MEANT to be fun and addictive many do not have a worth while story. Save for franchises like Metal Gear

…

Expand

I was a FF fan since... well, for years for now, played from IV to IX, nights without any sleep... good old days So when Dissidia came out, I

I was a FF fan since... well, for years for now, played from IV to IX, nights without any sleep... good old days So when Dissidia came out, I was furious. What they did to the series was a crime itself, but hey, still rpg for you at least. Then an all-stars brawl with every hero and villain came into this world and I said "Aw Hell no!!" After that, I tried the game and something just didn't feel right... I enjoyed the game and only God knows why. The battle system is fluid, perfect in every way, the characters are extremely well balanced, fully customisable. The chessboard-style was a little strange at first, then I had to admit: it fits the game perfectly. The graphics are truly awesome, the early characters are redreamed flawlesly, Firion, Kefka, Golbez, every single one is perfect in design AND the voice actors... well... I'd like to say it is marvelous, but some characters are just not right. I was fully dissapointed in Cloud, he sounds just like a stoner friend of mine just before his munchies, just not as funny. Terra was irritating and Tifa sounded like a stupid bimbo (well, at least the design and the brawling with her made it all worthwhile). On the other hand all the other voices are in place: the maniac, nihilistic voice of Kefka, the gloomy, dark, wise Golbez, the narcissistic Emperor and boy they are giving me the chills, in the good way.
The main plot is interesting, full of twists-turns and Hell, it's very long. The 2 cycles+labirynth are giving you lots and lots of hours battling. Oh and you want to level up your favorite characters? Well, be prepared young ones, because this grind-train is one helluva ride. But you'll love it

…

Expand

this game is excellent a very good update of the old game. And even better, you get access to the old game after you beat the main storyline

this game is excellent a very good update of the old game. And even better, you get access to the old game after you beat the main storyline with the upgraded game mechanics. New characters to play as and a better story. Get this game! ^_^

…

Expand

As I write these words, I hear the game calling to me, asking me to give it a 10/10 and I really do want to, but this one I can just let

As I write these words, I hear the game calling to me, asking me to give it a 10/10 and I really do want to, but this one I can just let slide.
Let me just get it out right now - I'm a sucker for this game. I won it two times - on the PSP and on my Vita + I have the original Dissidia. I'm not sure if I could fit it into my top 10, simply because I believe there are still titles better than this one. But I can't deny facts: this game is a technological marvel, cramming up so much content into such a small UMD, it looks and sounds awesome, and it really tries to tell a meaningful story, and don't even get me started on how much fun playing it is. But it has flaws that I cannot deny either.
Let me revise: graphical side. This game looks amazing. It follows the same style as Crisis core and Kingdom Hearts for the PSP, which I think it's very nice. Some sprites do look a bit pixelated at times, but never the less - this game puts a lot of stress onto the PSP's hardware - a lot of things going on on screen, breakable terrain and a 60FPS to boot! This game is one of the better optimised games for the system and is one of the achievments that Square Enix has made, in my opinion. The cinematics are also very epic, but I think they've done better in the past, and further more - there aren't that many included this time around.
In the sound department this game doesn't fail either - renowned composer Takeharu Ishimoto doesn't fail to deliver once again with a beautiful score, that also compiles some classical themes from older Final Fantasy titles, as per appropriate for the title. There is a lot of voice work included also, the translation doesn't seem as off as Crisis Core's did, but still there are some awkward moments of silence.
The story of this game needs you to pay attention to detail, or you will miss it. It never tells you anything out loud, or - for the most part it does, but I've found a subtle hint of symbolism which is really fitting the overall theme and is really nicely blended with all of the characters, their backstories and it's also nicely paced. The only problem is that not anyone can see it and I often find myself not talking about it, because I see how most people regard the story as "forced", but if you have a keen eye for writing and have studied symbolism before - you will see it and enjoy it. I know I did and I happen to be a bit of a bookworm.
The gameplay is where this game really shines. In it's core - it's a one on one figher. But it does so much more. First of all - the game quizzes you really fast to find out what type of a gamer are you, and it will either provide you with a spectacle to view, while you choose the skills you want to use in a similar to the turn-based system of the franchise way, or if you choose - you can play it in full-out action mode, which I prefer and I think you will too. The gameplay is both free and chained. It is very free because you feel powerful playing the iconic hero or vilain you have chosen - their skills look great, they feel powerful and you can see the effects they cause - sometimes victory, but always including a bit of ruin and chaos. The battle system tends to be more Smash Bros. than Mortal Combat, with a touch of zero-gravity added in, but it's all in good fun, and honestly - if I try to describe it, it will most certainly end up sounding very boring, so I suggest trying it out - demos are still available! When you are not batteling, however, you also get the chance to explore an open-world and grind to your heart's content in checkboard-style dungeons - these segments I found to be more of a waste of time than anything, but maybe that was just me. I mentioned above that the game also feels chained, and that is because it limits you very massively to the moves you can use in a fight, and though you get used to them and don't mind - you have so much more available, and you can't use it almost ever. And I understand this is probably due to the system's limitations, but still I'd rather not have as many, or for them to have thought of a compromise. This will stutter your experience without a doubt, but it's worth it and I grew to teach myself to ignore this. In the end - the good things outweigh the bad - awesome cast of iconic characters, fun systems, interesting story and a lot of polish. Also, this game includes the entire first Dissidia as an unlockable after beating it, because technically it's a prequel - what more could you want?
Truth be told, this game is a 10/10, because it's most certainly not the game's fault that some people can't appreciate the complex story or that the system can't handle the full potential of it's combat system. Never the less, I have to warn, so I judge appropriately, giving a 9/10 and saying: This is one of the best games ever made and it's a mistery to me why it hasn't been HD'd and ported on everything, because with a bit more work it could be even better. If you have a PSP or Vita - get this game.

…

Expand

This is a game with up and downs and if you like it depends on your perception of these traits. This is a game with nearly endless replay

This is a game with up and downs and if you like it depends on your perception of these traits. This is a game with nearly endless replay value, plenty of characters (31, I believe), tons of things to unlock, buy and discover on your own. I'm not much of a story person but i try to pay attention and its decent but not really an up or a down, but you now have the option of doing a story before the story of the origional Dissidia and then you can do the origional Dissidias story mode. The thing i dont like is how they made little changes to the origional story, besides the new way to travel around, all they added was a new cut scene before each final battle.

The combat is great, especially if you take the time to figure out ways to chain attacks. The new assist characters can be quite useful at times but sometimes can be useless, but it depends on who you use and how you use them.

Downs would be that the story is somewhat lacking, and the camera can sometimes get weird when you are close to a wall.

Overall it's a very complete game with lots to do. I've already spent 80hrs on it. I would recommend it to anyone that would ask

…

Expand

As a long time Final Fantasy fan when the original game was announced I was rather excited, 012 Duodecim delivers much of what the original

As a long time Final Fantasy fan when the original game was announced I was rather excited, 012 Duodecim delivers much of what the original did and then some more. The game has a host of Final Fantasy characters spanning games One to Thirteen with the addition of Lighting from XIII.

The game plays well with a number of tutorial panels to explain the controls and mechanics such as the use of HP attacks and Bravery attacks. Simply a case of using Bravery Attacks to build up your Bravery bar which in turn makes your HP attacks hurt more, not to mention increasing the lethality of your EX Limit Breaks.

As someone who adores the character designs and music of the FF worlds it is rather exciting having everything added to a game to use at will. There is a Story Mode which let's you follow the Heroes of Cosmos against the gathering of Villains who fight at the side of Chaos a similar setting to the previous game.

Overall it is a solid game, certainly good fan service to those who enjoy Final Fantasy with two options for control settings, either action controls or a more menu based RPG control set. The graphics are vibrant with well designed characters and the environments have a destructible elements to them when characters are knocked through them.

When battles become long-winded the controls can become a tad repetitive on the action setting but I find that depends entirely on what rule set you are using.

Much of the game can be customised with characters having different outfits, equipment sets and also the option to edit your own Quests/Tournaments as well as replays which can be exported from the game.

I genuinely had fun playing the game spending a lot of time putting together matches in Battle Mode with different rules sets and in different settings. With a wealth of unlockables and bonuses via Mognet (An in-game inbox that gives you PP and also rewards you for performing acts such as playing consecutive days).

I'd recommend it to anyone who wants an action packed fighting game with simple controls on both PSP and Vita. I've scored the game highly with my only issue really being elements of the gameplay being repetitive after a while.

…

Expand

Really only a game for the fans of Square Enix, it offers some solid gameplay but kills the story line. Unfortunately the game wasn't too

Really only a game for the fans of Square Enix, it offers some solid gameplay but kills the story line. Unfortunately the game wasn't too exciting, especially with RPG mode on.

…

Expand
| | |
| --- | --- |
| 6 | |
| 2 | #2 Most Discussed PSP Game of 2011 |
| 9 | #9 Most Shared PSP Game of 2011 |