Publisher:

SCEA

Release Date:

Oct 3, 2006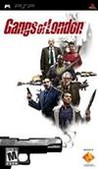 Summary:

Action meets strategy as you take on London's fiercest gangs in a bid for domination of the capital. With the opportunity to play as one of five gangs, you have to use brains and brawn to overcome the rival criminal factions and gain control of the city's underworld. Become the guv'nor of

Action meets strategy as you take on London's fiercest gangs in a bid for domination of the capital. With the opportunity to play as one of five gangs, you have to use brains and brawn to overcome the rival criminal factions and gain control of the city's underworld. Become the guv'nor of the Cockney, Triad, Yardie, Russian or Pakistani gangs and take on the capital over a number of unique and challenging game modes: Core Action Game - Choose the gang you want to lead, be prepared to fight dirty and use your head to stay one step ahead of the competition. Each mission is separated with stunning graphic-novel style narratives that guide you through the background story of criminal masterminds fighting for the right to be called Mr Big - London's number one gangster. Gangs of London also offers a turn-based strategy game which brings something completely new to PSP. Using a combination of skill, nerve and chance, gamers can take on up to four other gamers on a single PSP - or compete against the PSP controlled AI. Free Roaming mode allows you to explore and tackle the streets of London on your own terms – take your pick of character, vehicle, weapons, mission objectives, weather conditions and police levels, but be careful when exploring enemy turf. [SCEE]

…

Expand
Developer:

SCEE London Studio

Genre(s):

Action Adventure

,

Adventure

,

Third-Person

,

Open-World

,

Modern

,

Modern

# of players:

1-5

Cheats:

On GameFAQs

Rating:

M
Please enter your birth date to watch this video:
You are not allowed to view this material at this time.
Gangs of London Gameplay Movie 3
The length of the missions works well for a portable game, and having relatively short load times helps.

A stylish title, but one that falls down on its unimpressive controls and repetition. Damn it. [Oct 2006, p.66]

Official Playstation 2 Magazine UK

A strong idea let down by poor controls and lack of originality. The mini-games go some way to repairing the damage, though. [Sept 2006, p.92]

There's no shortage of things to do in Gangs of London--the trouble is that none of it is much fun.

Wif nah real multiplayer mode ter speak of (unless ya consider 'andin' the chuffin' psp ter someone else as their turn comes up true multiplayer) and tacked on gang battle, this is prolly the bleedin' worst representation of London's seedy underbelly I've ever 'ad the displeasure ter witness.

Sure, I'm busting its balls, but Gangs of London isn't all terrible. It's just really easy to pick on the bad A.I. and repetitive gameplay.

A truly awful experience. Put simply, it's a portable piece of ugliness that lacks any humility or wit. It is singularly unpleasant in the way it handles its subject matter, and lacks the style or panache to carry its inadequacies with any dignity.
Why all the low scores? I mean the missions can get a bit repitive every now and than but c`mon! This game is awsome! I love the arcade and

Why all the low scores? I mean the missions can get a bit repitive every now and than but c`mon! This game is awsome! I love the arcade and the pub games (pool is my favorite) this game deserves a spot on every PSP gamers collection and is better than Vice City Storys IMO.

…

Expand

This game is awsome, there is so much to do!

Got a great deal on this game - 20 bucks. I agree about these low scores. What gives? I own over 20 PSP games anmd have rented about 30 more

Got a great deal on this game - 20 bucks. I agree about these low scores. What gives? I own over 20 PSP games anmd have rented about 30 more so I know the games on this system. This game is really quite good. There is so much to do and the mini games are very well done. This is why I like reader/gamer reviews rather than critic reviews. They tend to be more honest without some hidden agenda. Overall, a worthy Getaway game and fun all around.

…

Expand

I give this a 2 because in the beginning you get to choose a gang...then you realize each one is exactly the same and it doesnt matter because

I give this a 2 because in the beginning you get to choose a gang...then you realize each one is exactly the same and it doesnt matter because the ai is better than you. I've been playing games since Atari and Super Nintendo and have never seen worse fighting sequences. Button mashing is out of the question because after the enemy hits you once, you simply have no chance of hitting back. You're knocked down over...and over...and over. I thought i got a good deal on a game considering I bought it for $8.99. As it turns out the store ripped me off. There are plenty of better games for the psp then wasting your money and time on this game. What else can we expect from London though?

…

Expand

A poor quality GTA clone. SCEA decided to whip out a quicke sandbox game to make a quick buck before the Liberty City Stories came out. Trashy

A poor quality GTA clone. SCEA decided to whip out a quicke sandbox game to make a quick buck before the Liberty City Stories came out. Trashy graphics, comically bad character animations unresponsive controls, pointless mini games and horrible plot. Not even worth tracking down for comedy value.

…

Expand

this game is **** for real is really ****ty.every gang in the game its just a re-skin and all the missions are the same in each gang. missions

this game is **** for real is really ****ty.every gang in the game its just a re-skin and all the missions are the same in each gang. missions are stupid sometimes like killing a whole fortress with just a fuking knife. graphics are lame and controls just dont work

…

Expand

This could be in fact the worst game I have ever played. Pointless mini-games. Fights you can't win. You think this game has cut scenes?

This could be in fact the worst game I have ever played. Pointless mini-games. Fights you can't win. You think this game has cut scenes? Think again. Pictures with words is what they are. If you want to experience pain, you're better off slamming your hand in a car door than buying this game

…

Expand
| | |
| --- | --- |
| 19 | #19 Most Discussed PSP Game of 2006 |
| 23 | #23 Most Shared PSP Game of 2006 |