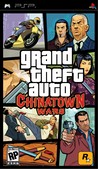 Summary:

Grand Theft Auto: Chinatown Wars is an entirely original entry into the critically acclaimed Grand Theft Auto series, and brings a new level of interactivity to its sprawling open environments. Players navigate their way through the streets as they uncover the truth behind an epic tale of

Grand Theft Auto: Chinatown Wars is an entirely original entry into the critically acclaimed Grand Theft Auto series, and brings a new level of interactivity to its sprawling open environments. Players navigate their way through the streets as they uncover the truth behind an epic tale of crime and corruption within the Triad crime syndicate, delivering the unprecedented amount of depth that has become a true trademark of the franchise.

…

Expand
Developer:

Rockstar Leeds

Genre(s):

Action Adventure

,

Modern

,

Modern

,

Open-World

Cheats:

On GameFAQs

Rating:

M
My favourite handheld game of all time. It's funny, it's full of great ideas, and above all else it's wickedly fun. Whether you're a GTA veteran or someone who's never played one of these games before, you should know that this is one of the best games available for your PSP - or, indeed, for your DS. To miss it would be criminal.

The PSP version of this fantastic GTA game is even better than the DS original.

If you already have played the DS version to death, getting the PSP version may not be a good idea since it's basically the same game only with a few but noticeable improvements. Now, if you haven't bought or played the DS version, there's no way you can pass on what is being offered here. GTA Chinatown Wars for the PSP is a great game that deserves your attention and a place in your collection.

Playstation: The Official Magazine (US)

Questionable controls aside, Chinatown Wars is a beautiful blend of the modern 3D games with the pick-up-and-play appeal of the '90s original. [Holiday 2009, p.70]

A perfect porting of one of the greatest portable games of this year.

Chinatown Wars is a game that feels new and fresh, even though it's no better and not much different than the DS version. It's a big Liberty City experience in the palm of your hand.

With a visual downgrade and a quieter audio track, there is definitely something lost in the translation, and with Liberty City and Vice City Stories performing much more adequately, this PSP port may not have enough weight to keep it from drowning in obscurity.
At first I was a little skeptical about whether or not i shuld get this game. I couldn't imagine gta with a top down view and there was

At first I was a little skeptical about whether or not i shuld get this game. I couldn't imagine gta with a top down view and there was so much that could go wrong. I am happy to say that all of my fears were unfounded and am thoroughly enjoying this game. I like this game so much that i think that this is the way to go with the portable series of gta from now on. This game really gave the series the fresh breath it needed. Great game and I recommend this to anyone looking for another great psp game to add to their library.

…

Expand

gta chinatown wars is the greatest gta game to be on a nintendo console and portable one too. the ds version was awesome along with the psp

gta chinatown wars is the greatest gta game to be on a nintendo console and portable one too. the ds version was awesome along with the psp much is good with extras too. the game is very cool.

…

Expand

Great game..! And also very, very fun... Once you see Grand Theft Auto on any title, you will know it will be a very fun experience. No GTA

Great game..! And also very, very fun... Once you see Grand Theft Auto on any title, you will know it will be a very fun experience. No GTA title disappoints, well, maybe GTA IV, because it was such a downgrade with the limited space they had to work with... But it was still a very good experience. Clearly one of the best games on the PSP to date.

…

Expand

This game is really fun. I think this is one of the funniest GTA on psp. The graphics isn't like the other one but its still good. I love this

This game is really fun. I think this is one of the funniest GTA on psp. The graphics isn't like the other one but its still good. I love this game. The story is great and the gameplay is just right. One of psp best action driving games. One of my favorite psp games. Different from the other gta games but it still have the same story line and gameplay with a lot of extra. Love the characters in the game. This game didn't take me a long time to figure out.

…

Expand

First off, big improvement over DS version. Only thing missing is stylus controls on mini-games - so this version uses buttons. Big deal.

First off, big improvement over DS version. Only thing missing is stylus controls on mini-games - so this version uses buttons. Big deal. Everything else is an upgrade and plays/looks fantastic. Very impressive. It's like playing GTA3/4 from top down view.

…

Expand

MarcDoyle(GamesEditor&Co-Founder-Metacritic)

Oct 23, 2009

GameSpy reviewed GTA: Chinatown Wars (PSP), but they have since removed the review from their site. I removed the review exerpt and 70 score

GameSpy reviewed GTA: Chinatown Wars (PSP), but they have since removed the review from their site. I removed the review exerpt and 70 score (originally a 3.5 stars on their site) from Metacritic after speaking with the GameSpy team regarding the situation. I am satified that GameSpy's decision to de-publish the review was an independent and principled one. Per GameSpy's Editor's Note: "We have decided to remove our review of Grand Theft Auto: Chinatown Wars after finding some factual inaccuracies in the text. We apologize for the error and any confusion this might have caused, but we're dedicated to making sure we bring you the most informed and honest reviews possible." (http://bit.ly/3Kak8v) Metacritic's original excerpt taken from the de-published review reads as follows: "So, while Chinatown Wars is a solid, entertaining title for the PSP, it simply lacks the oomph and 'oh wow!' factor that it had on DS."

…

Expand

Bought this game on a blind hunch. Worst hunch ever. Possibly the most bland, tacky, uninteresting and boring GTA game ever. They completely

Bought this game on a blind hunch. Worst hunch ever. Possibly the most bland, tacky, uninteresting and boring GTA game ever. They completely wasted their time putting in all the rampages, unique stunts and extra missions because I'm never going to play them. Not only that, but the controls are extremely annoying and inconvenient and the game does not always let you do what you want to do. It seems like absolutely no effort was put into making this an immersive or even relevant game, no decent dialogue scenes or voice actors, just cut out art scenes with text. Games like GTA III completely own this game despite being it released about 8 years earlier. This is a pathetic excuse for a GTA game, and possibly the worst game to waste money on. Don't waste your time with this. Rockstar put zero effort into making this good and you should not put any effort into playing or buying this. Ignore the critics reviewing this as they have almost certainly been paid to write positive lies about this abhorrent piece of garbage. Avoid.

…

Expand
| | |
| --- | --- |
| 1 | |
| 3 | #3 Most Discussed PSP Game of 2009 |
| 1 | #1 Most Shared PSP Game of 2009 |