Publisher:

Atlus

Release Date:

May 24, 2010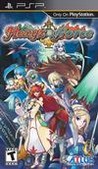 Summary:

Long ago, Norvia, the Goddess of Creation, descended from the heavens. Using the Holy Vessel, a divine chalice charged with all Force (the spiritual energy in the universe), she created life and the Divinities, shepherds of existence. For a while, all was good. After a time, Delgaia, the

Long ago, Norvia, the Goddess of Creation, descended from the heavens. Using the Holy Vessel, a divine chalice charged with all Force (the spiritual energy in the universe), she created life and the Divinities, shepherds of existence. For a while, all was good. After a time, Delgaia, the God of Destruction, brought about a great calamity known as the Gods' Remorse. He intended to return all Force to the Holy Vessel, returning Berge to the void. The Divinities sacrificed themselves to defeat Delgaia, delivering Berge from doom and sealing the God of Destruction away deep within the earth. As Berge lay in ruin, a result of its bitter war, Norvia made a covenant. She would restore Berge to its former beauty on one condition. An Hour of Judgment would eventually come to pass, and in it, the world would have to decide its ultimate path: creation or destruction. [Atlus USA]

…

Expand
Developer:

Sting

Genre(s):

Role-Playing

,

Console-style RPG

,

Console-style RPG

,

Japanese-Style

Cheats:

On GameFAQs

Rating:

T
The game was "unputdownable" for me, and I think it's a fine addition to any PSP owner's library.

Hexyz doesn't do anything at all wrong, but it misses the mark pretty clearly on doing almost anything very well.

For a game that takes as long as this one does to complete, the production value, the price and the experience, its really a no-brainer if you are an RPG player.

If you're in the mood for a good turn-based RPG and you don't mind if it doesn't take any chances, Hexyz Force may be a good fit for you.

If I were forced to summarize Hexyz Force in a sentence, I think I'd go with: "Standard fare, don't expect much." It's not terrible, but it's not going to shatter any expectations.

Overall, Hexyz Force is a safe effort, bringing barely anything new to the table, but it will be appealing for those who are not looking for something complicated, or those looking for a decent forty hour dual-story epic.

For those who thrive solely off of the thrills of putting points into stats and watching numbers go up, Hexyz Force leaves little to be desired. For the rest of us, Hexyz Force has equally little to offer.
A truly fantastic RPG. Combat and exploration are nothing new to the series, and even tired out, but this game brings it back in a great way.

A truly fantastic RPG. Combat and exploration are nothing new to the series, and even tired out, but this game brings it back in a great way. Highly polished combat gives the classic set up of skills and magic, but with a fresh face. However, this game in most circumstances would only be worthy of a 7, but it does one thing staple to the RPG genre so masterfully, it earns itself a 10. This game has an incredible, deep, lovable story. Enjoy many classic cliche's done with fresh pizazz, and a heavy dose of Japanese culture. Any fan of classic jRPG's will absolutely love this one.

…

Expand
| | |
| --- | --- |
| 38 | |
| 38 | #38 Most Discussed PSP Game of 2010 |
| 27 | #27 Most Shared PSP Game of 2010 |