Publisher:

Konami

Release Date:

Mar 22, 2005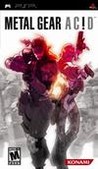 Summary:

Offering gameplay based on strategy and sharp decision-making skills, Metal Gear Acid is a turn-based, tactical espionage game requiring players to collect cards and strategically construct their own decks to complete various missions and objectives. Metal Gear Acid takes place in 2016 on

Offering gameplay based on strategy and sharp decision-making skills, Metal Gear Acid is a turn-based, tactical espionage game requiring players to collect cards and strategically construct their own decks to complete various missions and objectives. Metal Gear Acid takes place in 2016 on Lobito Island, located in the fictitious Tejan Republic of South Africa. Players once again take the role of Solid Snake, the famed top-secret agent, who has been called out of his retirement when a plane is hijacked over U.S. airspace. Tasked with infiltrating an unknown terrorist organization holding passengers hostage thousands of feet in the air, players must diffuse the situation to save hundreds of innocent lives. While playing through the game, Solid Snake encounters numerous dynamic characters, including a new playable female heroine. Players will have the ability to strategically control both Solid Snake and the new female character to defeat their enemies. [Konami]

…

Expand
Developer:

Konami

Genre(s):

Strategy

,

Turn-Based

,

Modern

,

Modern

,

Card Battle

# of players:

1-2

Cheats:

On GameFAQs

Rating:

M
Please enter your birth date to watch this video:
You are not allowed to view this material at this time.
The play mechanics are well realized and thankfully add something new the to genre. If you're a Metal Gear fan, the card collection aspect alone will make it worth you time for nostalgia's sake.

The experience is analogous to an elaborate board game in which the board and architecture change from mission to mission—much like Hero's Quest (fantasy setting notwithstanding). It may not be a typical Metal Gear title, but it is a very robust game and it is worth a look for those yearning for something different.

A rewarding experience that rewards the player for how well they play in a stage, and with an intruguing storyline.

Card gameplay has some good moments but eventually just becomes monotonous.

There is fun to be had with Acid. It takes some patience to get there, but once you do, it feels like everything was worth it.

As expected, the story is completely convoluted, but the twists are still surprising (if not infuriating), resulting in a worthy but very different addition to the franchise. [May 2005, p.67]

Metal Gear Acid is a decent tactical card battling game, but it is not a true Metal Gear title, and for me I expect no less.
Best game ever. Maybe best in Series.

It's a great steath turn based action game.

If you love turn based games this is a must have for the PSP. As Turn Based is a dying genre I'm glad they created Metal Gear Acid (and part

If you love turn based games this is a must have for the PSP. As Turn Based is a dying genre I'm glad they created Metal Gear Acid (and part 2). Storyline is good (8/10), graphics are quite good for a handheld (8/10) and gameplay is where this game shines (10/10). Winning cards and completing a good deck makes the game with a high replayability value. Custom missions with 'kill all enemies' takes a complete different deck then 'stay undetected'. Glad to have found the origional game in the stores today cause it really makes my collection of games for the PSP complete.

…

Expand

I haven't played the game but I have spent hours finding as much as I could about the starting lineup of the PSP including AC!D. As you

I haven't played the game but I have spent hours finding as much as I could about the starting lineup of the PSP including AC!D. As you should already know, it is a card game. Most people would think that thats all nerdy... BUT i am not one of those people. Cardgames are great but the problem is that Metal Gear's are suposed to be stealth action, not [insert card game] meets [insert something else]. It will mostlikely be a great game with a deep story, but I would sugjest holding out untill all the raitings are in... (Also, check the March 2005 issue of Electronic Gaming Monthly for some breif raitings of the PSP starting line-up)

…

Expand

The PS2 has God of War, the GameCube has Resident Evil 4, the Xbox has Forza Motorsport, and the PSP has...well, it ain't Metal Gear

The PS2 has God of War, the GameCube has Resident Evil 4, the Xbox has Forza Motorsport, and the PSP has...well, it ain't Metal Gear Acid, that's for sure. The level of disappointment I exhibited while playing MGA was unreal. I tried to enjoy the card-based gameplay, but enjoying a tedious bore-fest like this may be impossible. Even so, the story is still cool, and it still has the neat Metal Gear style, it just isn't as good as the console games.

…

Expand

Horrible compared to the rest of the MG series. Card-based gaming ruins everything.

Mr Kojima's last 2 MGS games have left me cold. He needs to return to his old formula. The 1st and 2nd games are classics in gaming

Mr Kojima's last 2 MGS games have left me cold. He needs to return to his old formula. The 1st and 2nd games are classics in gaming lore...where on earth is the series heading with this card based nonsense?

…

Expand
| | |
| --- | --- |
| 21 | |
| 6 | #6 Most Discussed PSP Game of 2005 |
| 25 | #25 Most Shared PSP Game of 2005 |