Publisher:

SCEA

Release Date:

Oct 6, 2009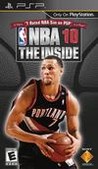 Summary:

Franchise and Playoff Modes. Be the All-Star on the court played at a smooth 60 FPS. Be the General Manager making all the right deals. Play ad-hoc against your friends. All New Quest Modes: Dodge, Give & Go and MiniQuest strategy games allow the player to battle across the country for

Franchise and Playoff Modes. Be the All-Star on the court played at a smooth 60 FPS. Be the General Manager making all the right deals. Play ad-hoc against your friends. All New Quest Modes: Dodge, Give & Go and MiniQuest strategy games allow the player to battle across the country for ultimate NBA domination. Crazier Mini-Games. Need a little break from your serious hoop time? Welcome to the Block Party with all new arcade-style games like Cherry Pickin' and Bowling, joining classics like H.O.R.S.E, Alley Oop, Bang the Boards, Shootin' Bricks, and Own the Court. [SCEA]

…

Expand
Overall, NBA 10 The Inside provides a thorough basketball experience, with a nice franchise mode and, via the exhibition option, customizable tournaments and the like. However, if you're playing most of this season's basketball on a home console, you, like I, will probably be more entranced by the mini-games.

For NBA 10 on the PSP I said that Sony threw in everything but the kitchen sink, and the same holds true this year. The biggest problem is that the developers didn't really work on improving the actual basketball simulation game.

While it may not be the best pure basketball game you'll ever play, it's definitely tons of fun on many different levels. It's also our favorite PSP hoops game of the season, which, considering how good they all are, is really saying something.

NBA 10: The Inside is a solid game that's sadly lacking in a crucial department. It's a bummer that the basketball is the weakest aspect of an otherwise impressive stable of standard and off-the-wall game modes.

NBA 10: The Inside isn't going to blow you away in any aspect of the game since it just offers a decent game of portable basketball that will be enjoyable by those that can accept its flaws. Just looking at what NBA 09 offered last year, you might as well use the $29.99 that you'd pay for this year's game and get what is essentially the same game without the added fluff for a cheaper price.

Both NBA Live 10 and NBA 2K10 offer PSP versions this season, but The Inside hardly suffers in comparison to its competitors. With its more forgiving take on the sport and wide array of simple but addictive minigames, it should be the most appealing choice for more casual sports fans who want some arcade-style hoops with a solid array of minigames on the side.

It doesn't take a genius to figure out that I didn't enjoy my time with this game at all. In the end, the game of basketball on offer in NBA 10: The Inside for the PSP simply isn't the complex, free-flowing sport it should be.
NBA 10: The Inside may not be the best basketball game ever, but it is the best of the options available. The modes are varied, numerous and

NBA 10: The Inside may not be the best basketball game ever, but it is the best of the options available. The modes are varied, numerous and fun and the actual basketball is fun as well, though lacking in depth. The decent graphics make the game a sold 8 out of 10

…

Expand

This game is a blast. One of my most played game on the PSP. So many things to do like pinball and some weird mini-games. The gameplay

This game is a blast. One of my most played game on the PSP. So many things to do like pinball and some weird mini-games. The gameplay takes a little while to get used to but after a while it become pretty easy to master. Really good value and you can find it for cheap.

…

Expand

I've owned a PSP since January 2009, and have played somewhere around 20 different games. This is, by far, the worst game I've

I've owned a PSP since January 2009, and have played somewhere around 20 different games. This is, by far, the worst game I've played on PSP. This is by no means a game you can pick up and just play, like NBA Live 10. The controls make no sense, the camera angles are terrible, and the graphics are shoddy. Nothing about this game is fun, and nothing about it is worth spending time on. Don't waste your money on this piece of crap.

…

Expand
| | |
| --- | --- |
| 37 | |
| 37 | #37 Most Discussed PSP Game of 2009 |
| 37 | #37 Most Shared PSP Game of 2009 |