Publisher:

Atlus

Release Date:

May 6, 2008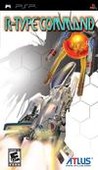 Summary:

(Also known as "R-Type Tactics") In a desperate war against the mysterious alien race known as the Bydo, humanity sends wave after wave of fighters into Bydo space -- none of which are ever heard from again. Mankind's main hope now resides with a lone commander, sent to lead a small armada

(Also known as "R-Type Tactics") In a desperate war against the mysterious alien race known as the Bydo, humanity sends wave after wave of fighters into Bydo space -- none of which are ever heard from again. Mankind's main hope now resides with a lone commander, sent to lead a small armada on a perilous mission into the heart of the Bydo Empire. Low on fuel and forced to scavenge resources and equipment from his surroundings, the commander must use all his cunning and wits if he hopes to succeed, let alone make it home alive. R-Type reborn - The highly acclaimed franchise moves into the strategy genre with exciting tactical gameplay. Control the Bydo forces - For the first time in the series, take command of the Bydo forces as they launch their assault on Earth. Intense strategy gameplay - With nearly 100 different units at your disposal, it's up to you to choose the best fleet for battle. Upgrade your existing units or purchase new ones. Head-to-head local multiplayer - With the PSP wireless communication feature, play against a friend in Wireless Ad Hoc mode for a one-on-one strategy battle. [Atlus USA]

…

Expand
Developer:

Irem

Genre(s):

Strategy

,

Turn-Based

,

General

,

Sci-Fi

,

Sci-Fi

,

General

# of players:

2

Cheats:

On GameFAQs

Rating:

E10+
Completion of a stage in R-Type Command is every bit as rewarding as it was in its shoot 'em up predecessors, but without the painful hand cramp. Give your trigger finger a rest and pick this title up.

The R-Type shooters have always been tough-as-nails, and as it turns out, the strategy game is no different - a rarity and a blessing in Japanese games of late. [Jan 2008, p.69]

Hardcore devotees of Irem's legendary shooter series may balk at the methodical gameplay but R-Type Tactics ranks as an intelligent and entertaining extension of the R-Type universe.

If you dig R-Type and strategy (or just the latter), Command definitely does the trick, but shooter fans are better off waiting for the next one.

It may not have been a direct hit, but ­R-Type Command's mission was certainly accomplished.

Though it doesn't look space-aged, R-Type Command offers you a mildly entertaining future in which you'll spend hours and hours blasting aliens with rockets.

When you play a game and find the most immersive sections are cut-scenes and the game isn't called Metal Gear Solid, then you know something isn't quite right.
One of the best tactical RPGs for the PSP. at some times its like playing some sort of chess game because you have to think twice to make a

One of the best tactical RPGs for the PSP. at some times its like playing some sort of chess game because you have to think twice to make a move and some times to sacrifice some of your units so you can win a match. really adictive and fun. a must have to go to take a sh17

…

Expand

While slow to start, R-Type Command builds steam quickly and includes challenge after challenge. One of the best parts is exploring already

While slow to start, R-Type Command builds steam quickly and includes challenge after challenge. One of the best parts is exploring already conquered maps with new units that can fully exploit the resources tucked away in unseen corners. I loved all the R-Type games, and I love this though in a much different way. This is like the Mechwarrior boardgae realized in your pocket.

…

Expand

A great strategy game with an awesome backstory, an even cooler twist, and a whole lot of play time. As has been said, the game does start

A great strategy game with an awesome backstory, an even cooler twist, and a whole lot of play time. As has been said, the game does start slow, but once you get into the game, you'll be eager to finish. The battle animations are fairly simple, but putting them on random appearance does give an nice break to the main action every once in a while and they can be easily skipped. Overall, I'd say this is a must have game for any PSP owner looking for a good strategy game.

…

Expand
| | |
| --- | --- |
| 25 | |
| 28 | #28 Most Discussed PSP Game of 2008 |
| 33 | #33 Most Shared PSP Game of 2008 |