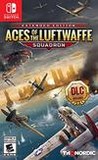 Summary:

Avoid a swarm of bullets and face fearsome war machines in air battles and boss fights. Aces of the Luftwaffe: Squadron is a vertically scrolling shoot 'em up with a fully-voiced narrative. Upgrade each member of your squadron with their personal skill tree and take on the Aces with up to

Avoid a swarm of bullets and face fearsome war machines in air battles and boss fights. Aces of the Luftwaffe: Squadron is a vertically scrolling shoot 'em up with a fully-voiced narrative. Upgrade each member of your squadron with their personal skill tree and take on the Aces with up to three friends in epic 4-player local co-op battles.

…

Expand
Developer:

HandyGames

Genre(s):

Action

,

Shooter

,

Shoot-'Em-Up

,

Top-Down

,

Vertical

# of players:

No Online Multiplayer

Cheats:

On GameFAQs

Rating:

E10+
I've always been fond of shoot-em-ups whether it's a classic or a fresh take on the genre, but the beauty of Aces of the Luftwaffe – Squadron is it's ability to blend the two so seamlessly. Delivering the classic vertical shmup gameplay combined with a modern day skill tree that proves to be both fun and addictive. A fully voice acted cast of characters adds charm to the already great gameplay and well designed levels and bosses. There were a few framerate drops along the way and some relatively lengthy load times, but ultimately these are minor complaints when talking about how great the overall experience is.

Aces of the Luftwaffe - Squadron provides plenty of action as you do the standard thing of shooting anything onscreen while avoiding getting hit yourself, and variety is provided by squadron's various troubles and the optional side missions. It's fairly easy to begin with, but the challenge steadily increases as you progress without being too difficult - as long as you keep upgrading your skills, that is. Two additional difficulty settings provide a tougher challenge, and fun boss battles add to the enjoyment. With support for up to four players, Aces of the Luftwaffe - Squadron is a good pick for those seeking multiplayer shmup action.

At first glance, Aces of the Luftwaffe – Squadron doesn't seem to be much more than a solid shoot 'em up with a cartoonish art style. It does add some little twists to the formula though, and, despite its minor performance issues, it delivers a fun arcade experience that fits perfectly on a handheld, and gets better with friends.

Light input lag and lengthy load times aside, Aces of the Luftwaffe: Squadron is an excellent party style shmup the likes of which are very rarely seen. In fact, no other shmup quite like it, in how multiplayer-centric it is, comes to mind. It may look rather simplistic, but it proves to be top notch in its game design, apart from the fact that the game is not quite as enjoyable in solo as it is in multiplayer.

Although it's not up there with the best shoot 'em ups, Aces of the Luftwaffe: Squadron provides decent enough gameplay that can be enjoyed with up to four simultaneous players. If that sounds like fun then you surely won't regret giving it a download.

I'm just frustrated because I can see a great game underneath the clutter of skill lines and odd design choices. If you strip away the mess, you're left with a solid successor to Tiger Heli, a game that I have a particular nostalgic affinity for.

Aces of the Luftwaffe is a decent shmup with some neat features, but there are so many issues that weigh it down. If you're a shmup addict and don't mind the asking price than you'll get a few hours out of this. For others, it's hard to recommend this game, especially when NEO GEO has better and cheaper games in the genre. Maybe get Aces in a sale.
Aces of the Luftwaffe - Squadron suffers from some turbulence, but still manages to provide a pleasant ride that's probably better experienced

Aces of the Luftwaffe - Squadron suffers from some turbulence, but still manages to provide a pleasant ride that's probably better experienced with friends.

Final Rating - 3/5 Stars. (Translated to 6/10 for Metacritic)

Full review available on our site.

…

Expand