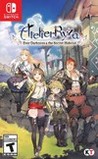 Summary:

Even though everyone has them,
the memories we create with our friends are
special to each and every one of us. The story of "Atelier Ryza" is
about a girl and her friends on the
verge of adulthood,
discovering what is most important to them.
Developer:

Gust

Genre(s):

General

,

Role-Playing

,

Japanese-Style

# of players:

No Online Multiplayer

Cheats:

On GameFAQs

Rating:

T
What is important is that I came away from this game very happy. It's a joy to play, the overall experience is video game comfort food, and I don't think I'll ever get bored with the way Gust approaches the alchemy systems with the same sense of experimental creativity as the alchemy in the game itself.

Atelier Ryza is a journey about making the best of the here and now, and it is beautiful to behold for it. I felt incredibly engaged every step of the way, wanting to see the game through. I hope that this is the beginning of an engrossing new trilogy.

Atelier Ryza: Ever Darkness & the Secret Hideout begins a new trilogy in the Atelier series and this new chapter is a crowning achievement under the Atelier name. With visible improvements in the combat system and the audiovisual environment, but also more accessible than previous entries in the series, Atelier Ryza puts the threshold at a higher level regarding what is yet to come for Atelier.

Atelier Ryza: Ever Darkness & the Secret Hideout on Nintendo Switch is a fantastic conversion.

It will keep you busy for hours trying to craft better gear and foraging throughout the map for that much-needed material. Atelier Ryza: Ever Darkness & the Secret Hideout is a cutesy, time-consuming monster for the Switch, and it's worth getting.

It's a charming adventure set against a gorgeous backdrop, and even though it may take a while to get going, it's worth persevering with. Its combat is engaging, exploration is a delight, and its characters are a pleasure to know. Even if you've never played an Atelier game before, Atelier Ryza is one worth jumping into.

The RPG saga benefits from new battle and fighting systems, but still has lot of room for improvements when it comes to visuals and staging.
I have never played an Atelier game but saw this game got good reviews and decided to give it a shot. I am so glad I did. I absolutely love

I have never played an Atelier game but saw this game got good reviews and decided to give it a shot. I am so glad I did. I absolutely love this game, from the characters to the different environments to the gameplay, I love it all. The battle system is very fast paced and most random battles are really quick so it never feels too grindy. The characters are great and have big development arks over the course of the game. The story builds really well and its pretty relaxing to play through, but also still really interesting as you learn more about the history of the world. The crafting system is one of the most addicting gameplay loops I can remember in awhile. This is one of those games where I would sit down to play it and before I knew it 4 hours had flown buy. It was a great experience and it runs really well on switch. If you like JRPGs and you haven't tried this you really should cause it very quickly became one of my all time favorites.

…

Expand

A much more fleshed out entry to the series. Atelier ryza offers a more explorable game, getting rid of the time contraints in favor of

A much more fleshed out entry to the series. Atelier ryza offers a more explorable game, getting rid of the time contraints in favor of exploration and combat. The combat system has evolved into a active time battle that is more fast paced than the turn based system from before. The alchemy system has also been revamped.

…

Expand

Great visuals runs solid on the switch only played in handheld Easier than the other Atelier games in the past but still enjoyable. A solid

Great visuals runs solid on the switch only played in handheld Easier than the other Atelier games in the past but still enjoyable. A solid new entry for people that want to jump in an Atelier game. Less frustrating time management system gives newcomers the change to explore, experiment new crafting techniques. A more intense turn-based combat system that will keep you on your toes vast areas to explore, collecting items for crafting is even easier than before giving you a chance to craft items without looking for a specific item. I would give it a higher score if the game was a little more difficult. I finished it much quicker than any of the other games in this series. Looking forward to a sequel since most of the Atelier games are Trilogy.

…

Expand

My first Atelier game and it was a surprising delight. The alchemy system did feel daunting but the game helps you to build up from basic

My first Atelier game and it was a surprising delight. The alchemy system did feel daunting but the game helps you to build up from basic recipes as the game progresses, but when you get towards the endgame the process of trying to create the endgame gear does become tedious as you are effectively doing the same recipe paths but with a higher quality ingredient, but you do this like 5+ times over.

The turn-based combat isn't any different from other games of its time but it is different for an Atelier game (or so I've heard). While Ryza isn't revolutionary in this department it doesn't break a tried and tested battle system which is inherently fun. The story is slow but picks up eventually and the characters are solid. It is a laid-back game that serves as a great introduction into the Atelier series.

…

Expand

This review contains spoilers

, click expand to view

. It's okay. The previous entry (Atelier Lulua) was a masterpiece and is one of my favourite Switch games. This game brings a lot of new stuff to the table which will appeal to some but sadly not to me.
Pros:
Graphically impressive
Core crafting loop is fun
Ryza is a great main character (drags the game along with her likeability and relatability)
Side Characters are likeable enough but...
Cons:
Lacking compared to previous games
The story is weaker than previous entries (A game based on a summer adventure is fine but the save the world in secret thing did not connect for me)
Slow start (fast travel locked early on)
Battle system diluted and 'rushed'
Side Quests tend to be standard fetch quests and add little to the game
Previous games informed players with a '!' that an event was due to take place in an area; strange omission from this title meaning some cutscenes may be missed.

I still enjoyed Atelier Ryza but only after I stopped comparing it to its predecessors. Many see the game as a step forward in the Atelier series but I disagree. The game is fine and it is nice to see new ideas being implemented but I hope that the next game tries to refine the systems further. A shame but it is ok. Go in with your eyes open.

…

Expand

This is an unplayable port.There are zero mouse controls and everything is done with a joystick and keyboard and the keyboard layout is

This is an unplayable port.There are zero mouse controls and everything is done with a joystick and keyboard and the keyboard layout is incredibly crappy.Badly optimized game

…

Expand