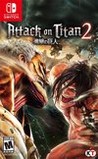 Summary:

Attack on Titan 2 is the sequel to the action game based on the worldwide hit anime series "Attack on Titan." Experience the story of the anime alongside Eren and his companions, as they fight to save humanity from the threat of the deadly human devouring Titans. Try your hand in operating

Attack on Titan 2 is the sequel to the action game based on the worldwide hit anime series "Attack on Titan." Experience the story of the anime alongside Eren and his companions, as they fight to save humanity from the threat of the deadly human devouring Titans. Try your hand in operating the omni-directional mobility gear, maneuvering and flying through the sky to counter the Titans, and feel the thrill and satisfaction of battling giant opponents.

…

Expand
Developer:

Omega Force

Genre(s):

Action

,

Action Adventure

,

General

# of players:

Up to 8

Cheats:

On GameFAQs

Rating:

M
Please enter your birth date to watch this video:
You are not allowed to view this material at this time.
Attack on Titan 2 - Nintendo Switch Multiplayer Gameplay
Attack on Titan 2 is a great game for the Nintendo Switch.

A.O.T 2 is a game that will delight every fan of the series, as it's loyal to the first part and at the same time innovates by putting the player in the shoes of a new character and in the way of explaining the facts. At a technical level, it's true that it can be improved in several aspects, but it's totally compensated by its fun, large amount of content and its cooperative and competitive online modes.

Casual gamers are going to find a lot to love in Attack on Titan 2 (A.O.T. 2). The controls perfectly suit the action, and make Titan-slaying or just swinging around quite fun. There's also plenty of satisfaction to be had in the pursuit of better gear and special skills. However, those out there who want to get the most out of their purchase are going to have a lot of work to do.

While it has plenty of flaws, Attack on Titan 2 actually presents a surprisingly compelling package. As an adaptation of the anime, it does a good job of capturing the series' signature sense of action and as a game in general, it presents mechanics and ideas that are entirely unique. The game's issues with repetition and presentation would likely make it tough to recommend to all series loyalists, but given the gameplay, it becomes a much more interesting experience that might be worth checking out to those looking for a different sort of action game.

If you've played the first Attack On Titan you'll have to contend with replaying the first season of the anime/manga again, but the sequel does a much better (and more comprehensive) job of bringing the canon to life in a different medium. Combat is fast, frenetic and exhilarating, but it can get a little repetitive when played with AI teammates. However, camera issues and the occasional drop in framerate aside, Attack On Titan 2 is one of the best action adventures on Switch and the closest we're going to get to another Monster Hunter on a Nintendo console on the West - for the time being, at least.

The fact that it recycles so much of the 2016 game's material means that in order to get to the new season 2 content you must first wade through a rehashed story mode with its dull sidequests and tedious dialogue choices.

AoT2's Switch port is an admirable effort, but there are just too many concessions made to get it working. The developers had the chance to go the extra mile to use HD Rumble while flying with the ODM but the implementation is lacklustre.
Attack on Titan is one of my favorite anime/manga series of all time, so I was very exited when i learn that a video game was coming to the

Attack on Titan is one of my favorite anime/manga series of all time, so I was very exited when i learn that a video game was coming to the switch. Just bought the game today and played for about 4 hours. I never played the first game so everything in this game is brand new to me. So far the game is really fun (moving with the 3d maneuver gear is very satisfying and makes you wish you could do that in real life). The single player campaign mode follows the source material very well so far, and going through the story is as fun as watching the anime, maybe even better from time to time since you get to control a soldier and slay some titans :D As for the sounds, the voices are the same as in the anime, the only thing that is missing in my opinion is the music from the anime. I really look forward to completing the story and trying the other game mode (and trying it online). My only disappointment so far is that there are downloadable skins that can be purchased from the eshop, but they cost way to much in my opinion (after buy the game at full retail price, i don't really wanna spend 50$ more to get 16 skins) but since those are just cosmetics this shouldn't matter much in the end, as the game is already fun as it is

…

Expand

Love this game. Its juslt like the ANIME. Its just fun to play. I cant recomand this enoff

Got about half in this game. Absolutely loving it if you like this genre. Never played the first but action, pacing and world are addictive!

Got about half in this game. Absolutely loving it if you like this genre. Never played the first but action, pacing and world are addictive!

And the anime graphics - awesome.

…

Expand

It's a good game if you didn't play the first one,because the first half are almost the same. The combat is addictive and fun,it make you feel

It's a good game if you didn't play the first one,because the first half are almost the same. The combat is addictive and fun,it make you feel like some samurai spiderman. The different type of titans really make the game very challenge but I was hoping more maps and better graphics. The game lost frame rate in some battle section when too many stuff going on screen.And the online mode help extend the game's value after you beat the story. For the fan of the manga, this is a must buy.

…

Expand

If you are interested in killing giants with two swords while feeling like Spider-Man or you are a fan of the Manga/Anime then this is the

If you are interested in killing giants with two swords while feeling like Spider-Man or you are a fan of the Manga/Anime then this is the game for you. The portability of the switch only means this game can be enjoyed everywhere. Highly recommended

…

Expand

Rating: 7.6 (Above average but not great)

+ Pros - Cons ! Additional Note + You get to kill titans! That's all you do besides sideRating: 7.6 (Above average but not great)

+ Pros
- Cons
! Additional Note

+ You get to kill titans! That's all you do besides side missions like escort, defend (an area, or a building, or allies), and capturing titans. If players expect more than these, prepare to be disappointed.

+ Town life: Players roam around towns to interact with characters from the anime to obtain new skills.

+ Character creation/customisation: This makes the game even better. The first game felt like a story-telling experience as you play characters from the anime. In this one, you create your character and be a part of the story and feel immersed. The character creator is not shallow nor deep however. But it's there.

+ Variety of equipments (weapons, ODM gear): Though different equipments comes with different stats, they are pretty much cosmetic in my opinion as players can upgrade the stats in the long run with materials. Pick whichever that looks good on you.

- Titan clipping with environment. This is infuriating and annoying as each execution uses precious gas. Often times, I aimed for the nape and titans will clip through buildings or other stuff like trees, thus canceling the execution which wastes gas and time. (Missions are timed, complete them fast for better rewards)

- Allies (A.I.) are most of the time dumb. I've had allies got themselves eaten by titans. But worse is during escort missions where they constantly ran into the fence and got themselves stuck. Which is also affecting 'time-rewards' for the mission. Yep, time is important in this game.

! The Nintendo Switch version runs pretty well and acceptable to me but there will be slow downs which players may need to get used to.

! Titans pop in happens as the draw distance for the Switch version is poor. May or may not affect the players enjoyment, will leave this here for everyone's info.

! Performances and graphics look the same whether on handheld/tabletop mode or docked mode.

Do I recommend this game?
For the Switch? Yes, no doubt! If portability beats graphics and performance, then the Nintendo Switch version is great. Bonus for docked mode.

If you have a PC or PS4/XboxOne: Personally if I owned one of these, I'd get the game for one of these systems instead. The game can be really fast and a higher frame rate would be nice.

…

Expand

The game is pretty dreadful, at least on switch. I don't know if it is better on other platforms, but the combat is completely unintuitive

The game is pretty dreadful, at least on switch. I don't know if it is better on other platforms, but the combat is completely unintuitive and a great deal of instructions are presented at once, making it difficult to grasp. I had high hopes for this game because I am a big fan of the anime and it looked amazing. Very disappointing that I didn't have the experience I had anticipated.

…

Expand