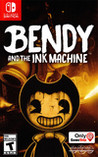 Summary:

Bendy and the Ink Machine is a first-person puzzle action horror game that begins in the far days past of animation and ends in a very dark future. With twists and turns around every corner, this game promises to thrill you… and decimate your childhood.
Bendy and the Ink Machine is one of the best games of its genre on Nintendo Switch. Recommended both for fans of terror and for those who want to try a terrifying experience for the first time.

Gorgeous presentation and some genuinely creepy moments just about manage to outweigh the conventional, and mildly dated gameplay.

The theme and the setting, as well as the design that Bendy & The Ink Machine brings, has dazzled us. A dazzle, however, that despite keeping the type at least throughout the adventure. All that little spell is diluted when realizing that the mechanical machines are simple and that the mixture of genres more than the quality of the set is restored. It is not a bad game because in fact it is fun in its simplicity and it is an interesting adventure. We met several times to explore and unravel a well-implemented story in a fantastic setting makes the experience very worthwhile. Some scare, puzzles and simple combats complete a set that bets for an atmosphere that finally is little used.

Bendy and the Ink Machine is a very intriguing game. It has an incredible visual style that is unique and certainly has some good horror elements going for it, but it, unfortunately, lets itself down in other areas. Straightforward puzzles, unwanted fetch quests and a clunky combat system really hurt the enjoyment in a big way.

Bendy and the Ink Machine has plenty going for it as a new horror instalment on Nintendo Switch – such as the way it builds a growing sense of dread and despair throughout its five chapters while using an animation style that's meant to evoke the safety and joy of childhood memories – but it's let down by some irritating design decisions and frustrating performance issues. Still, if you really do love your horror and want something that ticks all the boxes of a modern scarefest, Bendy and the Ink Machine is still a worthy descent into madness.

Bendy and the Ink Machine is a decent environmental puzzle title. Sadly, though, it just doesn't work as a survival horror. There are more effective examples already available on the Switch, and you'd do well to check those out first.
Многие не любят и хейтят Switch, заявляя мол игр нет! ЕСТЬ!!! Разуйте глаза!

Fabulous art style that blends really well with Nintendos usual catalog of games, High Tension phenomenal scares, excellent characters, and

Fabulous art style that blends really well with Nintendos usual catalog of games, High Tension phenomenal scares, excellent characters, and good responsive controls. If you own a switch and a big fan of horror games, this is a must play!

…

Expand

This was something I wasn't expecting to enjoy as much as I did. It had no hype and randomly appeared on the Eshop for a big amount. After

This was something I wasn't expecting to enjoy as much as I did. It had no hype and randomly appeared on the Eshop for a big amount. After doing some research, I saw it was an indie darling and decided to give it a chance. The game gives you an awesome experience with its amazing scenery, engaging story and enjoyable monsters. I highly recommend it

…

Expand

It's no secret that I'm not one that's all that into horror stuff. Long story short, I'm kind of a pansy. But when it comes to today's horror

It's no secret that I'm not one that's all that into horror stuff. Long story short, I'm kind of a pansy. But when it comes to today's horror video games, it can be hard to get into them: yes, the "Resident Evil" series has made a triumphant return to the horror roots of before, but outside of that, many of the modern horror games that see release are uninspired, jump scare-filled titles that only serve the purpose of giving YouTubers fodder to earn some clout. But admittedly, "Bendy and the Ink Machine" was one horror title that stopped me in my tracks: an indie darling since the first chapter of the game saw release in 2017, I was admittedly pretty fascinated when I learned that the game was set to see a release on consoles. And after spending some quality time in the game's world, I definitely walked away fascinated.
"Bendy and the Ink Machine" is engaging from the get-go: stylistically, I love how the game's art style is so dark and brooding, while also invoking nostalgia and Disney vibes. The visuals are foreboding and fantastic, and lend themselves well to the game's story. Said story is one that sucks you right in: I fell in love with quite a few of the characters, and I think it's so remarkable that the writers took a story about revenge and abandonment and twisted it in such a great way with such a unique setting like an animation studio. And what's more, the game itself is legitimately terrifying: yes, there are some jump scares at points, but what really makes it work is that the atmosphere is so tensing, and the horror elements serve to make you think, instead of just waiting for the next jump scare to happen. It's an unpredictable adventure, and the gameplay can often back that up. It's smooth, fun to get into, and has several very interesting puzzle sections. It's also rather nice that the game is generous with its save points as well, because you're going to really need them.
Unfortunately, the gameplay is the only thing that's really holding it back, as there are a few general, mechanical issues with it: for starters, the combat in the game is awkward and difficult to handle, and it can often be a pain to attack enemies because of the clunky hit detection. This gets dialed up to eleven in the game's final chapter as the combat is more emphasized, to the point where fighting can be needlessly difficult. Furthermore, the game throws some bits of fake difficulty your way, as the enemy AI is often unfair and painstaking to deal with, feeling less like a genuine challenge and more like a chore. And last but not least, the game can tend to slow to a halt in some of the final chapters when it starts throwing in slightly long fetch quests and bits of backtracking, so while the story never loses your interest, the gameplay might.
Needless to say, and while my score may not indicate that this is a top-tier game for me (though I still wonder how a 7 out of 10 is not "good" on Metacritic's scale), "Bendy and the Ink Machine" is one of the most fascinating games that I've ever played, and while it's certainly flawed in a few areas, it's still a gripping horror title that's definitely worth playing through at least once. I can totally see why it's got such a passionate community behind it, and I know the experience will certainly stick with me. It won't rank as one of the best games I've ever played, but I'll absolutely give it props for how memorable and engaging it was from start to terrifying finish.
Final rating: 7 out of 10 "Good"

…

Expand

i honestly didnt think i would like this game because it got big on YouTube at a time where i spent 90 percent of the time i was awake on

i honestly didnt think i would like this game because it got big on YouTube at a time where i spent 90 percent of the time i was awake on YouTube and it never looked appealing to me i didnt really enjoy the art style and the gameplay looked like a walking simulator to me and while i am usually willing to give games i don't like watching on YouTube a chance with the thought of maybe i need to play it first this but game reminded me of a different game that i detested even more after playing it so i wasn't exactly expecting much

but i was wrong the gameplay is basically just a walking sim and the graphics while it grew on me while i was playing was fine but the thing that made me love this game was the lore and atmosphere that permeates most of the game as you play the stuff i personally don't really get from just watching someone else play the game i would definitley say this is a game that you need to play to enjoy for me personally at least

and while looking into lore i found a video about the controversies the company that made the game while i wont go into detail about them it was an interesting video and i would recommend you search for that video on YouTube if you want to know more about the company mind you this didn't affect the review i just thought it was interesting and i know some people like to be informed about the people behind a product before they by said product if you want to watch the video look for Chris Portals video on the Bendy controversy

…

Expand

I didn't expect to enjoy this game as much as I did. Really interesting art style, voice acting is pretty decent, genuinely creepy in moments.

I didn't expect to enjoy this game as much as I did. Really interesting art style, voice acting is pretty decent, genuinely creepy in moments. Not much into horror games but I think this one's pretty good. But I think I would recommend borrowing over buying if it's an option available to you.

…

Expand

This game could be great if it was a little simpler. Too many floors and rooms to deal with straight out the gate. Plus, you're not provided

This game could be great if it was a little simpler. Too many floors and rooms to deal with straight out the gate. Plus, you're not provided any kind of map to help you figure out where you're going. I got lost or ended up in the same room multiple times. It doesn't give you any clues as to where anything is if you can't find it (had to Google a couple things). And plus, this should NOT be given to children. It's heavy in murder and cult themes, which is not appropriate for children under the age of 13. Don't know WHY it's marketed towards children, but it's **** up that it is.

…

Expand