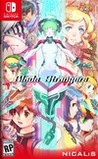 Summary:

Developed by Studio Saizensen, Blade Strangers is a hardcore old-school fighting game. The streamlined four button control scheme makes it easy for beginners to deal out damage from day one...but the intricate combos, counters and specials give tournament-caliber players plenty of

Developed by Studio Saizensen, Blade Strangers is a hardcore old-school fighting game. The streamlined four button control scheme makes it easy for beginners to deal out damage from day one...but the intricate combos, counters and specials give tournament-caliber players plenty of opportunities for frame counting, chain construction and hit-box science.

…

Expand
Developer:

Studio Saizensen

Genre(s):

Action

,

Fighting

,

2D

# of players:

Online Multiplayer

Cheats:

On GameFAQs

Rating:

T
Please enter your birth date to watch this video:
You are not allowed to view this material at this time.
Shovel Knight And Cave Story Characters Duke It Out In Fighting Game Blade Strangers
Blade Strangers is full of character, style and impressive visuals all while delivering a solid fighting videogame experience with some of the most accessible controls going. Play it now!

I'm not sure I can confidently say the game will do waves in the fighting game community, but I think it'll be enjoyable for all players of all different skill types.

Blade Strangers does a decent enough job at building the bridge between the simplicity of Pocket Rumble and the anime flair of BlazBlue Cross Tag Battle. The lean towards concentrating on core fundamentals makes this all-star brawler an approachable but enjoyable throwdown for those that are keen to make their mark in the genre. While the game's easy execution may not entertain hardened enthusiasts for long, those that don't have the time to surgically pick apart the demanding layers of the genre should certainly get a good fix out of this one.

As a first effort out it's genuinely impressive, offering a clean and enjoyable combat system that can also be used to introduce new players to the joy of modern 2D fighters. I firmly believe there's a role for fighters like that in the market, and Blade Strangers is a very fine first effort indeed.

Blade Strangers brings together a series of characters that might not seem like they fit well in the same game but the result is a surprisingly fun fighting game, with good control mechanics and a welcome variety when it comes to the fighters. Its visuals need more work when it comes to their 3D rendering and the soundtrack does not stand out but the experience is overall amusing and easy to get into.

There's not enough to Blade Strangers to recommend it unreservedly, especially with a sparse playable roster and a lack of game modes, but the fighting is undoubtedly solid and enjoyable in bursts. It doesn't have legs, but it does what it sets out to do, and does it surprisingly well.

Decent. That's the only thing that comes to mind when thinking about Blade Strangers. Besides the novelty of being able to choose amongst indie game characters from Studio Sanzensen and Nicalis, there's nothing special about this fighter, other than the fact that it's built in such a way that it makes it a perfect entry for genre greenhorns.
I literally never do this but that is how much I have loved this game. I am not the type who would generally pick up a fighting game due to

I literally never do this but that is how much I have loved this game. I am not the type who would generally pick up a fighting game due to the time necessary to just be competent at one or even have fun playing with someone who knows what they are doing. This game does not require you to spend hours in the training mode just to have fun and fill up the screen with absolutely absurd super moves and combos. If you are a fighting game veteran then this might not be your favorite or the one that you are picking up to play the most but you will have a lot more people to play fighting games with if you have this game. Like Smash, Blade Strangers has simple and easy to grasp controls and is a fighting game you can just jump right into and have fun with it. I have been having an absolute blast playing with my girlfriend who is also not a huge fighting game fan but we were both able to pick it up and start doing moves that look really cool right off the bat. The single player is fun and the story is just absurd but the real joy comes from having another person sitting next to you and a really close match end with you using Shovel Knight's super move and knocking your opponent out with a giant fish swimming across the screen. It is very hard not to laugh and smile while playing this game with another person and I cannot recommend it enough.

…

Expand

Id first like to stay the critic reviews for this game are too meh and somewhat unfair due to their need to compare to other games. Having

Id first like to stay the critic reviews for this game are too meh and somewhat unfair due to their need to compare to other games. Having spent some time within the various modes of this game and online play, I would have to say hands down this is the most approachable, newbie friendly fighting game I have played. Theres no complex joystick commands. There's no complex character assists and tag outs. Its pure 1on1 fighting with a 4 button configuration with shoulder buttons for mixed inputs for throws, ex moves, super, etc. The tutorial and training mode do a good job of introducing you to the games mechanics and some combos you can pull off. For the more expert fighter theres still plenty of combo juggling available as well.

Some reviews mention the game doesnt reinvent fighters. Thats true. How would it? But it has its own great components such as counters, specials, ex specials, and so on. Its not so simplistic that it deserves to be put down for its lack of originality. the 14 characters play differently enough with some characters feeling more similar and some totally different - but they all have their role as close combat, mid range or ranged fighters.

Online play has been mostly smooth with one actual disconnect over 30 games or so. League (ranked) play shows a persons disconnect percentage. Getting online games has been easy on US servers. I play arcade or training and get pulled into matches like other fighting games have.

Story mode is bizarre and mostly pointless but you can quickly skip cutscenes and this mode is a good way to play each character while unlocking skins and such.

Graphics are acceptable. I cant disagree the characters themselves look a little less than perfect (compared to DBZ or BlazBlue) but its not enough of a distraction to matter.

I hope this game does well, better than a ranking of a 7, as it deserves it. Watch some game videos if you're on the fence.

…

Expand

Solid fighting mechanics and a wild, diverse cast of characters from across the Nicalis universe make Blade Strangers worth playing. The

Solid fighting mechanics and a wild, diverse cast of characters from across the Nicalis universe make Blade Strangers worth playing. The humorous dialogue in the story / campaign mode is genuinely funny and very self-aware. The biggest problem with Blade Strangers is the oddly jagged appearance of the fighters themselves -- it almost looks as though the sprites were blown up and then shrunk back down again, with digital artifacts and misshapen pixels making up the lines of animation. Overall, a fun and decent little crossover game.

…

Expand

Blade Strangers, An old-school style 2d fighting game with a streamlined control system. Blade strangers injects popular fighters from the

Blade Strangers, An old-school style 2d fighting game with a streamlined control system. Blade strangers injects popular fighters from the indie scene with representatives from games like: The Binding of Isaac, Shovel Knight, Gunvolt, Cave Story, and more. While featuring online play, story mode, arcade mode, and mission mode; does Blade Strangers have the chops to compete with the very challenging competition?

6.0 / 10

Full video review from Boomstick Gaming on YouTube

…

Expand