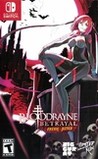 Summary:

Original developer WayForward upgrades its 2011 classic with new voice acting by Laura Bailey and Troy Baker, sharpened visuals, and rebalanced gameplay. Run, jump, cut, and feed your way through a massive underground castle to confront Rayne's father at the behest of the Brimstone Society.
Developer:

WayForward

Genre(s):

Action

,

Action Adventure

,

General

,

Platformer

,

2D

# of players:

No Online Multiplayer

Cheats:

On GameFAQs

Rating:

T
BloodRayne Betrayal: Fresh Bites is a fun action platformer. The combat is the clear highlight, while its platforming sections can use a bit of work.

The customer is always right, so the saying goes, and as customers of this game, players can have some legitimate complaints about the service. The platforming is not fun: sadistic design choices are realised with lacklustre materials. But BloodRayne doesn't care. The combat, when you're allowed to play it, is unique and raucous and deliciously convoluted, with a skill ceiling as high as a gothic cathedral. BloodRayne isn't here to take your order; it's here to suck your blood.

All in all, BloodRayne Betrayal: Fresh Bites is a solid title for anyone who's into hack 'n slash. If you're concerned about the balance, it's still a punishing game, but once you work out the controls, you should be all right in Standard mode. After mastering that, Classic mode will put you through your paces. However, it has basically nothing to do with the existing BloodRayne storyline, and I really don't recommend playing the raven levels more than once.

Bloodrayne Betrayal: Fresh Bites does have a great tension in its combat, as well as a fantastic variety of moves that will have you carving through a gorgeous castle of monstrosities. It's when you start slipping around, tumbling off cliffs, stumbling into enemies, or scrambling to jump to a platform just overhead that the game starts to wear your patience down quickly. It's still enjoyable, but it feels like everything is made more annoying based on a handful of elements.

There's still a game in there that can delight, but it is a lot of work to align yourself with the vision now.

The combat is generally enjoyable, but the scoring system is never explained and appears to require superhuman skill (or far more practice than I'm willing to entertain) to get good grades in. The platforming is generally miserable. The bosses are a lot of fun, though. Betrayal looks and sounds great. More often than not, though, it feels like work. Tedious, exhausting work.
"BloodRayne Betrayal is every bit as enjoyable as ever, but it also contains all the same faults too. With barely noticeable tweaks to the

"BloodRayne Betrayal is every bit as enjoyable as ever, but it also contains all the same faults too. With barely noticeable tweaks to the gameplay, voice acting is the only real selling point for those who have already experienced Rayne's third outing. But what an outing it is! If you can forgive the clunky controls, this is one beautiful hack & slash title that you should add to your collection."

https://theeliteinstitute.net/2021/09/10/bloodrayne-betrayal-fresh-bites/

…

Expand

Having roughly followed the long and usually pretty torturous movie and gaming "career" of this leather-clad vamp I'll admit I was intrigued

Having roughly followed the long and usually pretty torturous movie and gaming "career" of this leather-clad vamp I'll admit I was intrigued to see if she could finally turn things around this time. To its credit, when you're fighting the mechanics may not necessarily be ideal but they're certainly different and interesting in both good and bad ways… and at least they're not generic and boring. Where things struggle and left me scratching my head at times was the game's wildly inconsistent platforming and occasional difficulty spikes. To some degree a straight side-scrolling slasher/beat-em-up would have worked pretty well by simply adding abilities and changing some things up as you go, but there are frequently sections where you're guessing where to go or how to get there and visually the elements of the level often don't make themselves clear, making the overall stage design a frequent weakness rather than a strength. However, that aside, if you've been thirsting for some vampiric violence this can deliver some fun, just be ready for a challenge and bumpy ride in some areas.

https://www.nindiespotlight.com/2021/09/mini-reviews-september-14th-edition.html

…

Expand