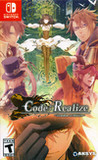 Summary:

This all happened many, many years ago.
The girl searched. Grass withered.
The girl searched even harder. Flowers were the next to die. Even so, the girl continued her search. Eventually, the whole land rotted. The girl was a monster -- a lonely monster. This all happened many, manyThis all happened many, many years ago.
The girl searched. Grass withered.
The girl searched even harder. Flowers were the next to die.
Even so, the girl continued her search. Eventually, the whole land rotted.
The girl was a monster -- a lonely monster.

This all happened many, many years ago.

The poisonous girl who destroyed nature and man alike only sought one thing -- love.

…

Expand
Developer:

Otomate

Genre(s):

Adventure

,

Visual Novel

# of players:

No Online Multiplayer

Cheats:

On GameFAQs

Rating:

T
Code: Realize is a beautiful visual novel, with a wonderful concept that is written wonderfully. It's a little short of the flash-and-bang, which means it's not the ideal introduction to the entire genre, but once you're settled in to the genre and can appreciate a visual novel for a quality narrative without needing full animation or "gameplay elements," it's hard to look past this one as a key example of the genre done well.

Visual novels may not be everyone's favourite genre but Code: Realize ~Guardian of Rebirth~ on the Nintendo Switch does a lot to overcome that. Thanks to a very involving plot, a well defined gameplay structure, and a lovely art style and soundtrack, as well as a very good performance whether on a large screen or on the Nintendo Switch itself, this is a work that has absolutely earned the right to the attention of players, whether they are fans of visual novels or not.

Code: Realize ~Guardian of Rebirth~is the best otome game you can play on Nintendo Switch and one of the better visual novels available on Nintendo's hybrid system.

Code:Realize Guardian of Rebirth is full of beautiful set pieces and fantastic characters. The writing paired with the extremely impressive visual style will give any visual novel fan an immersive fantasy experience. It helps that the adventure is filled with great writing for the large cast of public domain characters as the fuel for the entire story.

If you like a good book but also appreciate aural and visual stimulation, it's definitely worth picking up on Switch, allowing you to enjoy it on your big TV or in handheld mode in bed.

For a first effort, Guardian of Rebirth is a fine read despite some of the minor quirks—and maybe Impey will be a little bit less annoying in the future.

Code: Realize Guardian of Rebirth is a solid visual novel with a unique steampunk setting and a bunch of well-written and pretty likeable lead characters. The mystery surrounding Cardia's bizarre situation combined with suitors based on well-known 18th-century literary characters is an engaging mix and, even if you're not really all that bothered with romancing a bunch of lads, there's plenty here to keep you reading and exploring the various routes and scenarios until you've seen everything this one's got to offer.
I'm loving this game. Beautiful art, good music, all the guys are super hot and all are wonderful characters. The common route is kinda long

I'm loving this game. Beautiful art, good music, all the guys are super hot and all are wonderful characters. The common route is kinda long (10 hours) but it's worth it as it's a whole story in itself. Plenty of romance in the character routes as well as in the common route. I'm genuinely looking forward to the next two games in the series to spend more time with these guys. There's the usual tropes: flirt, cold/stoic, uwu boy, mysterious white haired guy. I personally always like the flirty guys, and fortunately there's two here, as both lupin and impey are wonderful. The overarching story is pretty interesting and it's woven through the routes pretty well. I thought the premise of the mc being unable to touch people would hinder the romance, but fortunately that wasn't the case at all. I'm having an absolute blast with this game, and had a huge smile at parts, and some parts really pull at your heart. My only complaints keeping this from being a perfect 10/10 is perhaps that the common route is a bit too long, some of the glossary entries seem entirely unnecessary (who doesn't know what an automobile is?), and the character portraits are static (not animated like I've seen in some games). All in all this is a game I'm going to treasure for a long time.

…

Expand