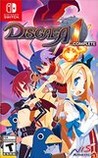 Summary:

The Overlord is dead. The Netherworld is in turmoil. Time to kick some ass! Netherworld Prince Laharl awakens to fight for his throne and it's up to him and some unlikely allies to defend what is rightfully his. Together with his devious vassal Etna, the angel trainee Flonne, and a whole

The Overlord is dead. The Netherworld is in turmoil. Time to kick some ass! Netherworld Prince Laharl awakens to fight for his throne and it's up to him and some unlikely allies to defend what is rightfully his. Together with his devious vassal Etna, the angel trainee Flonne, and a whole cavalcade of explosive characters, Laharl will slash, shoot, and punch his way to the top. Build your squad to level 9999 and unleash crazy special skills, team attacks, and spells to deal millions of points of damage in this zany high-definition remake of an RPG classic.

…

Expand
Developer:

Nippon Ichi Software

Genre(s):

Strategy

,

Turn-Based

,

Tactics

# of players:

No Online Multiplayer

Cheats:

On GameFAQs

Rating:

T
Please enter your birth date to watch this video:
You are not allowed to view this material at this time.
Disgaea: Hour of Darkness Movie 2
Disgaea 1 Complete is an incredible remake of 2003's uncompromisingly idiosyncratic JRPG breakout hit. Hundreds of hours await, endlessly toiling at copious dungeons and enemy encounters, and the sheer delight that battles manage to produce is never lost on you.

This is easily the best version of the Disgaea bringing in all the improvements and enhancements from other versions with a lot of polish. The only problem is the asking price.

Disgaea 1 Complete blows raspberries at po-faced, self-serious strategy games by mixing complex systems with comedy to delightful effect. This remaster is a great introduction for series newcomers, provided you can forgive the odd mismatching texture and an inflexible camera. Veteran fans who have assimilated years of iterative refinements and additions may have a tougher time, but an abundance of charm helps paper over any quality-of-life deficiencies. This cult classic has never looked better and the Switch version makes dipping in and out a breeze.

Overall, Disgaea 1 Complete is a sufficient reminder of what made the series such a cult hit that continues even today, but the recent release of the more feature-filled and modernized Disgaea 5 puts it at stiff competition. For anyone looking for a fix after 5, or is hankering to go through the series' roots either for the first time or the fourth time, there's still plenty to love in this classic re-release.

Disgaea was and still is a great game with solid mechanics and an enjoyable cast of characters, but this remaster will mainly be for those with the deepest of nostalgia for the original.

Still one of the best strategy role-playing games ever made and a great place for newcomers to the franchise to start – assuming they've got the dedication necessary.

If you enjoy tactic RPGs it's definitely worth a look in, and there is plenty to enjoy despite its roughness. If you like RPGs but aren't sure about tactic based games I recommend playing the Disgaea 5 demo to get an idea if this is a game for you.
Cast: 10/10
Story: 8/10
Fun: 9/10
Gameplay: 8/10

Recommended
---------------------- 40 Hours Played

Disgaea, for someone new to the series is a turn-based tactical jrpg, this game was originally released in 2003 and has been remastered in HD,

Disgaea, for someone new to the series is a turn-based tactical jrpg, this game was originally released in 2003 and has been remastered in HD, with a lot of the assets used from Disgaea5. Accompanying the amazing turn-based combat, is a very ok story with a great punny sense of humor. Not even in dialogue, every item in this game has a cheeky description that will entertain you when scrolling through the store. With other story beats that are sure to make you laugh out loud, as long as you appreciate a corny joke every now and again.

The highlight of Disgaea 1 complete is absolutely the combat system. With a team of 10 possible members on the battlefield in a game, you will slash, throw, and cast your way to victory. Each different character type having different specialties from spears & swords, to guns & bows, to different elemental spells filling your team out with the type of characters that fit your playstyle is a joy. Some characters such as warriors and brawlers will counter attack when hit by the enemy, giving you tons of extra damage dealt each turn, but you have to make sure that you have a healer on hand when the goings get rough.

Coming from Disgaea 5, a huge combat disappointment is that you can only see your enemies elemental weaknesses not their weapon weaknesses. In D5 when planning your attacks you can set your spear wielding brawler on an enemy that will be vulnerable to their attacks, truly taking advantage of each member of your squad.

In Disgaea 5 complete, which full disclosure, was the first game that I've played in the series. Right off of the bat they give you a million HL, strong extra characters, and it takes away the struggle that makes you learn to really push and utilize these systems. Honestly, while I love Disgaea 5, I never really felt that it was difficult, and yes I shouldn't have used all of those things from the beginning but I didn't really know that going in. In Disgaea 1, you have to struggle, die, then learn how to work your way through a difficult stage.

When playing Disgaea for review I googled some YouTube videos on grinding, looking in particular for some game hacks that can level you up quick and when I say quick I mean it will take forever going down a rabbit hole learning new ways to utilize the many systems at play. One particular level has a geo modifier that makes every single space on the board give you invincibility except for one on the opposite side of the level.
So that you can throw enemies on top of each other, creating one incredibly strong enemy at level 112. Then maneuver that enemy to the only square on the map that characters will take damage, so if you're patient enough you can hack away at an enemy and take no damage. So with one enemy killed I raised my brawler from level 14 to level 25, which is the entire point of this game.

Playing the game on and off the battlefield. Learning each system will take time, but will surprise you if you challenge it. Ranking my character up in the dark assembly, then allows you to spend mana to have the assembly vote on different modifiers. These modifiers can simply allow you to get higher ranked items in the store or can give you Triple XP on the next enemy killed. However, if you're clever enough to combine a grinding technique with the Triple XP then gaining 10 levels in a single kill can jump to 20 or 25.

And when I say grinding, yes this is a very grindy game. Expect to play the same level 10, 20, or how every many times you want really. Loving the combat system myself, grinding can be incredibly rewarding when you first get decimated by an enemy then comeback and destroy them, but if grinding isn't your thing than Disgaea definitely is not for you. Finding a level with high XP modifiers that also gives you tons of HL is well worth the grind in my opinion. Even futhered with the item world, a feature that allows you to enter any item in your inventory to level that item up as you play through.

Not sure what to expect when coming from the latest entry in the series into the first, Disgaea 1 Complete is a much easier entry point. Having less systems in play than the later entries will allow you to really sink your teeth into the meaty systems that are at the games core and build upon it slowly.

Disgaea 1 Complete is a fantastic tactical-jrpg with some of the most rewarding turn-based combat that I have ever experienced. Yes the story is whacky, but fun, keeping you surprised throughout because it's so damn goofy that you won't be able to guess what's next. If tactical JRPGs are your thing, if Disgaea is your thing, or if you haven't played this genre before and are looking for a new solid experience I can happily recommend Disgaea 1 Complete.

…

Expand

When I found out the original Disgaea was coming out on Nintendo Switch I was overjoyed, after playing through Disgaea 5 complete I knew that

When I found out the original Disgaea was coming out on Nintendo Switch I was overjoyed, after playing through Disgaea 5 complete I knew that I was in for another game packed with chaos and fun.

Since I had never played the original this game was completely new to me (I will review this game accordingly), if you don't count listening to the OST and seeing footage online. The game instantly grabbed me with it's aesthetic (something that wasn't as prominent in D5) and threw me into the story. Disgaea 1's story isn't the best there is, but I don't mind, it doesn't take away the fun.

As for gameplay the game was limited compared to D5 and I would have liked it modernised, though I can also understand that Nippon Ichi went for the original battle system to keep it more akin to the original game.

The OST is absolutely awesome, it does what it needs to do and more. It pumps you up in a battle, sets the mood when it needs to and is enjoyable to listen to even outside the game.

The characters work very well with the story, their personalities are clear and expressive, that makes sure that you actually care about the characters or take them lightly (comic relief). Simple as these may be, I think that's not hindering.

The story is more than decent, I won't spoil anything but just know that this is much much much better than D5's story. I find it interesting that the original is one of the first to really shake up the strategy RPG / JRPG genre with its setting and characters, so if you're interested in things like that or are interested in how they implemented this diversion in the game you should really get it.

The artstyle is great, I think the original designs of the characters are better than the modern designs, a little more dark, for some reason that resonates with me more in this instance. I have to say that some sprites aren't modernised like the rest, I think that's a weird choice to make, keeping some as they are and updating others.

There is one major disappointment though, this is not really a remake. This game is a reskin with improvements in the sprites and OST. This does not make it not worth playing, especially on Nintendo Switch (though I think the pricetag could've been more friendly to our wallets). Disgaea is an amazing series to play on the go, therefore I think it is worth buying, maybe even if you do have the original on PS2.

Overall I think this is a great game, especially for people who have not played the original yet, and the Nintendo Switch is truly the best console to play this game on in my opinion.
The Disgaea series has quickly become my favourite franchise through Disgaea 5, and with Disgaea 1 complete I can keep on enjoying this series all the more.

Don't miss out if you haven't played Disgaea 1!!!

(Art)style: 10 (original) 9 (modern)
OST: 10
Gameplay: 6.5
Characters: 9
Remake quality: 3
Story: 8
Pricetag: 5.5

…

Expand

The game is good, however it is too lazy and not a remake, they brought no gameplay improvements.
Also asking price to steep.

As a Fan of the complete Disgaea Saga, i' m so sad to have to put this score to this game. But it is what it deserves.

This is not aAs a Fan of the complete Disgaea Saga, i' m so sad to have to put this score to this game. But it is what it deserves.

This is not a Remake, is just a ReSkin. It won't be a great deal if the price wasn't near like a new game (49€).

There is a list of the problems:
- No QoL improvements. Everything is like the first game in every aspect, even in the negative things.
You can't Skip animation skills by pushing a button.
You can't make the geochanges go faster.
You can't gain exp by healing.
Item world still with imposible rooms.
The innocents in item world problem from the first game comes back.
No Machichange.
Changing voices to characters.
Continue in the same battle if you die.
Canceling just the attack or the movement or moving until ending the action.
Nothing comes with the game.

- The Re-skin is REALLY lazy. They just use assets from the new games and put them on the characters. But they don't change the old ones from the story, so you have a mix of New sprites in battles and old sprites in the reading.

- Some old monsters, where they didn't came in the other games are gone and changed by the new ones, just to use that skins. So, wingeds, Galactic demons... They are gone. They didn't even tried to make new skins for them. This adds to the lazyness.

Yes, the story is good, but that's not an excuse as it's been there for more than 10 years.. If i just wanted to play Disgaea as before, i could just buy the old one on Steam for 14,99€ instead of 49,99€. Don't buy the game. It doesn't cost this price at this moment. It's just a cash grab.

…

Expand