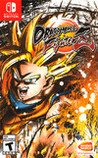 Summary:

After the success of the Xenoverse series, its time to introduce a new classic 2D DRAGON BALL fighting game for this generations consoles. DRAGON BALL FighterZ is born from what makes the DRAGON BALL series so loved and famous: endless spectacular fights with its allpowerful fighters.

After the success of the Xenoverse series, its time to introduce a new classic 2D DRAGON BALL fighting game for this generations consoles. DRAGON BALL FighterZ is born from what makes the DRAGON BALL series so loved and famous: endless spectacular fights with its allpowerful fighters. Partnering with Arc System Works, DRAGON BALL FighterZ maximizes high end Anime graphics and brings easy to learn but difficult to master fighting gameplay to audiences worldwide.
Key Features:

* 3vs3 TAG/SUPPORT
Allows players to train and master more than one fighter/style which brings deeper gameplay

* HIGH-END ANIME GRAPHICS
Using the power of the Unreal engine and the talented team at Arc System Works, DRAGON BALL FighterZ is a visual tour-de-force
* SPECTACULAR FIGHTS
Experience aerial combos, destructible stages, famous scenes from the DRAGON BALL anime reproduced in 60FPS and 1080p resolution (Higher resolution will be supported on PS4 Pro and Xbox Scorpio)

…

Expand
Developer:

Arc System Works

Genre(s):

Action

,

Fighting

,

2D

# of players:

Up to 6

Cheats:

On GameFAQs

Rating:

T
Please enter your birth date to watch this video:
You are not allowed to view this material at this time.
Dragon Ball FighterZ - Cooler Official Gamelpay Trailer
The Switch version performs identically to the PS4 and Xbox One versions, running smooth as silk, sharp as ever and with no input lag when playing with Joy-Cons, the Pro Controller, in docked or in handheld mode. Surprisingly, online battles (no Nintendo Online subscription needed) work flawlessly, absent of even a hint of lag or stutter. And even at odd hours (yeah, I was playing at 4am, what of it?), I never had any issue finding an opponent to battle against. Dragon Ball FighterZ is a AAA port of a AAA game, and the Switch version is definitely the one to get.

A surprising example of the technical capabilities of the Switch. It's almost identical to the previous versions, which means lots of great fighting moments, saiyan style.

FighterZ is an incredible game, and this version is as good as the others. It's a shame the Joy-Con is not great for this type of game, because other than that, being able to play FighterZ anywhere is like a dream come true.

Dragon Ball FighterZ on the Switch is, simply put, the best fighting game we've seen on the system yet. Arc System Works went the extra mile in capturing the essence of the source material and distilled it into an incredible brawler that has lost nothing in the transition to Nintendo's hybrid console. The stunning visuals, intense action and easy-to-master controls make FighterZ a game all fans of the genre should have in their library. If you only play this kind of game casually, it remains a must-own.

Incredible, silky smooth fighting action paired with some incredible visuals makes this easily one of the best looking games on Switch, and quite possibly the best looking fighting game to ever grace a handheld.

This is the long sought-after bridge that links fans of the anime with hardcore virtual pugilists, and it deserves to serve as the template for all future Dragon Ball fighting games. [Issue #36 – November/December 2018, p. 88]

If you're a Switch owner, you probably put a pretty hefty premium on portability. And honestly, the game's performance is otherwise exemplary. For me, the load times and the game's performance make this a good experience in short doses. If you want epic, fast-paced combat in a portable package, definitely give Dragon Ball FighterZ a chance.
Game runs amazingly smooth. Occasional slow downs when walking around the hub city and slightly longer loading times compared to PS4 or PC,

Game runs amazingly smooth. Occasional slow downs when walking around the hub city and slightly longer loading times compared to PS4 or PC, but the combat is a smooth 60 fps. Perfect way to take DBFZ on the road.

…

Expand

Awesome port of an amazing game! If you like dragon ball and fighting games like street fighter, then It's a must play

Incontables hora divirtiéndome con este juego! me encanta y al principio no creía mucho en él... pero al comprarlo me enamoré, es muy

Incontables hora divirtiéndome con este juego! me encanta y al principio no creía mucho en él... pero al comprarlo me enamoré, es muy divertido y tiene un arte impresionante, para mi tiene un mejor dibujo que el mismo Animé, los personajes están bien equilibrados y las secuencias de poderes y golpes son maravillosas... me encantó este juego y estoy seguro que lo jugaré por muchísimo tiempo...Muchas gracias a todos los que han desarrollado tal obra maestra.

…

Expand

This game looks and plays the exact same as it's "big brothers" counter parts (the xbox one and ps4)

I saw this as an upgrade from the xboxThis game looks and plays the exact same as it's "big brothers" counter parts (the xbox one and ps4)

I saw this as an upgrade from the xbox one version i originally had, because i loved the game, but didn't have time to commit to playing it, with the switch version obviously it can be played anywhere, even giving some decent battery life.

Given the choice between all 3 console versions, i would always being saying this one just for playing constantly.

…

Expand

A pesar de que en un comienzo la voz de la calle decía que "Dragon Ball Fighterz" era un imposible para la Switch, al haber sido lanzado en la

A pesar de que en un comienzo la voz de la calle decía que "Dragon Ball Fighterz" era un imposible para la Switch, al haber sido lanzado en la consola de Nintendo se ha demostrado que esta a la altura, e incluso ha dando un paso hacia adelante porque ahora éste juego de peleas puede ser jugado portátil con la misma fluidez que en sobremesa.
La historia esta al nivel de ser convertida en anime: Todos los héroes y villanos se reúnen debido a unas ondas que les ha absorbido sus poderes, y son obligados a formar alianza con un espíritu para poder restablecer sus habilidades y combatir al enemigo, Androide Nª21. Todo contado desde tres perspectivas distintas que hacen ver cuan profunda es la narrativa y lo bien logrado del guión.
El juego es suave y se juega genial, idealmente con un control convencional. Esta la posibilidad de jugar con un amigo con un Joy-Con cada uno pero es mejor si lo hacen con dos pares de éstos o un Pro Controller.
Si te gusta Dragon Ball o los juegos de pelea, éste es uno de los mejores del catálogo de la Switch, se juega fluido y en general el juego esta hecho de forma correcta. Se lamenta el precio del Season Pass pero hay un buen elenco como para comenzar a conocer el juego.

…

Expand

This review contains spoilers

, click expand to view

.

I liked it A lot of one of the best games I have been able to play has many things, the story could improve, another part could come out 2 some movements Very good...

…

Expand

Juego imprescindible si eres fan de la saga, pero que se hace extremadamente fácil al principio con combates con un nulo interés que se

Juego imprescindible si eres fan de la saga, pero que se hace extremadamente fácil al principio con combates con un nulo interés que se resuelven sin que te toquen. En la parte final la dificultad aumenta bastante y se hace complicado el último combate. Lo dicho para pasar un buen rato está bien pero no esperen mucho de él.

…

Expand