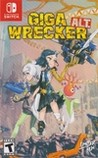 Summary:

In the near future, where Earth has been ravaged by robot invaders, the fate of the planet rests of the shoulders of a young girl who becomes more than human. Saved from death and cursed with cybernetic powers beyond comprehension, it's up to Reika Rekkeiji to save humanity from the evil

In the near future, where Earth has been ravaged by robot invaders, the fate of the planet rests of the shoulders of a young girl who becomes more than human. Saved from death and cursed with cybernetic powers beyond comprehension, it's up to Reika Rekkeiji to save humanity from the evil Ajeet in this exciting new game from legendary developer Game Freak. GIGA WRECKER ALT. combines frantic platforming, intense combat and physics-based puzzle challenges into one exciting adventure. By destroying robotic enemies and the world around her, Reika can form the resulting debris into all manner of weapons and tools. Use these to overcome obstacles and solve puzzles, navigate through platform-laiden levels, then take the fight to the robot invaders and save mankind from extinction before it's too late.

…

Expand
Developer:

Game Freak

Genre(s):

Action

,

Platformer

,

2D

# of players:

No Online Multiplayer

Cheats:

On GameFAQs

Rating:

T
Please enter your birth date to watch this video:
You are not allowed to view this material at this time.
Giga Wrecker Alt Gameplay - GameFreak's New Platformer
GIGA WRECKER ALT is a physics bases puzzler with a gorgeous design and challenging combat that'll leave you begging for more just as much as it'll make you grit your teeth every time you fail.

Giga Wrecker Alt. is still a solid Metroidvania game, even though we're getting more of them nowadays. Even though the collision and physics can sometimes be wonky, the puzzle platforming is inventive and matches well with the combat, which goes at a nice flow once you master the rhythm of the controls. Despite some blurry parts here and there, the graphical art style is good, and the soundtrack is absolutely perfect for the genre. The additions made at the sacrifice of the level builder are worth the exchange, so adventure fans will find Giga Wrecker Alt. to be well worth checking out.

Giga Wrecker Alt is a pretty cool game. It has some issues and likely won't compel all players to keep going, but the puzzles are good, and getting to throw a ton of junk to smash a robot is always fun. The game looks good, sounds good, and offers plenty of play time, so get in there and wreck it.

Giga Wrecker ALT. has some cool ideas, a good level design and even cooler physics, but is hampered by floaty controls and a basic combat system. Recommended, but not without caveats.

When it's not giving the world more reasons to 'Catch 'Em All', Game Freak continues to deliver interesting and unexpected forays into other genres. Much like Tembo the Badass Elephant before it, Giga Wrecker Alt. is a quirky left-turn that takes the exploration staples of a 2D Metroidvania and combines it with a destructible environment puzzle system for some creative and hugely rewarding puzzles. Combat is quite forgettable, but sucker-punching a boss with a giant ball can be ridiculous fun when you pull it off. It's looks might not be that memorable, but it's still a worthy way to make a mess on Switch.

GIGA WRECKER Alt. brings a good dose of action, platforming, exploration and puzzling to a metroidvania style of game. Its threshold doesn't go too high, as the game is not an instant classic or a ground-breaking gem but GIGA WRECKER Alt. does a decent job at providing a fun and enjoyable gameplay experience.

Creators of Pokémon or not, some interesting ideas can't override the terrible execution in this staggeringly ugly 2D platformer.
Geliştiriciliğini, aynı zamanda Pokemon oyunlarının yaratıcısı olan Game Freak'in üstlendiği, yayıncılığını ise Rising Star Games'in yaptığı

Geliştiriciliğini, aynı zamanda Pokemon oyunlarının yaratıcısı olan Game Freak'in üstlendiği, yayıncılığını ise Rising Star Games'in yaptığı 2d, fizik temelli bulmaca, platform oyunu. Oyun bilgisayar için 2016 ağustos ayında çıktı. Diğer platformlar içinse 2019 nisan ayında Giga Wrecker Alt. adıyla çıktı.

Oyunun henüz daha başlarında olmama rağmen oyun hikayesini oldukça merak ettiriyor. fizik kullanımı da oldukça oturaklı ve zevkli. Bulmaca kısmında henüz daha zor bir şeyle karşılaşmasam dahi yaptığınız hatalarda sizi zamanda geri döndürecek bir pembe zaman havuzu mevcut. Yani tekrar tekrar deneyebileceğiniz şekilde tasarlanmış.

Genel olarak oynayış biçimi zıplama, vurma, düşman temizleme ve bulmaca çözme üzerine kurulu. Kolunuzdan yakın mesafeye ateş atabildiğiniz bir sistem mevcut daha doğrusu oyunun başında o hale geliyor. Ayrıca etrafınızda parçalanmış nesneleri kendinize çekip gerektiğinde onlarla savaşmak, gerektiğinde ise bulmacaların çözümüne yardımcı olabilmek amacı ile kullandığınız ayrı bir sistem mevcut.

Oyunun en büyük eksi tarafı ise kontrolleri. kulağa çok basit gelse de böyle bir oyun için tüm artıları götürebilecek bir durum bu. Zıplarken, koşarken ve hatta vururken kesinlikle sizmişsiniz gibi hissetmiyorsunuz. Öyle ki bazen kendinizi Twitch'de oyun videosu izliyor gibi hissedebilirsiniz.

Oyunla alakalı en büyük şansım ise oyunun kodunun bana Switch için verilmesiydi bence. Oyun önce PC platformuna gelse de bence kesinlikle el konsolu için yaratılmış bir oyun. Diğer platformlarda deneme fırsatı henüz bulamasam da oyunun oynanış biçimi "benim yerim burası" diye bağırıyor resmen.

Dediğim gibi oyunun henüz daha başlarındayım ve eğer kontrollere katlanıp oyunu bitirebilirsem bu incelememi güncelleyeceğim.

…

Expand

Game is great mix off puzzle and boss fight ... the unique hand drawn lookalike graphic are beautiful and is just hard enough to make you

Game is great mix off puzzle and boss fight ... the unique hand drawn lookalike graphic are beautiful and is just hard enough to make you retry a couple time without being frustrating or too childish

…

Expand