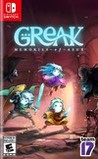 Summary:

Greak: Memories of Azur is a side scrolling single-player game with hand-drawn animations. You will take the role of three siblings: Greak, Adara and Raydel to guide them through the lands of Azur. Alternate control between them and use their unique abilities to escape from the Urlag invasion.
Greak: Memories of Azur is a quite fun metroidvania-style adventure game that invites the player to not stop playing, standing out from the beginning for one thing: its artistic beauty.

Greak: Memories of Azur is an interesting metroidvania. It achieves unique gameplay by allowing you to control multiple characters simultaneously to solve puzzles or fight enemies. In addition, graphics and audio stand out among other indie titles.

Greak: Memories of Azur will surprise and delight you with its quirky characters and rich color palette. Behind this cute aesthetic is also a particularly robust and creative puzzle platformer that focuses on working together with your big brother and sister. There are flaws associated with this mechanic, that the player will have to accept.

Greak: Memories of Azur is a solid platformer by Navegante Entertainment, delivering a well realised world with interesting characters, gorgeous hand-crafted visuals, and intriguing environments that beg to be explored. The combat can be a bit hit and miss at times, and the distinct lack of co-op play — despite the ability to switch characters at will — feels like a missed opportunity. As a story-driven adventure title, though, this one is absolutely worth a punt.

Greak: Memories of Azur is a fine example of a 2D platformer on Nintendo Switch, with beautiful aesthetics and some interesting takes on gameplay. It's let down by its lack of cooperative play and simplistic combat.

Despite an eye-catching art style. Keeping interest in Greak: Memories of Azur is difficult due to the impractical controls and some unfortunate design choices.

At first glance, it's completely understandable to be entranced by the gorgeous environments and backgrounds of Greak: Memories of Azur. Don't be lured unaware by its siren call! While there is a decent experience underneath, some inexplicable design decisions, the uninspired sidequests and serviceable story don't buoy the adventure enough to make up for how badly implemented the game's primary mechanic is. If you came away from the eShop demo impressed or you're able to overlook a very obvious fatal flaw, you might be able to derive some pleasure out of Greak's mission. Don't expect to find me spending much time reminiscing about these memories.
Realmente disfrute bastante Greak de inicio a fin. Lo recomiendo bastante para cualquier consola. Un juego hecho en México.

When you're this far into a system's lifespan, making a splash with a game that not only has a distinctive look but that's in a way that still

When you're this far into a system's lifespan, making a splash with a game that not only has a distinctive look but that's in a way that still feels fresh can take some work. I'd seen Greak last year at PAX with an early-ish build and already there was no question that a great look was already established but in my time I was only able to see the potential in the character-swapping mechanics. I'm happy to say that on release the final version works nicely, still possessing a great simple-but-attractive look, smart puzzle elements with each character having their own feel and usefulness, and even relatively simple but satisfying platforming and combat to work as the connective tissue between everything. While I wouldn't put it at the very top tier within the overall puzzle platforming genre, I'd say there are some better stories told or titles with more diverse and compelling action, I do have to tip my hat to it being a well-made and engaging title genre fans absolutely should check out.

https://www.nindiespotlight.com/2021/08/mini-reviews-august-13th-edition.html

…

Expand

O único defeito de "Greak: Memories of Azur" é que ele acaba com aquele gostinho de "quero mais". Graek é um jogo extremamente divertido e

O único defeito de "Greak: Memories of Azur" é que ele acaba com aquele gostinho de "quero mais". Graek é um jogo extremamente divertido e bonito de se ver! A arte do jogo impressiona nos detalhes e a jogabilidade baseada na utilização de personagens diferentes cai como uma luva na proposta do jogo. Tudo isso é ainda mais impressionante quando levamos em consideração o fato de que é o primeiro jogo produzido pelo estúdio responsável pelo jogo. Recomendo muito para os amantes de aventuras com plataforma e quebra-cabeças!

…

Expand

This game is good. Yeah it does have it's flaws but nowhere near what some reviewers mention. You can even notice that many of those reviewers

This game is good. Yeah it does have it's flaws but nowhere near what some reviewers mention. You can even notice that many of those reviewers didn't even play the full game and just went with the demo which is by no means anywhere near playing the full game. I liked the game, it's really good if you can put aside it's shortcomings.

…

Expand

A great adventure game, little inspired by metroidvanias, but it's not one.
Great art too.

A simple, fun platformer. Would've liked a bit more specific tasks for each character, but overall it was fun.

The developers from Navegante Entertainment released a great game with excellent gameplay with "Greak: Memories of Azur". The storyline with

The developers from Navegante Entertainment released a great game with excellent gameplay with "Greak: Memories of Azur". The storyline with the three different characters scores points, and the fights and puzzles are also challenging and interesting. There is nothing to complain about in terms of graphics and sound. You can also try out a free demo version to see if the game is something. Otherwise, you can download the title directly.

…

Expand