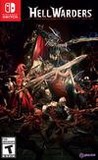 Summary:

Assume the role of one of the mighty Hell Warders, an ancient order of heroes with unique powers and abilities, to resist the demon hordes head-on. Push back wave after wave of Hell-spawn with an arsenal of weapons, rip apart their fearsome commanders with powerful hero skills, and deploy

Assume the role of one of the mighty Hell Warders, an ancient order of heroes with unique powers and abilities, to resist the demon hordes head-on. Push back wave after wave of Hell-spawn with an arsenal of weapons, rip apart their fearsome commanders with powerful hero skills, and deploy your army of knights, archer. Combine forces with up to 4players and battle the legions of evil.

…

Expand
Developer:

Ares Games

Genre(s):

Role-Playing

,

Action RPG

# of players:

Up to 4

Cheats:

On GameFAQs

Rating:

T
Please enter your birth date to watch this video:
You are not allowed to view this material at this time.
Hell Warders - Official Announcement Trailer
The unique blend of genres works pretty well both in single player and multiplayer modes, and Hell Warders offers a decent campaign and a deeper strategy experience than some generic tower defense games. Some of the controls are awkward and placement of units have some restrictions (like degrees of facing), but there aren't a lot of tower defense games rooted in that dark fantasy aesthetic, and the addition of action-RPG elements deepens the gameplay.

If you can get a group together, then Hell Warders is a lot of fun that you won't soon forget. The action is tight, the challenges is robust, and the setting is impeccable. For single player tower defence, there are better options on the Switch (namely PixelJunk Monsters 2), but nonetheless there's a lot of effort and talent that has gone into Hell Warders.

Hell Warders isn't the prettiest of games you'll play on Nintendo Switch – even in docked mode its visuals really struggle to shake off that last-gen sheen – but look past its unoriginal Gothic aesthetic and there's a competent (if uninspiring) Tower Defence game to be had. If you're planning to tackle this alone, it's best avoided, but if you want to hook up with the admittedly small number of people playing online, the occupants of hell certainly won't slay themselves.
so the game had some issues in 2019 slowdown crashes but playing this game in 2020 its great fast fun and FIXED !! and i really am enjoying

so the game had some issues in 2019 slowdown crashes but playing this game in 2020 its great fast fun and FIXED !! and i really am enjoying the game so glad i waited to try this little gem out
leveling up happens during each level you play disposing of bad guy after bad guy from hell yeah your a warder a warden against all hell creatures and you can play from a selection of cliche characters the knight for me was actually the coolest but you can manage the tower defense game with allies that you buy when you kill a devil spawn in a points system that i like and it does get difficult and the stages are well designed the sound art music all make this a switch must-buy !

…

Expand