Publisher:

Nintendo

Release Date:

Mar 25, 2022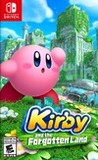 Summary:

Join Kirby in an unforgettable journey through a mysterious world in a 3D platforming adventure. Float off on an all-new adventure as the powerful puffball, Kirby. Explore in 3D stages as you discover a mysterious world with abandoned structures from a past civilization—like a shopping

Join Kirby in an unforgettable journey through a mysterious world in a 3D platforming adventure. Float off on an all-new adventure as the powerful puffball, Kirby. Explore in 3D stages as you discover a mysterious world with abandoned structures from a past civilization—like a shopping mall?! Copy enemies' abilities like the new Drill and Ranger and use them to attack, explore your surroundings, and save the kidnapped Waddle Dees from the ferocious Beast Pack alongside the mysterious Elfilin. Hope you're hungry for an unforgettable adventure!

Join up with a pointy partner, Bandana Waddle Dee, in co-op play

Pass a Joy-Con™ controller to a buddy to play as the spear-wielding Bandana Waddle Dee and help each other explore and battle through this colorful world. While Kirby can float and inhale enemies, Bandana Waddle Dee can spin and stab with his sturdy spear. Find friendship in this forgotten world and save the Waddle Dees!
Float over obstacles and fight through enemies on your way to each stage's goal as you slash, poke, freeze, and hammer using Kirby's copy abilities.
Each themed stage you travel through will hide several friendly Waddle Dees in peril! Save them to grow the home base of your adventure, the once-deserted Waddle Dee Town. The Waddle Dees you rescue will unlock shops and leaderboards*. You'll also be able to enjoy some of the townsfolk's favorite games.

…

Expand
Genre(s):

Action

,

Platformer

,

3D

# of players:

No Online Multiplayer

Cheats:

On GameFAQs

Rating:

E10+
Please enter your birth date to watch this video:
You are not allowed to view this material at this time.
Kirby and the Forgotten Land – Overview trailer
So far, Kirby and the Forgotten Land is the best thing I've played this year and quite possibly might wind up being my game of the year. It's a really fun, gorgeous, and creative game that was a delight to play, and I'd love to see HAL develop a sequel (or just another entry in the series) in the same style. Do yourself a favor and add this game to your Switch library.

Kirby and the Forgotten Land is a delicious mouthful of puzzling, platforming, adventure-filled fun, with heaps of inventive mechanics, luscious level design, and plenty of challenges to chew on

I think the words "pure joy" perfectly encapsulate Kirby and the Forgotten Land. It was immensely successful in targeting its younger audience, while still accommodating older fans of the Kirby franchise. It's full of personality, absolutely endearing, and at times just downright hilarious – what more could you ask from a Kirby game?

Kirby and the Forgotten Land is a delightful cotton candy fluff of a game. It isn't difficult or complex, but it is frequently fun and always adorable. It's almost more of a theme park ride than a platformer, but it does a great job of keeping itself engaging and interesting with a constant shift in mechanics and level design. The only flaw holding it back is the poor performance when docked, which could be a game-breaker for someone hoping for a Mario Odyssey level out of everyone's favorite pink puffball. If you enjoy Kirby, you'll enjoy Kirby and the Forgotten Land, and I'd be hard pressed to name a better choice for younger gamers.

Kirby and the Forgotten Land has managed to be one of the most enjoyable action, platform games I've played recently. I can even say that it has become one of the best Kirby games with its theme and gameplay dynamics.

Kirby and the Forgotten Land is, like most games starring Kirby, thoroughly pleasant. It feels wonderful to play, offering all sorts of rewards for exploring and interacting with its world. I also feel like out of all his adventures, this is the one in which all of the areas fit together best into a cohesive world. It's also quite well-balanced! I do wish some additional series staples showed up and that Waddle Dee Town did more to encourage me to hang around. But it is generally lovely.

Look, if the Telegraph's scoring policy would allow me to give extra points for cuteness, this game would be our highest rated game ever. I really mean that. Nothing else I've played comes close. Kirby makes the characters of Animal Crossing look about as appealing as the beasts from the most recent Resident Evil title. But The Forgotten Land feels like candyfloss, all sweetness but not enough substance. Kirby is one of Nintendo's quirkiest and most charming characters, but he deserves better than a reheated take on one of his big brother Mario's most forgettable outings.
the best Kirby game ever, first 3D world, great level design, interesting Treasure Roads, puzzle mouthful mode, beautiful music, and powerful

the best Kirby game ever, first 3D world, great level design, interesting Treasure Roads, puzzle mouthful mode, beautiful music, and powerful copy ability. Kirby and the forgotten land make me happy again.

…

Expand

A pure masterpiece. My Goty for 2022. Perfect polish, perfect music, perfect gameplay. Whoever made this game is a genius.

Best Kirby game to date. Very creative and inventive, Fun to play even though it may be a bit easy for some, good exploration and side

Best Kirby game to date. Very creative and inventive, Fun to play even though it may be a bit easy for some, good exploration and side missions and the graphics are amazingly crisp both docked and handheld! 10/10

…

Expand

Kirbo 3D y un videojuego mega entretenido y divertido, como siempre en Kirby muy regulable y quieres completarlo al 100%

After so many years, Kirby has his first ever 3D platformer title, and it's one of the best Kirby games there is now! It's more a Super Mario

After so many years, Kirby has his first ever 3D platformer title, and it's one of the best Kirby games there is now! It's more a Super Mario 3D World style of gameplay than an open world, but that alone is a huge step for the franchise! Kirby visits a bunch of mysterious abandoned locations and has to rescue the waddle dees. The levels in this game are very unique with places like a mall, a tropical beach and an amusement park, and they are all fun to play. There are only 12 copy abilities which is kinda low but with the new feature that lets you evolve them, that completely makes up for it! They introduced mouthful mode which lets Kirby turn into so many bizarre items such as a car, a lightbulb or a staircase. This feature worked so well! The game looks visually stunning and is for sure the best looking Kirby game to date! However the one gripe I have with the graphics is the low frame rate especially for enemies at a distance, but that's more the switch's fault than the game's. The soundtrack is amazing too which tunes that will likely become nostalgic in the future. The boss fights are some of the best Kirby fights there are, with really fun attack patterns. There are so many collectables and fun side games to go after that make this game that much more replayable! I do kinda wish there was maybe one more world of levels, but the ones we got are so good! This is definitely one of the best Nintendo Switch games yet, and if Nintendo put this much effort into more of their games nowadays, I'd probably like the switch a lot more! Maybe we will get a full open world Kirby game someday since the franchise worked so well in 3D!

…

Expand

This game is top notch from start to finish.
Everything about it is great, expect the unexpected cause the final bosses and secret bosses are dope!

o jogo e divertido mas alem de parecer ter grafico da geraçao passada nao vale a pena gastar um dinheiro desse num cartunho minusculo que era

o jogo e divertido mas alem de parecer ter grafico da geraçao passada nao vale a pena gastar um dinheiro desse num cartunho minusculo que era pra ser incrivel mas e mediocre , alem do jogo nao tem legenda padrao da nintendo e a mesma coisa do mario odysey

…

Expand