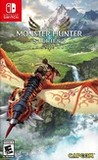 Summary:

Monster Hunter Stories 2: Wings of Ruin offers both RPG and Monster Hunter fans a unique new experience with a rich storyline featuring charming characters, challenging quests and friendly encounters with familiar monsters from the Monster Hunter series. Assuming the role of a young Monster

Monster Hunter Stories 2: Wings of Ruin offers both RPG and Monster Hunter fans a unique new experience with a rich storyline featuring charming characters, challenging quests and friendly encounters with familiar monsters from the Monster Hunter series. Assuming the role of a young Monster Rider who can use a Kinship Stone to form strong bonds with monsters, players can gain experience and improve their skills to form deeper connections with these wonderful creatures. When ready, players can embark on memorable adventures filled with dramatic events and heartwarming friendships as the epic tale unfolds.

…

Expand
Developer:

Capcom

Genre(s):

General

,

Role-Playing

,

Japanese-Style

# of players:

No Online Multiplayer

Cheats:

On GameFAQs

Rating:

E10+
Please enter your birth date to watch this video:
You are not allowed to view this material at this time.
Monster Hunter Stories 2: Wings of Ruin - Trailer 2
Overall, Monster Hunter Stories 2 provides a great way to hunt alongside favorite monsters from the franchise in a charming world with an interesting story to discover.

I went into this expecting little more than a second-tier spinoff from the "real" Monster Hunter, and I've walked away with it being one of my favourite JRPGs of the year, in a year that has included Bravely Default, NieR, Atelier Ryza 2, and Scarlet Nexus. That is some incredible company to be in.

Despite my gripes with the narrative and framerate, Monster Hunter Stories 2 is an exhilarating ride from start to finish. I had a blast getting lost in its addictive combat, collection, and customization systems and appreciating its wondrous visual style. Whether you want to collect Monsties or battle them, or if this is your first or fifth foray into Monster Hunter, you'd be remiss to overlook Monster Hunter Stories 2. Regardless of whether it dethrones Pokémon as the king of monster collecting games, you'll find it injects welcome innovation into the subgenre and stands on its own merits as an RPG well worth your time.

Monster Hunter Stories 2: Wings Of Ruin is an excellent turn-based RPG for Nintendo Switch. Raising monsties is a rewarding experience thanks to a variety of ways to strengthen your creatures. Battles are always satisfying, with great rewards for when you perform well. The world is beautiful and fun to explore. This is a marvellous game and a must-have for Switch players.

Approaching the Monster Hunter series from a different genre, Stories 2 appeals to both those who love the series and those who enjoy Pokemon-style games.

Fans and newcomers to the series, genre, or spin-off sub-series alike will find a lot to enjoy in Monster Hunter Stories 2, which, despite a few stumbles, presents one of the stronger RPG offerings on the Switch.

Ultimately a Monster Hunter game for people who don't like Monster Hunter, Wings of Ruin offers enough spectacle to keep players engaged before surprising them with unexpected depth in combat and customisation. It's let down by repetitiveness in exploration and a slower pace, and Switch players will see how much it strains the hardware, but it's still a good time for JRPG fans.
The game is thorough and amazing. the last titles for pokemon have been lackluster and somewhat carefree. if you care about a great story

The game is thorough and amazing. the last titles for pokemon have been lackluster and somewhat carefree. if you care about a great story funny quips and a refreshing new way to play turn based rpgs this is the game for you. if you love the monster hunter series already... what are you waiting for!

…

Expand

Pra quem jogou e curtiu o título original de 3ds, este monster é obrigatório! Um RPG de turnos em alto nível, belos gráficos, músicas

Pra quem jogou e curtiu o título original de 3ds, este monster é obrigatório! Um RPG de turnos em alto nível, belos gráficos, músicas memoráveis. Neste ano de 2021 o NSwitch vem com tudo nos rpgs.

…

Expand

Put about 10 or 11 hours into this game so far and i must say it is really a great game. Looks great and Has lots of hours too put into it i

Put about 10 or 11 hours into this game so far and i must say it is really a great game. Looks great and Has lots of hours too put into it i can tell. Never was a huge Monster Hunter fan, But this is a great RPG. Great Job Nintendo!

…

Expand

Incredible game! Super fun! Now I'm in the end game and seems to have a lot to do!

Monster Hunter is a series I've been trying to get into for years but has never fully clicked with me, so naturally I was skeptical of an RPG

Monster Hunter is a series I've been trying to get into for years but has never fully clicked with me, so naturally I was skeptical of an RPG style MH game because of my previous experiences with the series. Up until the demo I wasn't sold, but when MHS2 sunk its claws into me it never let go for WEEKS. I was convinced to bring my Switch with me on vacation JUST to play it at the hotel at night because of how addicted I was. Let's start with the positives, I really love the majority of these monster designs & it helped that I was familiar with a lot of them already from watching playthroughs of Monster Hunter World & it's DLC. But everytime I entered a new area I would spend hours finding all of the new monsters to hatch and fight, yeah a lot more are re-skins than I personally would like them to be, but Capcom are experts at post-game DLC so I'm sure the roster will only diversify and grow over the next year even more. The usual hook of the MH series, farming resources from monsters to make better gear, is also simplified as you only need a certain amount of parts to add up to the required total instead of certain pieces, I love this addition so much even though the game is very generous with resources & it's simple to get any pieces you need quickly with the instant finish feature once you get a high enough level. The areas can be generic (beach area, ice area, volcano area) but they're all great to look at even if the Switch is a weak console. Speaking of, the framerate should've been capped, who's decision was that? I wish I had a PC to play this game on but.. the performance can be really shaky. It does hold up surprisingly well on handheld mode though, at times it runs better than docked mode too lol, but Nintendo is known to progress 3 generations behind the competition. The story is pretty decent, it had me invested enough to care and at times had me glued to the screen, but nothing to rewrite the JRPG genre about. And aside from some difficulty spikes in the last quarter (mostly the last 4-5 hours of the story), the game is pretty breezy and as long as you pay attention nothing is much trouble, which makes the sudden difficulty spikes all the more annoying. Something else I want to complain about is the multiplayer. I haven't played a lot of it yet since I just finished the game, but from what I have played I'm not impressed. Also how the hell are people level 99 already? The game is barely a month old! To each their own but.. makes me feel like I suck at the game when I know I don't lol. I haven't been disconnected yet but just like with Pokémon Sword & Shield's god awful multiplayer UI, this repeats a lot of the same mistakes. Only a handful of players come up at a time, many of which will be joined by other players before you finish reading them, so you'll have to exit the multiplayer menu and go back in over and over if you want to see a new page of people. Why the hell are most expeditions only available if you have a pass for them? You have to go back through the same cave structures over and over to farm bottle caps to buy more passes, which you may not even get anything good from. Speaking of, so many of the dens are reused over and over AND OVER again to the point that it's tedious to travel through the same cave with a different coat of paint for the 150th time. I'm not sure if they're procedurally generated but damn, step it up. I also don't care for games that instantly throw you into the deep end right after you finish the main story knowing you need to grind A LOT to do a lot of the post game activities. I'd love to do them all eventually plus the multiplayer ones but I don't think the time investment is all that worthwhile when I have so many other games I still have to play. Other than that I truly did have a blast playing this game & I've been hooked longer than most games can grab me for, one that made me genuinely excited to get home after a long day and play for hours to see what was next is a feeling I've seldom felt since I was a kid. It's definitely better than any Pokémon game I've played since the Gen 5 games. I'm very excited for the future updates & what monsters they'll bring (PLEASE GIVE ME ODOGARON!!!) and if anything this game just makes me wish I could get into the mainline series even more.

…

Expand

Llevo 23 horas jugadas. El juego en sí está francamente bien, es entretenido, sin un nivel de complejidad exagerado, requiere un poco de

Llevo 23 horas jugadas. El juego en sí está francamente bien, es entretenido, sin un nivel de complejidad exagerado, requiere un poco de planificación y táctica pero es lo que se esperaba lógicamente. En Nintendo switch no está bien optimizado y es muy frecuente encontrar zonas donde los FPS se resienten bastante y va a tirones. Afortunadamente por norma general es más que jugable pero esto le resta un puntito, otro puntito que pierde a mi parecer es en la falta de doblaje al castellano, sé que es algo habitual en Nintendo, pero por lo que cuestan estos juegos y las ventas que tienen en el mundo hispanohablante no tiene justificación y por ultimo el tercer punto que le quito y sitúo mi nota en un 7 que es buena nota es la repetitividad excesiva en combates y en guardias de monstruos que son clones unos de otros, le falta un poco más de mimo en términos generales. A pesar de todo es un juego divertido y recomendado.

…

Expand

I spend 3 hours on the final fking boss, and it comes loading the animation. And the game crashed. Now I have to fight the final boss again.

I spend 3 hours on the final fking boss, and it comes loading the animation. And the game crashed. Now I have to fight the final boss again. And the lagging in the second village is so annoying. I would say that if the game is not finished, please do not put it in to the market. I'm a big fan of monster hunter, but this game make me so disappointed.

…

Expand