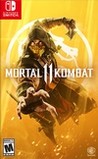 Summary:

Mortal Kombat is back and better than ever in the next evolution of the iconic franchise. The all new Custom Character Variations give you unprecedented control to customize the fighters and make them your own. The new graphics engine showcasing every skull-shattering, eye-popping moment,

Mortal Kombat is back and better than ever in the next evolution of the iconic franchise. The all new Custom Character Variations give you unprecedented control to customize the fighters and make them your own. The new graphics engine showcasing every skull-shattering, eye-popping moment, brings you so close to the fight you can feel it. And featuring a roster of new and returning Klassic Fighters, Mortal Kombat's best in class cinematic story mode continues the epic saga over 25 years in the making.

…

Expand
Developer:

NetherRealm Studios, Shiver Games

Genre(s):

Action

,

Fighting

,

2D

# of players:

Online Multiplayer

Cheats:

On GameFAQs

Rating:

M
Please enter your birth date to watch this video:
You are not allowed to view this material at this time.
Mortal Kombat 11 - Two Full Matches Of Cassie Cage And Sonya Blade Gameplay
The randomization of Krypt rewards and the odd issue with the game's always-online nature can occasionally chip away at your patience, but Mortal Kombat 11 absolutely hits where it matters.

Mortal Kombat 11 is the best Mortal Kombat since MK2, a bold and bombastic entry that boasts a fighting model that finally matches the slapstick theatrics of gory Fatalities. It's further proof that MK, much like Street Fighter, has just as much relevance today as it did in the '90s thanks to the way its evolved while retaining its core identity. On Switch, it's a performance-first experience that nails 60fps, and boasts every mode and mechanic from other versions, only with a noticeable downgrade in the aesthetics department. The heavy-handed application of microtransactions makes customisation far less appealing than it should, but if NetherRealm can redress the balance, MK11 could be a contender for the best fighter on Nintendo Switch.

Mortal Kombat 11 for Nintendo Switch is not the technical showcase we were hoping for. Nonetheless, the stable 60 fps gameplay delivers a solid experience, very rich in content.

Whilst it is not the perfect game, it is great to have Mortal Kombat back on Nintendo. Sure, the visuals are not up to par with other versions of the game, but we did not expect it to be. The always-online barrier of certain modes is what hurts the Switch version more than anything else, as you lose a lot when you are on the go. Strip away all of the extras though, if you are just here to fight, then this is the game for you. Mortal Kombat 11 is the best pure fighting game on the Nintendo Switch.

Fun, deep and full of content, Mortal Kombat 11 is a complete fighting package. However, little performance and aesthetic problems, as well as the reliance on an internet connection to play single player content, prevent the game from achieving its true potential on Switch.

A version that imposes on players a long series of graphic compromises dictated, as usual, by the specifications of a hardware far less powerful than that of the living room counterparts.

Mortal Kombat 11 is an incredible fighting game, and Shiver Entertainment's work in porting the game to Switch is beyond impressive. I wish that I could've enjoyed playing it so much more, but the arduous grind for cosmetics permeates so strongly through the backbone of this game that picking it up to play at all can be frustrating. NetherRealm has promised a patch to make the grind easier, but all it seems to do is increase the rate you gain currency without removing the always-online restrictions. I hope that someday they relax a bit more and make Towers of Time more playable on the go, because right now I can't recommend Mortal Kombat on Switch nearly as much as I want to.
what a great game! best fight saga ever and amazing version on switch! Way better than other suppsedly powerfull console...

All of the crap reviews that I am seeing by users is beyond baffling. I have played MK since the first game, and each iteration has been a

All of the crap reviews that I am seeing by users is beyond baffling. I have played MK since the first game, and each iteration has been a welcomed change or improvement for me. (Minus MK Mythologies). Yes, I do miss the days of the open 3D fighting world that MK brought us into after MK 4, but I have loved every new version of MK that has came out since 2011. That being said I am in love with this new game, the graphics are definitely not as good as the other console versions, but this is a MOBILE GAME. The Switch is running a MOBILE GRAPHICS CHIP. You should know by now what to expect from this console. Educate yourself before you make a purchase! This is 2019, you have the internet, look up freaking screenshots. This is the BEST looking MOBILE fighter I have ever played, all of the features from the other consoles are here, it's amazing. This is literally what I asked for. The game is just as brutal as the other versions but some decrease in fidelity, (which considering how graphic the game is, really isnt a bad thing for me personally.) Honestly the decrease in realistic graphics makes this feel more like i am playing a video game rather than watching real people be brutally murdered. LOL. (Odd point to make I know) If you are a Mortal Kombat fan and you own a Switch and want to play this on the go, get this version!!! It has all of the features as the others, same fatalities and same frame rate...I am in shock over how fluid it plays....Support developers bringing more games to Nintendo Switch, they deserve props for doing such amazing job. BTW, this IS NOT A PORT. IT WAS RELEASED AT THE SAME TIME AS THE OTHER CONSOLES, A PORT IS WHEN A GAME THAT HAS BEEN RELEASED IS "PORTED" TO ANOTHER PLATFORM, MONTHS OR YEARS AFTER ITS' INITIAL RELEASE!!! GEEZUS!!!!! I am giving this a 10 to balance out reviews. Although I would rate the Switch version a solid 8.5 a 1 point decrease from my rating for the other versions because, yes, in reality the graphics are lesser in quality when compared to the more powerful consoles, because once again it is a MOBILE GRAPHICS CHIP, (I am still impressed though). Summary of Scores: Gameplay: 9.5 Storyline: 8.5 Graphics 8.5 Sound: 8.0 Replayability: 10.0 Final Score: 8.5

…

Expand

The game works well with some major exceptions. Characters with lots of particle effects will slow down the game making some of the roster

The game works well with some major exceptions. Characters with lots of particle effects will slow down the game making some of the roster impossible to play properly. Gameplay was given priority over graphics but the stability is still below what most players want or expect. Crashes are far too frequent even if progress doesn't tend to be lost. This is also definitely one of the weaker stories in the series and the big single player feature towers of time can end up being tedious and frustrating and rely far too much on your consumables rather than any real skill. Overall a solid attempt of a port but nowhere near the quality of doom or even the recent dragon's dogma port. I sincerely hope future updates can fix this game.

…

Expand

I bought this because who wouldn't want a portable mortal Kombat to take with you if had to go to work. That is not what I got sure you can

I bought this because who wouldn't want a portable mortal Kombat to take with you if had to go to work. That is not what I got sure you can play classic tower and story without internet. That is after you download the game from the internet. I bought the physical game because I like the idea of owning and playing years down the road. In this that will not happen unless you keep it downloaded. The krypt is the most disappointing thing to me if it was just cosmetic items I'd be fine with the loot boxes but instead you have fatalities and brutalities in there also if you were able to unlock them by just doing the imputs that would be fine but sadly that's not the case. With having them locked I don't even play the game just AI battles in towers to get money to unlock stuff in the krypt in hopes I finally unlock all the brutalities so then I can start learning a character. The towers are better now but they still kinda suck because they moved away from skills and now it's more about random bs. We should be talking about how good the game actually is but instead I feel the bad really over shadows my whole experience. There is alot of hate for mk3 and mk4 but I like them. Armageddon was bad but it still was fun for me to play. My vs dc was bad but I still played a fair amount of it. Hell I even bought Street fighter V the day it came out and I never regretted getting it. I truly believe that this is the last chance I will give Netherrealm. I have sold 1 game in the last 20 years and with this one I think it's time for me to cut my ties and sell it. I really enjoyed injustice also but I'm done giving my money to shady practices that try to make the game more like an app then an actual video game meant to be played on a console.

…

Expand

Core gameplay is fun. Graphics aren't the greatest, but I was honestly expecting that, being handheld - so ill let that slide. What I won't

Core gameplay is fun. Graphics aren't the greatest, but I was honestly expecting that, being handheld - so ill let that slide. What I won't let slide is the ridiculous online requirements! 1st off, a 20 GB required download even when buying a PHYSICAL COPY? Secondly, WTF is the point of a game being on a primarily handheld console if EVERYTHING progression-wise is locked behind a useless (and unstated) REQUIRED INTERNET CONNECTION? There is literally NO reason we should have to be onlne to progress in a "AAA game" that we paid premium price for. This is really, really sad....MK11 is basically a MOBILE GAME disguised as a AAA console game.

…

Expand

What a disappointing entry in the MK franchise!

A lot of fan favourites are missing (Mileena, Rain, Sindel, Smoke...). The story isWhat a disappointing entry in the MK franchise!

A lot of fan favourites are missing (Mileena, Rain, Sindel, Smoke...).

The story is abysmal, makes no sense at all and effectively destroys the entire lore of the last 27 years. Also pushing you personal political agenda with certain tower endings is just disgusting. The developers lied about certain aspects (all characters in the story will be playable, there will be unlockable characters, they will listen to the fans and include all the fan favourites...)

Most importantly however: The developers showed how much they disrespect/hate one of the biggest fan favourites (Mileena) and her fanbase. They didn't include her in the game and mocked/ridiculed her fans for telling NRS how much they want their favourite to be a part of the new installment.

Don't buy games from developers who lie to you, mock/ridicule their own fanbase and put wokeness above character consistency.

…

Expand

I won't pretend it's about the SJW bs or the microtransactions.
I just wanted one thing: Mileena to be in the game.
She's not in, so theI won't pretend it's about the SJW bs or the microtransactions.
I just wanted one thing: Mileena to be in the game.
She's not in, so the game isn't delivering imo.

Periodttt

…

Expand