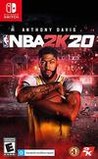 Summary:

From the blacktop to the hardwood and throughout the Neighborhood, NBA 2K20 and its next level features are the closest thing to actually playing in the league. Welcome to the Next. Put your career on the line to stand up for what you believe in. Executive produced by LeBron James &

From the blacktop to the hardwood and throughout the Neighborhood, NBA 2K20 and its next level features are the closest thing to actually playing in the league. Welcome to the Next. Put your career on the line to stand up for what you believe in. Executive produced by LeBron James & SpringHill Entertainment, this year's MyCAREER experience features topical storylines, true-to-life basketball characters, and a star-studded cast. [Take 2 Interactive]

…

Expand
Developer:

Visual Concepts

Genre(s):

Sports

,

Team

,

Basketball

,

Sim

# of players:

Up to 10

Cheats:

On GameFAQs

Available On:

Stadia

Rating:

E
On the surface, NBA 2K20's changes to its own formula might seem less substantial, but spend more than a few hours with its laser accurate recreation of modern b-ball and you'll soon realise how refined it has become. Changes to Virtual Currency earning and progression take the edge off grinding, new additions to The Neighborhood and Pro-Am help bridge the gap between the two and a few welcome changes to MyTeam help facilitate move space for natural growth (even with the ever-present microtransactions). It's not faultless, but those looking to play the full NBA experience on a handheld platform can do so with confidence and Visual Concept's approach to Switch is truly laudable. Simply put, there's no better basketball game out there.

The quality of the port to Switch and the variety and depth of modes and options on offer in NBA 2K20 is incredible. That makes it such a shame that microtransactions infect the story-driven MyCareer, dragging that down to mediocrity or worse. Fortunately, the intriguing though repetitive MyGM mode and the flexible and engrossing MyLeague mode make up for the online-only options. Throw in the WNBA teams and NBA 2K20 is likely the best iteration of the series on Switch even with its caveats.

For Switch-owning sports fans there's nothing that comes close to NBA 2K20. Boasting great visuals, stellar gameplay and a feature-rich range of play types, there's something for everyone, and while VC is still a 'feature' that we'd rather didn't have a place in modern sports titles, it's been balanced back in the favour of actual gameplay.

NBA 2K20 is a surprisingly fully featured offering on the Switch. The game controls beautifully and the Switch does a decent job on the graphical side of things. Some particularly egregious microtransactions do show up but thankfully, these can be ignored for the most part. 2K20 is hands down the best way to play basketball on the Switch right now and should be picked up by any fans of the sport.

While it's impossible to separate NBA 2K20 from its questionable monetisation techniques, there's no disputing that it's a fantastic basketball game. Best of all, there are next to no concessions made for the Nintendo Switch version - it feels great to play and runs excellently.

NBA 2K20 keeps things fresh with some welcome tweaks to gameplay, refining a product that was already well-oiled and well-drilled. This year's MyCareer mode is an enjoyable enough experience but it, like most of the other modes, is spoiled by microtransactions. Year on year, Visual Concepts continues to push the bar on providing an excellent basketball sim. It would be nice if 2K could finally start providing fan service to match.

NBA 2K20 is impressive off the court – the soap opera elements of the story mode notwithstanding – but the on-the-court experience takes the fun out of basketball. Wait for a price drop.
Idk what the user review bombing is about, but I really enjoyed this game. Best looking 2k on Switch yet, great soundtrack, numerous new

Idk what the user review bombing is about, but I really enjoyed this game. Best looking 2k on Switch yet, great soundtrack, numerous new features, My career mode has a great story. New players, teams and uniforms, it doesn't get any better than this imo

…

Expand

Great game! People usually think it's a copy and paste, but they have upgraded visuals, and gameplay feels improved and different. It's a

Great game! People usually think it's a copy and paste, but they have upgraded visuals, and gameplay feels improved and different. It's a great port, but of course the extra download does take some time. Must buy if you're a basketball fan, and want a great experience on the go

…

Expand

The game really is a mixed bag. Since they've updated the game (as they were legally required due to the level of pay to win) the game is much

The game really is a mixed bag. Since they've updated the game (as they were legally required due to the level of pay to win) the game is much better. The gameplay is great as it always is but the presentation surrounding that gameplay is woefull. The pay to win variant is still very much present but no where near as bad. The cinematics on the switch version can range from looking great to the frame rate dropping so much it feels like I'm watching something in claymation. But my biggest gripe has been that for the career mode (which is the main reason I bought the game) you constantly have to be connected to the internet. I hate this aspect with a passion. It has happened multiple times that in the middle of a game I have lost connection to the internet and have to back out to the main menu. The only reason I'm even writing this is because I just lost the connection for the 2nd time in the same match so I decided to create an account on this site just to vent about how much I hate this feature. This is a game that if you looked at the career mode and gameplay in isolation could easily be the pinnicle of sports games (this is coming from someone who doesn't care all that much about basketball) but everything around this is so horribly mismanged. I don't own any other games where I need to (emphasis on NEED) to be connected to the internet just to play the single player campaign. Some may see this whole argument about the internet connection being redundant but I live in the **** of nowhere in Ireland and believe it or not our internet can be so tempormental in the country side. Then I am also limited by where I can play this in my own house. I genuinely can't play this game in my room because it's too far away from the internet modem and the signal from the internet on my phone is nonexistent in my house. I can understand needing internet for their neighbourhood feature but why not just have me connect to the internet when I try to access it like Pokémon does with the wild area feature. This game is so frustrating because all the parts I like about it are taken from the previous game (controls, gameplay etc), with the exception of the story during the career mode. Granted this story has been stellar so far. When I'm going through this I'm having a blast. This rant has entirely occurred because as you can guess I was abruptly diconnected from the internet and entirely wanted to let some steam out about this game. At this point I have wrote more complaining about this one feature than I have on some of my essays for college and I'm sure no one has read this far. But on the off chance you did and have enjoyed these 2765 words I hope you enjoyed my angry rant and have a nice day you legend :)
.

…

Expand

As someone who's never played a basketball game before, the £2.50 sale price was enough to draw me in to give it a go. Once I managed to find

As someone who's never played a basketball game before, the £2.50 sale price was enough to draw me in to give it a go. Once I managed to find the tutorial I figured out how to play with the ball. The tutorial however does a horrible job of explaining the defending mechanics as it tells you the controls but never puts you in a situation to put those controls into practise as you are against an A. I opponent that seemingly does its own thing while you try and follow what the tutorial prompt says. The real thing that has led me to this one star rating, is the simple fact that you have to ALWAYS be online to play the "my career" mode. I was in the middle of a game and was doing well when my front door bell rang so naturally I put the switch into sleep mode to answer and upon returning saw that the game had kicked me out of my single player game. Yes single player game, because I'd lost connection to the WiFi in sleep mode. This game just completely goes against the amazing part of the switch, it's portability, by forcing you to be connected to online to play its key single player game mode.

…

Expand

2K SHOULD BE ASHAMED!!! This has nothing to do with providing entertainment for players anymore! This is about getting people addicted and

2K SHOULD BE ASHAMED!!! This has nothing to do with providing entertainment for players anymore! This is about getting people addicted and making as much money as "humanly" possible! Although I'm not sure whether these morals can be called human anymore. Quite frankly, the entire game is an insult.
It's not just about the microtransactions, but also about the way they try to seduce you into spending money every single chance they get. Not even in a separate menu, but every single time you are in game, want to spend your skill points and accidentally press the button one too many times.

THIS GAME SHOULD TRIGGER A BOYCOT FROM THE GAMING COMMUNITY! FORCE them to revert to focus on entertaining players instead of just appealing to their wallets.

Don't even get me started about 50% of the gameplay not being available anymore after only 2 years due to VC points being rendered unusable! There is NO reason for this except for MAKING MONEY!

…

Expand

Gambling Simulator 2020. I cannot believe this is rated Pegi 3 and E for Everyone.

Slot machines, roulette, ball drop, card packs, and thisGambling Simulator 2020. I cannot believe this is rated Pegi 3 and E for Everyone.

Slot machines, roulette, ball drop, card packs, and this is something kids (and adults) can unfortunately spend large sums of money on.

2K and Take Two don't have a moral compass. They don't care whose lives get destroyed if it makes their company even more money. That's the tragedy here: Not that this is a bad game (which it is), but more that this game is a vehicle to financially crush addicts, that it takes advantage of individuals and families, including children who get access to their parents bank accounts.

And the ESRB rates this E for Everyone? That's a lie and they know it.

…

Expand

Absolutely abysmal. If I wanted the same game they released over 10 years ago, I would have bought it. At the very least, that one won't try

Absolutely abysmal. If I wanted the same game they released over 10 years ago, I would have bought it. At the very least, that one won't try getting me to waste my money every 5 minutes.

…

Expand