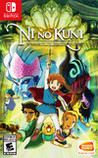 Summary:

Ni no Kuni: Wrath of the White Witch Remastered. Journey back to the other world in Ni no Kuni: Wrath of the White Witch. LEVEL-5's classic tale returns better than ever. Join Oliver as he embarks on an adventure through a world inhabited by new friends and ferocious foes alike in the hopes

Ni no Kuni: Wrath of the White Witch Remastered. Journey back to the other world in Ni no Kuni: Wrath of the White Witch. LEVEL-5's classic tale returns better than ever. Join Oliver as he embarks on an adventure through a world inhabited by new friends and ferocious foes alike in the hopes of bringing back his mother after a tragic incident. With a copy of the Wizard's Companion in his hand and his trusty friend Drippy by his side, he will travel across this rich fantasy world to tame familiars, take on enemies, and overcome the countless challenges that stand between him and his mother's salvation.

Features:

This charming tale unfolds through the use of animation storyboarded and created by the legendary Studio Ghibli and music composed by the renowned Joe Hisaishi. Ni no Kuni: Wrath of the White Witch combines beautiful animated visuals, masterful storytelling, and a sweeping score to create an epic role-playing adventure like no other.

* TAKE THE OTHER WORLD WITH YOU - Take Ni no Kuni: Wrath of the White Witch wherever you go on Nintendo Switch
* ALL-STAR PRODUCTION - LEVEL-5's mastery of the RPG genre is combined with Studio Ghibli's world-class animation and
music composed by the renowned Joe Hisaishi
* CAPTIVATING STORY - A charming yet tragic tale unfolds through the use of animation storyboarded and created by Studio
Ghibli with English and Japanese voice-overs
* ROLE-PLAYING MASTERY - A rich mixture of familiar RPG elements, expertly crafted and designed, and featuring dozens of
locations to explore, hundreds of creatures to battle, and a wealth of quests and secrets to uncover
* DYNAMIC COMBAT - Switch freely between characters and familiars in an exciting battle system that combines real-time and
turn-based tactical elements

…

Expand
Developer:

Level 5, Engine Software

Genre(s):

Role-Playing

,

Japanese-Style

# of players:

No Online Multiplayer

Cheats:

On GameFAQs

Rating:

E10+
Please enter your birth date to watch this video:
You are not allowed to view this material at this time.
Ni No Kuni PS4 Remastered Breathtaking Gameplay | E3 2019
Ni no Kuni: Wrath of the White Witch is a game good for dozens of hours of gameplay, and while it's not an original property for Switch, it is a really glorious addition to the system's library. Players who enjoy JRPGs with lots of style and even more heart will find this to be well worth the purchase. Highly recommended.

Ni no Kuni: Wrath of the White Witch arrives on Switch, bringing its magical, colorful adventure to life on the console although it's NOT a remaster.

The remaster is a great reminder of the potential that the series had and hopefully any future iterations of Ni no Kuni return to this winning formula and bring back the story, cinematics, and combat system that all come together to help make Wrath of the White Witch a modern classic.

Ni No Kuni: Wrath of the White Witch is a solid, no-frills, no-additions port of the original PS3 game of the same title. The first video game by Studio Ghibli has not only aged very well, but it also runs smoothly and quickly on the Switch, making it an ideal way to experience the whimsy, charm, and wonder of this fantastical world with Oliver, his friends, and his fearsome foes.

Despite Ni no Kuni not being enhanced on the Nintendo Switch; it is still a stunning game with a great soundtrack and enjoyable gameplay, and it holds up as well in the present day as it did originally in 2013. The story is emotionally touching and is a must-play for JRPG fans who own a Nintendo Switch.

Ni No Kuni is a visually stunning classic, whose story of heartbreak will touch even the toughest of souls. Wonderfully-written characters, along with top-notch gameplay, help to bring this game to life, even if it eventually gets a little long in the tooth.

Much as it pains me to say, Ni no Kuni — an otherwise masterpiece — is not worth your time on the Nintendo Switch. Its issues are simply too frustrating to work around or forgive. The game is in dire need of patches that overhaul how the game performs on the handheld. I was hoping with talk of a new game in the series and this Switch port that the future of the franchise would be positive. For right now, I'm just disappointed that Nintendo fans have gotten the short end of the stick.
wow, there's some guy saying this is one of the worst games he's ever played... shocking. it's a RPG drawn by studio Ghibli! it's like one of

wow, there's some guy saying this is one of the worst games he's ever played... shocking. it's a RPG drawn by studio Ghibli! it's like one of their movies was made explorable and playable. sure, the characters are simple and there's an overall innocence about the game that's not for everyone. but it's a really great JRPG, with a nice battle system, great heartwarming story and a beautiful world to explore. sure, if you don't like JRPGs, this is not for you. I'm 4 hours into the game and haven't experienced any serious slowdowns. to be confirmed. if you have played it before, it's not essential; if, like me, this is your first chance to play it, you should grab it now!

…

Expand

Crashed once for me so a patch might be necessary in the future. Gorgeous graphics and a very solid frame rate. Looks amazing both docked and

Crashed once for me so a patch might be necessary in the future. Gorgeous graphics and a very solid frame rate. Looks amazing both docked and in handheld...the game play is good and has many classical JRPG elements. One of my favorite RPGS ever.. if the crash-glitch were to be fixed I'd give it a perfect 10

…

Expand

Exactly as expected but better than ever is how I'd describe the portable Switch version of one of, if not the best, JRPG's ever made.

After reading NintendoLifes review I was very sceptical about getting this for Switch. However I decided to get it and after 2 hours of

After reading NintendoLifes review I was very sceptical about getting this for Switch. However I decided to get it and after 2 hours of playing I didn't experience any of these glitches.

I did play Ni No Kuni 2 and finished it. It was a decent game, although way too easy and a bit too childish. I can start by saying that it's unbeliavable that Ni No Kuni 1 is originally a PS3 game. It has aged really well and looks better than many games released today. The story is really well made as well (3 hours into the game currently).

The game feels a bit old when it comes to the combat system however, but it's still way ahead of most other RPGs released during the PS3 era. Also don't get fooled by the art style. This is not a toddler game. If you're an RPG fan, definitely pick this up!

…

Expand

Probably the worst video game I have ever played. More like a long, slow, boring movie. Combat is so easy there's no reason to gather new

Probably the worst video game I have ever played. More like a long, slow, boring movie. Combat is so easy there's no reason to gather new sprites because your original few will dominate to the end. Nothing epic happens, nothing grabs you, no interesting characters. The combat is a yarn fest after the first few battles. When compared to other RPGs like Final Fantasy, Xenoblade Chronicles or Octopath Traveler, this is just awful. Most overrated game on any platform, it feels like a failed Pokemon rip off, but why would you even collect more sprites when the first ones are overpowered? Just avoid this game.

…

Expand

The Switch version is NOT remastered in any way. It is a straight port of the original, last gen version on Ps3. Not lying, look it up. All

The Switch version is NOT remastered in any way. It is a straight port of the original, last gen version on Ps3. Not lying, look it up. All the pretty videos you've seen in recent promotionals are in no way representative of this Switch version. It's a solid game, but this not-remastered PS3 port is completely passable. Maybe I'm being hard on it, but the marketing has been deceitful and the actually visual fidelity of the game looks bad for a FULL priced game.

…

Expand