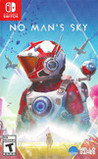 Summary:

Inspired by the adventure and imagination that we love from classic science-fiction, No Man's Sky presents you with a galaxy to explore, filled with unique planets and lifeforms, and constant danger and action. In No Man's Sky, every star is the light of a distant sun, each orbited by

Inspired by the adventure and imagination that we love from classic science-fiction, No Man's Sky presents you with a galaxy to explore, filled with unique planets and lifeforms, and constant danger and action. In No Man's Sky, every star is the light of a distant sun, each orbited by planets filled with life, and you can go to any of them you choose. Fly smoothly from deep space to planetary surfaces, with no loading screens, and no limits. In this infinite procedurally generated universe, you'll discover places and creatures that no other players have seen before - and perhaps never will again.

Embark on an epic voyage
At the centre of the galaxy lies a irresistible pulse which draws you on a journey towards it to learn the true nature of the cosmos. But, facing hostile creatures and fierce pirates, you'll know that death comes at a cost, and survival will be down to the choices you make over how you upgrade your ship, your weapon and suit.

Find your own destiny
Your voyage through No Man's Sky is up to you. Will you be a fighter, preying on the weak and taking their riches, or taking out pirates for their bounties? Power is yours if you upgrade your ship for speed and weaponry.
Or a trader? Find rich resources on forgotten worlds and exploit them for the highest prices. Invest in more cargo space and you'll reap huge rewards.
Or perhaps an explorer? Go beyond the known frontier and discover places and things that no one has ever seen before. Upgrade your engines to jump ever farther, and strengthen your suit for survival in toxic environments that would kill the unwary.

Share your journey
The galaxy is a living, breathing place. Trade convoys travel between stars, factions vie for territory, pirates hunt the unwary, and the police are ever watching. Every other player lives in the same galaxy, and you can choose to share your discoveries with them on a map that spans known space. Perhaps you will see the results of their actions as well as your own...

…

Expand
Developer:

Hello Games

Genre(s):

Action Adventure

,

Open-World

# of players:

No Online Multiplayer

Cheats:

On GameFAQs

Rating:

T
Please enter your birth date to watch this video:
You are not allowed to view this material at this time.
No Man's Sky PSVR2 Trailer | Sony State of Play June 2022
Many may see No Man's Sky coming to Switch as one small step towards entertainment, but making the game work as well as it does on the Switch is one giant leap for Nintendo fans, especially for those wanting to explore something much more extensive and varied than Breath of Wild's Hylian ruins. The port may need some updates to add multiplayer and increase its loading speeds in the future, but No Man's Sky on the Switch manages to fit its updates and addictive gameplay onto Nintendo's on-the-go console well enough that it's immediately one of the best ways to play the game.

I remember thinking how No Man's Sky was a fantastic experience for exploring planets and listening to brilliant music right from the start, but seeing how many were understandably let down by the initial release. Since then, it has continued to only get better and better while releasing on more platforms. It now more than ever justifies its asking price. As someone who owns just about every version of the game physically and digitally, No Man's Sky is one of the best Switch games of the year, and I can't wait to see how it evolves over time alongside the other versions of the game.

No Man's Sky on Switch is a fantastic port of a game we genuinely didn't really believe would make the transition to Nintendo's console without some serious technical issues. Hello Games has made the necessary cutbacks and downgrades to get this intergalactic survival sandbox playing at a super solid frame rate and the colourful, chunky graphical style here ensures that it all still looks pretty fantastic to boot. With all of the game's previous updates and content included — barring multiplayer at this point — and a plethora of customisation options courtesy of the massive Waypoint update, this is an easy recommendation for survival fans and one of the most impressive ports we've seen on Switch to date.

Six years after the release of the original version for PS4 and PC, No Man's Sky has made the hyper leap into the switch dimension. The result is one of the best Switch ports and a masterstroke of programming. Sadly the multiplayer mode is missing in this version. If you can live with that, you'll experience an excellent space exploration game set in a fascinating universe.

Run surprisingly well and look stunning in portable mode, No Man's Sky on Switch is like a dream come true: an entire universe, minus the online, literally in your hands.

No Man's Sky Switch may stumble occasionally, and the price point carries a sting, but portable feels like the perfect fit for this procedural universe of wonder.

No Man's Sky is just playable on the Switch. The necessary graphical downgrades are not surprising, but the lack of multiplayer is. Fortunately, no further content has been cut. No Man's Sky can therefore fulfill all your space fantasies in a lonely and unstable way.
La verdad esta genial el juego corre muy estable en Nintendo Switch y me encanta :) lo puedo llevar a todos lados y jugar en mis tiempos libres.

After the disastrous launch in 2016, Hello Games has managed to restore their reputation with every update. With this port, they have outdone

After the disastrous launch in 2016, Hello Games has managed to restore their reputation with every update. With this port, they have outdone themselves.

…

Expand

Roughly 15 hours of play time and I am still in love. What a great game.. never played any other version and missed the hype train hate in

Roughly 15 hours of play time and I am still in love. What a great game.. never played any other version and missed the hype train hate in 2016. Whatever the developers have been doing… keep doing it. I've heard of crashing issues etc.. and I don't know if I'm an exception or what.. but I haven't been disconnected a single time. I had a single game where flight was getting glitchy, and was choppy, so I just landed and saved. Quit and reloaded, and the smoothness was back. Still feel like I'm basically a newbie, but the advancement is consistent and the excitement for hitting up new galaxies and planets is still there. Playing on Normal and really haven't felt overwhelmed at all. The first hour was like "holy crap" what am I doing, but after I got settled and into a working ship… it became a much more relaxing experience. Much like Skyrim… I see myself coming back to this game for many years to come. Cheers.

…

Expand

I really loved No Mans Sky on the PS4 a couple years ago and now i really love playing it on the Switch. I am suprized how good it runs on a

I really loved No Mans Sky on the PS4 a couple years ago and now i really love playing it on the Switch. I am suprized how good it runs on a hybrid. It seems like the Switch is getting better every year with great ports. Great job Nintendo and Hello Games.

…

Expand

Such a huge and vast game and with so little compromises on Switch, is truly remarkable. Highly recommended!

A wonderful and massive game that plays amazing on the Nintendo switch, there is always something to do, something to explore, something to

A wonderful and massive game that plays amazing on the Nintendo switch, there is always something to do, something to explore, something to discover, i have 50 hours of the game and still have a long way to complete the main story.

…

Expand

I've always wondered why we've been getting so many unfinished games from developers lately, and now I know the answer. It's this huge

I've always wondered why we've been getting so many unfinished games from developers lately, and now I know the answer. It's this huge steaming pile of garbage that's the problem. This game has received heavy admiration from journalists and gamers lately for adding features that should have been in the game from the very start. Had this game actually been released with all these features from the beginning, it would've been forgotten by now like The Last Guardian. Why release a complete functional game from the start, when you can ironically release a broken unfinished mess, and receive more money and praise for fixing it later. CDPR clearly took notes from Hello Games. I'm sick to death of game journalists continuing to encourage these developers to be greedy and lazy.

The gameplay is boring and repetitive. The multiplayer is trash. The graphics are a joke, and so are the physics. The greedy developers are charging $60 for a 6-year-old game that doesn't even have the AAA quality to justify that ridiculous price. That 4.0 update ruined the inventory system. I don't recommend this game at all, unless you want to support laziness.

…

Expand