Publisher:

Nintendo

Release Date:

Oct 30, 2020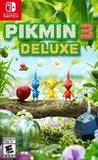 Summary:

No mission is too big for the tiny Pikmin. Touch down on a world of rich adventure with Pikmin 3 Deluxe for Nintendo Switch. Command a capable crop of tiny creatures and explore a hostile planet in this exciting blend of action and strategy. Use each Pikmin type's unique skills to overcome

No mission is too big for the tiny Pikmin. Touch down on a world of rich adventure with Pikmin 3 Deluxe for Nintendo Switch. Command a capable crop of tiny creatures and explore a hostile planet in this exciting blend of action and strategy. Use each Pikmin type's unique skills to overcome obstacles and open up a diverse world around you. Seek out valuable items, solve puzzles and overcome powerful creatures in a richly detailed world full of surprises. What's new? Whether you've played Pikmin 3 on Wii U or it's your first venture on planet "PNF-404", Pikmin 3 Deluxe comes packed with exciting new modes and features:

* 2P co-op: Journey through the main story in two player co-op* on the same console!
* New adventures: Go it alone or team up with a friend to take on brand new prologue and epilogue stories starring Pikmin and Pikmin 2 heroes Olimar and Louie!
* Quality of life improvements: Expand your exploration with an enhanced lock-on targeting system, enemy balancing changes, multiple difficulty modes, optional hints and more.
* Piklopedia: Unlock profile entries for each character and find out their unique perspectives on each creature you discover.
Squad up!
If you need a break from your plucky adventure, more fun awaits with returning additional modes. Get competitive with another player in Bingo Battle, or complete unique challenges alone or cooperatively in Mission Mode which includes all DLC from the Wii U version!

…

Expand
Genre(s):

Strategy

,

Real-Time

,

General

# of players:

No Online Multiplayer

Cheats:

On GameFAQs

Rating:

E10+
Please enter your birth date to watch this video:
You are not allowed to view this material at this time.
Pikmin 3 Deluxe - Olimar and Louie's New Prologue Gameplay
Pikmin 3 Deluxe is a better version of one of the best games ever made - one of Nintendo's crowning achievements, even. Whether you've played it before, or are lucky enough to experience it for the first time, you owe it to yourself to play this irrevocable environmentalist masterpiece.

If you count yourself among a smaller audience that, for example, knows what an RTS or a Metroidvania is, this is a great game. It does exactly what it sets out to do, and it does it well, but it will feel overwhelming to those that have signed on during the Switch era.

Pikmin 3 Deluxe is another excellent entry in Nintendo's charming and under-appreciated franchise. The main campaign is enjoyable enough on its own, but the numerous additions and improvements are just icing on the cake.

This is a solid port of one of the best Wii U games. It's a shame Nintendo didn't try to enhance its visuals or fix some issues, but if you missed it on their previous console, now you've got a second chance.

If you've yet to jump into Pikmin 3, then the Deluxe version is a great way to experience the charming game.

Pikmin 3 Deluxe is another comprehensive re-release with a welcome multiplayer component, but it's a shame Nintendo didn't polish it to the fine sheen that it deserves.

Nintendo's overlooked Pikmin series shines as the latest Wii U Port on Switch, though the core gameplay experience is largely unchanged.
I think i'm obsessed with this game i've beat it on every difficulty got platinums on every level of both side stories and got every

I think i'm obsessed with this game i've beat it on every difficulty got platinums on every level of both side stories and got every achievement except the mission mode ones i'm still working on those so yeah incredible game also don't worry you don't need to have played the other 2 pikmin games there will be some confusion like "who are olimar and louie" but the side stories can help with that

…

Expand

Absolutely loved this game. The enhanced graphics on the switch as well as the additional content make it a very worthy improvement from the

Absolutely loved this game. The enhanced graphics on the switch as well as the additional content make it a very worthy improvement from the previous edition. Does justice to the Pikmin legacy and I truly hope that this is the start of more Pikmin content on the switch.

…

Expand

Pikmin 3 Deluxe is such a wonderful game. The relaxing atmosphere, the music, the graphics, the attention to detail, and the perspective of a

Pikmin 3 Deluxe is such a wonderful game. The relaxing atmosphere, the music, the graphics, the attention to detail, and the perspective of a world seen from eyes of the tiny explorers.

There are 3 modes of difficulty, none of them being very difficult at all, but the best part of Pikmin is the exploration, puzzles and cooperation with your Pikmin.

Playing this game certainly makes you look at the small things in your yard from a different perspective.

…

Expand

Great game. And it is much improved from the first pikmin game. (Haven't played the second title though)

This game is truly spectacular. Pikmin is incredible. The story, environment, gameplay, music. Everything feels good. The reason I gave this a

This game is truly spectacular. Pikmin is incredible. The story, environment, gameplay, music. Everything feels good. The reason I gave this a 7 however is because there is not enough content to justify $60. Nothing was added from Wii U version. But the bigger issue is a lack of content. You can eat this game within 10 hours easily. I'd you are someone who buys games for length over enjoyment I say pass it. If you want a game that will be amazing but won't last too long play it. But this game should have been $20 like it is on the Wii U WITH NO ACTUAL CHANGES!!!

…

Expand

Beyond disappointed. Played both Pikmin 1 and 2. Pikmin 2 in my opinion is still to date one of the best games ever made. That was the only

Beyond disappointed. Played both Pikmin 1 and 2. Pikmin 2 in my opinion is still to date one of the best games ever made. That was the only reason I justified paying $60 dollars for a port of an already old game from the Wii U to the Switch. This isn't a quarter of the size of the second one. It feels like a demo of the second Pikmin. Thought I was at most through half the game when "the end" popped up. The controls are noticeably worse than the gamecube ones and in hand held mode you can't walk unless you use the "go here" tool. Don't know what happened on the development that lead to this and neither do I understand how Nintendo charges as much as it does for it.

…

Expand