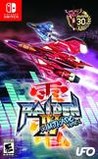 Summary:

Raiden IV, the popular shoot 'em up arcade and Console game, debuts on Nintendo Switch with remixed background music by a superb lineup of artists produced by Game Center Mikado. Instill fear in your enemies with devastating attacks and earn the acclaimed title of master Ace!
Developer:

Moss

Genre(s):

Action

,

Shooter

,

Shoot-'Em-Up

,

Vertical

# of players:

No Online Multiplayer

Cheats:

On GameFAQs

Rating:

E10+
Yes, Raiden IV is not a typical shmup by contemporary standards, and won't be for everyone. Equally, all of these modes have been available in some form elsewhere. But as a single package, Raiden IV x Mikado Remix offers the Switch one of its best shooting game releases yet – and that is saying something on a console that has emerged as an unexpected star vehicle for the genre.

It's fast, furious, and full of neat tricks to learn to consistently bring your play to a higher level. It sure doesn't hurt that it's an incredibly competent port with just about every option you would want. Those who love shoot-em-ups shouldn't miss it.

Raiden IV x Mikado Remix brings the best version of an arcade classic to Nintendo Switch with a wealth of modes and an exclusive soundtrack making it one of the best shoot 'em ups you can play on the system right now.

Raiden IV x MIKADO remix takes a wonderful sequel that's full of arcade shooting fun and adds a stellar new soundtrack. Plus, the fact that you get everything that was in previous Raiden IV iterations is just peachy.

For shoot 'em up fans, the decision whether to purchase Raiden IV x MIKADO Remix or not on Switch should be a no-brainer. Not only is this one of the best shoot 'em ups around, but here it's enhanced with additional modes, global leaderboards and a brilliant remixed soundtrack. Throw in co-op, an abundance of options to fiddle with, and TATE mode, and you have a game that will keep fans of the genre entertained long into the future.
De nuevo la recreativa en tu casa, con una banda sonora de lujo, un regalo para los jugadores que le gustes los arcades de los 90

With an abundance of retro shooters on the Switch it can be a challenge to differentiate them, but for old school arcade fans the Raiden name

With an abundance of retro shooters on the Switch it can be a challenge to differentiate them, but for old school arcade fans the Raiden name should be enough to grab some attention alone. Fully bringing a well-made, intense, and gorgeous arcade shooter to Switch is thankfully within the capabilities of the developers and the system and, though tastes in shooter styles may vary, this remix brings great gameplay as well as some variety in spades across its varied modes. Granted, if you were expecting any sort of deviation from the core classic series in terms of power-ups or style you'd be disappointed, but if you're looking to recapture some great feels of the classic arcade get yourself a Switch Grip (so you can play it vertically, as the universe intended), load this up, and jump into the craziness.

https://www.nindiespotlight.com/2021/10/mini-reviews-october-27th-edition.html

…

Expand