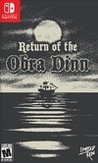 Summary:

In 1802, the merchant ship Obra Dinn set out from London for the Orient with over 200 tons of trade goods. Six months later it hadn't met its rendezvous point at the Cape of Good Hope and was declared lost at sea. Early this morning of October 14th, 1807, the Obra Dinn drifted into port at

In 1802, the merchant ship Obra Dinn set out from London for the Orient with over 200 tons of trade goods. Six months later it hadn't met its rendezvous point at the Cape of Good Hope and was declared lost at sea. Early this morning of October 14th, 1807, the Obra Dinn drifted into port at Falmouth with damaged sails and no visible crew. As insurance investigator for the East India Company's London Office, dispatch immediately to Falmouth, find means to board the ship, and prepare an assessment of damages. Return of the Obra Dinn is a first-person mystery adventure based on exploration and logical deduction.

…

Expand
Developer:

Lucas Pope

Genre(s):

Adventure

,

3D

,

First-Person

# of players:

No Online Multiplayer

Cheats:

On GameFAQs

Rating:

M
The best detective game ever made, that tells its unpredictable story through a mix of idiosyncratic visuals and equally unique puzzle gameplay.

Return of the Obra Dinn lives up to the hype, and then some. It's a beautifully crafted and intricately constructed detective mystery unlike anything you've played before with a harrowing narrative at its centre. Unravelling its secrets takes time and requires patience, but you'll be glad you allowed the story to play out at its own pace. What we have here is a thoroughly unique experience that will stay with you, and is among best this genre has ever had to offer.

Despite some minor control issues on consoles, Return of the Obra Dinn remains possibly the most successful detective game ever made.

Despite having to take breaks due to the visual style, the game kept me coming back again and again, desperate to find the next bread crumb and crack the next mystery, which would inevitably open up a brand new one for me to work my way through. If you like a game that really makes you think long and hard about every piece of information you're given, Return of the Obra Dinn is probably for you.

On consoles this whodunnit adventure has its flaws, but in its best moments this is an intense, clever constructed as well as challenging experience.

Return of the Obra Dinn is without a doubt a thinking man/woman's piece of crumpet. It is someone that you can take out on a date and have a riveting conversation with, but then scratch your head about some of the things they've said afterwards. There's not a lot of replay value here and a lot of the fun is over whence all discoveries have been made and confirmed. That said, it is a, mostly, to-the-point adventure, and it is because of this focus that Return of the Obra Dinn works so well. It's certainly not going to be for everyone, and may even sound boring to some, but as long as there's no expectation for split second thrills (beyond that of what is depicted in the memories, which can be thrilling), you will find an excellent puzzle experience with a more than shipshape presentation.
Absolutely incredible. Many will say that this game isn't replayable because once you complete it once there is nothing else to uncover. While

Absolutely incredible. Many will say that this game isn't replayable because once you complete it once there is nothing else to uncover. While this is true on a surface level, and many of the best moments in this game come from your initial introduction to many of its concepts and plot points, there is a much deeper enjoyment to be found in the details. This game is replayable in the same way a good movie is rewatchable, finding new details and connections everytime you come back to it. It is easily one of the most immersive games on the Switch, as well as one of the most beautiful due to its unique style. I finished my first playthrough a few days ago, and find myself wishing to return to it while playing other more "replayable" games. It is a breath of fresh air in gaming and I cannot wait to see what comes next from Lucas Pope.

…

Expand

The only thing I didn't like about Obra Dinn was when it was over with... I could play 100 games like this one and still be hungry for more.

This game is incredible. Such a satisfying and challenging but fun mystery to unravel and a rewarding progression system.

ROTOD is surprisingly good. I was blown away at how good the graphics can be with only 2 colors. The characters all have unique faces, and

ROTOD is surprisingly good. I was blown away at how good the graphics can be with only 2 colors. The characters all have unique faces, and voice-actors, giving the game a very fleshed-out story that really draws you in. You'll get pulled in to the complex story and it's a great game to play when you have some time to invest.

Graphics: 8
Gameplay: 10
Audio: 9
Story: 10

…

Expand

This game is very well made. The mystery is both well written and well executed as you go around trying to make sense of who died and from

This game is very well made. The mystery is both well written and well executed as you go around trying to make sense of who died and from what.

This is a very good puzzle game that I would suggest to many puzzle lovers. And those who like unraverling a big mystery.

The only downside I would say is that the music get a bit repetitive and at times felt a bit to loud, especially when you choose to jump into a memory.

The voiceacting is so good and the story is just so intriguing.

The major downside to this game is that I felt there werent enough content for me to come back for a second try.

…

Expand

O que mais me impressionou no jogo foi a história, muito interessante e combina com o visual mesmo, super recomendo para quem tem Switch.

Horrible. Played for about an hour and had to stop as I felt a migraine coming on. It's like looking at one of those awful optical illusions

Horrible. Played for about an hour and had to stop as I felt a migraine coming on. It's like looking at one of those awful optical illusions of static shapes that start moving the longer you look at them. But here I'm trying to play a game within it so it's like I'm being poked in the eyes. The actual gameplay seemed like it could be enjoyable but it's just unplayable within this visual monstrosity!

…

Expand