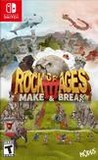 Summary:

Rock of Ages 3: Make & Break is competitive tower defense and arcade action rolled up with ACE Team's quirky, Monty Python-esque humor into one giant, creative game for the ages. Jump into the expansive, gut-busting story for an eclectic adventure featuring bizarre and irreverent takes on

Rock of Ages 3: Make & Break is competitive tower defense and arcade action rolled up with ACE Team's quirky, Monty Python-esque humor into one giant, creative game for the ages. Jump into the expansive, gut-busting story for an eclectic adventure featuring bizarre and irreverent takes on legendary characters, or for the first time, create and share your own levels to compete with friends and strangers online in a real-time mix of hectic tower defense and epic boulder-racing arcade action.

…

Expand
Developer:

ACE Team

Genre(s):

Action

,

Strategy

,

Real-Time

,

General

,

Defense

# of players:

Online Multiplayer

Cheats:

On GameFAQs

Available On:

Stadia

Rating:

T
There's nothing else quite like Rock of Ages out there. It's a mesh of things that shouldn't work together, and that's why I suspect no one else has tried to replicate the mad genius of ACE Team's work. Yes, Rock of Ages 3 has some mild issues with pacing and the loading times could be better to suit the experimentation that is at the core of the experience, but this is also the definitive version of something that is very funny, ideal for both single-player and multiplayer parties, and, thanks to that most excellent course designer, Rock of Ages 3 is functionally endless.

An absurd and delightful experience, Rock of Ages 3 is a great addition to your Switch library. If you don't mind some framerate dips, having tons of community levels on your portable console is ideal.

Rock of Ages 3 stretches the series' core concept to the limit, but this tower defence and boulder platforming hybrid has still got some legs. Adding a few new game modes and the new level creation tool extends the game's longevity, but ACE Team could do with refining a few of the rougher edges still in the game.

If you've played the first two Rock of Ages games and were hoping for something a little more tantalising to bring you back to the series, Rock of Ages III: Make & Break just doesn't have that wow factor to make it an essential purchase. With that being said, I still recommend that newcomers to the series check this one out, as the absurd humour and unique aesthetic is worth the cost of admission alone.

Rock of Ages 3: Make & Break is more of what worked in the previous games with a handful of new modes and a creation suite. A tactical tower defence game that'll have you scratching your head combined with an arcade physics derby that'll have you grinning over the destruction left in your wake, it's a lot of fun to play. It's still not perfect but for those who've had fun with the previous 2 games, this instalment builds on that formula in the right places.

Rock of Ages 3: Make & Break is what I'd guess is a refinement more than a revolution of their ongoing series of paper cut out, boulder racing, and tower defense game using historical figures and public domain music. My disappointment isn't that it's a bad game, more that I see the potential for a really special indie title that could have a diverse array of level types, well-crafted humor, and a well-defined creator tool to build a more evergreen creator community around. I enjoyed my time well enough with it, but the decision to buy will depend on whether the drawbacks hit enough of your personal pet peeves.

Rock of Ages 3: Make & Break does not reveal what the game is about but the word 'rock' is key - yes, this is a game about rocks. Beyond that, there's really not much more to add. There's a level editor that allows online sharing, which is always welcome, but Rock of Ages 3 barely makes an effort to provide any hints or notes of a fun and engaging experience and it will only take a few minutes for most players to move their attention elsewhere.
"I have very mixed feelings regarding Rock of Ages 3. It has some major problems; problems that didn't exist in previous entries. This is

"I have very mixed feelings regarding Rock of Ages 3. It has some major problems; problems that didn't exist in previous entries. This is still Rock of Ages though, and it's still an absolute delight to play. It has some great additional units, game modes, and a level editor too. Here's hoping that in Rock of Ages 4, they can combine the best elements from all three!"

https://theeliteinstitute.net/2021/01/12/rock-of-ages-3-make-break/

…

Expand

This game isn't perfect, but it is very fun. If you looking for something light, funny (and not too easy) this is good choice.

This game is full of bugs and frustrations, but overall it has some fun factor. It feels really half baked throughout, but like raw cookie

This game is full of bugs and frustrations, but overall it has some fun factor. It feels really half baked throughout, but like raw cookie dough, it's still good. They did make some minor improvements from the last game. A few of the units now actually have an impact on the match. Some may even be a little overpowered, but I'll take that over totally useless any day. Otherwise, it's almost the same as part 2. The Switch version doesn't appear to have any online multiplayer. If it does, they hid it really well. Not great, but not okay. I'd recommend getting part 2 on PC before getting this. If it's on sale for $15 it's probably worth it. Otherwise, if you're not a fan of the series you'll probably be confused and frustrated with this.

…

Expand

this game is so bad. i dont like anything here, the gameplay is bad and very boring