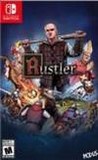 Summary:

Become a medieval thug in a crazy open-world action game, full of pop-culture references. Complete insane quests, kill heroes, steal horses, fight guards, rob peasants, listen to some bard music, and much more! All packed in old-school gameplay style!
Rustler won't win any prizes for originality, but it largely succeeds in aping the GTA format and infusing it with all things medieval. Could the technical performance be better? Yes, but where else can you ride horseback with a beatboxing bard?

Rustler is certainly an enjoyable nostalgic trip back in time for those who are old enough to remember it. Many younger gamers of the Halo and Fornite generation may not be able to appreciate it, but they won't know what they are missing out on.

There are many engaging moments in this game and visually it treasures us with a marvelous looking world. Rustler does need improvement with regards to its performance, though, as too often it's possible to find ourselves getting stuck in the scenario and slowdowns happen frequently, especially in more demanding moments. Other than that, this is a good parody that earned its place in the Nintendo Switch catalogue.

With a bit more thought and consideration towards the controls, combat and structure, and less reliance on fart and poo gags, Rustler could have been a riot.

The awkward controls, annoying mission design, and a sense of humor that tries way too hard all add up to a game that would be tough to love even without any technical issues. And I'm afraid to say that there are plenty of those to go around. Good concept, but that only takes you so far.

Rustler attempts to take us back to classic top-down GTA action in a neat medieval setting but poor performance, shoddy controls, weak humour and a dull, short campaign hold it back from reaching its potential. There are glimmers of good stuff here, a few fun pop culture references, those beat-boxing bards and a good-looking world to stomp around in, but the game underneath is just so underwhelming and uninspired and, in the end, it all feels like a big step back from its most obvious inspirations.

It's entirely possible that Rustler is a lot better if you've played the original GTA games. But I doubt it. Between the lousy controls, the ugly graphics, and the all-around annoying gameplay, there's really nothing here worthwhile.
The medieval version of the first two GTA game did well overall. The main draw here is nostalgia, humour and fun. The smaller amount of

The medieval version of the first two GTA game did well overall. The main draw here is nostalgia, humour and fun. The smaller amount of content and the shorter roughly seven-hour game time here is also justified by the very reasonable price. It's such a retro sandwich, which you won't eat much of, but it's a lot of fun and tastes great! The full review is on my gaming site here: https://www.paranskyraj.cz/recenze/rustler-grand-theft-horse-recenze/

…

Expand

Billing itself as a medieval Grand Theft Auto (this is GTA2, mind you, don't get too excited), Rustler is obviously trying to grab itself some

Billing itself as a medieval Grand Theft Auto (this is GTA2, mind you, don't get too excited), Rustler is obviously trying to grab itself some attention, but that unfortunately also puts some expectations on it to try to meet. Sure, you'll tool around either on foot or horseback doing jobs that are generally more on the unsavory or even downright weird side at times… but aside from frequent potty jokes how does it deliver on being an exciting or compelling experience? "Eh" is probably the most appropriate and honest response I can muster. Perhaps it is the really weird Renn Fair cosplay opening of its own action that threw me off from the get-go but for me it all feels a bit off and from another time, and that's talking in game eras and not history. Maybe a decade or two ago it would all feel a bit more fresh and you could overlook its shortcomings but unless you're really thirsting for a throwback to simpler (and perhaps a bit more juvenile) times this just doesn't seem to have the energy to make more than a middling impression at best.

https://www.nindiespotlight.com/2021/09/mini-reviews-september-10th-edition.html

…

Expand