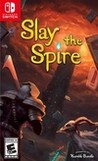 Summary:

Slay the Spire is an energetic fusion of card games and roguelikes. Choose your cards wisely. Craft a unique deck, encounter bizarre creatures, discover relics of immense power, and make your way up the ever-changing Spire.
Developer:

Mega Crit Games

Genre(s):

Strategy

,

Turn-Based

,

Card Battle

# of players:

No Online Multiplayer

Cheats:

On GameFAQs

Rating:

E10+
Please enter your birth date to watch this video:
You are not allowed to view this material at this time.
Slay The Spire - Official Switch Announcement Trailer
Slay the Spire is an endlessly addictive roguelike card-battler that's a perfect fit for the Switch; a beautifully balanced game that's arrived on Nintendo's system with all the benefits of an extended period of Early Access on PC. Its combination of ferocious battles, entertaining chance encounters and selection of three impressively different player characters make every run to the top a nerve-wracking and totally absorbing affair.

Slay the Spire is a nearly endlessly replayable Indie delight from Mega Crit.

Slay the Spire is the best single-player card game out there.

With the growing library of roguelikes and card-based strategy games accumulating in the eShop, new entrants continuously need to find new ways to stand out from the crowd. Slay the Spire succeeds in this regard by foregoing a traditional story or narrative and allowing the player to become completely immersed in strategic thinking. It may not be the prettiest or flashiest roguelike out there, but it certainly has my attention.

Although the mods are not supported as in the PC scene, the Switch version of Slay the Spire is pure bliss, a dangerously addictive roguelike card game like you've never seen before on Nintendo's console.

If we seek to play for many hours, Slay the Spire is for us. Its difficulty and strategy will delight the fans of roguelikes, who must choose their own path of suffering and fun.

It might not be the best version of Slay the Spire, but it's the only one you can take on the go at the moment, being ensnared in its fun, rewarding gameplay, which can lead to missing a bus stop or two on the way to work without feeling all that bad about it.
Fun, highly addictive game. Runs extremely well on the Switch. Makes good use of the controllers and touchscreen

Once you get used to the look and the simplicity of the gameplay, you begin to dig the depth of this perfect deckbuilding game that for now is

Once you get used to the look and the simplicity of the gameplay, you begin to dig the depth of this perfect deckbuilding game that for now is first and unmatched by others. Tons of replayability and perfect for the switch !

…

Expand

This card-based roguelike dungeon crawler keeps calling me back for more, because no matter how many times you play and no matter how many

This card-based roguelike dungeon crawler keeps calling me back for more, because no matter how many times you play and no matter how many times you win, there are still harder challenges, new rewards, and fierce battles ahead. Play as one of four fighters against a collection of unique and... otherworldly... foes as you battle your way through the Spire as you try to figure out what's controlling the world you find yourself in. Everything you need to survive, attacks, power-ups, and defenses, are contained in a deck of cards and a set of potions you collect and add to as the game progresses. While each fighter has his or her own unique deck of cards, thus creating a style of gameplay unique to that particular fighter, you'll soon find out that everything in this game is connected to everything else. You can, if you're lucky (or unlucky) start playing other fighters' cards, or you can sacrifice a reward from the past for a new one in the future, and all the while you're wandering deeper and deeper into the Spire facing foes with their own unique abilities to slay you before you slay them. To say this game is hours of addictive gameplay you just can't put down is an understatement. It's days, weeks, even longer, and I can't even guess how much time and how much raw grit and skill it would take to fully conquer this game. And yet that task doesn't seem as daunting because of how addictive this game is. Whether as a brief time killer or as part of a dedicated gaming session, Slay the Spire is truly among the best of the best of its genre.

…

Expand

This is a wonderful game the brings the best parts of a range of genres into one addictive experience.

Slay the Spire brings enough depthThis is a wonderful game the brings the best parts of a range of genres into one addictive experience.

Slay the Spire brings enough depth and variety to keep any fan of strategy games entertained. Crucially, it adds enough randomness to keep you on your toes while still giving you the chance to anticipate and counter any particularly bad strokes of luck. This gives the game an amazing amount of replay value without ever making you feel like you're at the mercy of how the cards fall.

I've sunk far too many hours into the PC version and have already begun doing the same on the switch. The touch controls work wonderfully, working seamlessly with the card-playing mechanic. The only issue I have with the port is how clunky the touch controls can occasionally be. If you change your mind about playing a card you have to carefully return it to your hand, wait for your hand to adjust, and then carefully select your next card. It's very easy to accidentally grab the wrong card. This is a recurring issue: potions are especially frustrating to try play using the touch screen. Overall the benefits of touch controls outweigh these small issues, but it still gets in the way more often than it should.

Overall though, I highly recommend Slay the Spire and think that this is an excellent port.

…

Expand

It is a really good game. Runs pretty good on the switch, the only issue is when you loss there is a small freeze sometimes. There is a lot of

It is a really good game. Runs pretty good on the switch, the only issue is when you loss there is a small freeze sometimes. There is a lot of content too.

…

Expand

Fantastic game. Plays better on the switch then on mobile devices (easier to select cards, less errors). Great replay value, if you're a fan

Fantastic game. Plays better on the switch then on mobile devices (easier to select cards, less errors). Great replay value, if you're a fan of card games like hearthstone - you'll love this. I believe this is even better. Every time you play the game is different. Does have a learning curve but once you understand the terms/gameplay the game hooks you.

…

Expand

Its all fake! Everything in this game is predetermined! I can prove it to you. At the start of a battle remember your cards. Force quit the

Its all fake! Everything in this game is predetermined! I can prove it to you. At the start of a battle remember your cards. Force quit the game and reload it. The next draw will always be the same which could never occur if the cards were drawn randomly. So unfortunately its all fake! I feel ripped.

I expect a card game to be random. By that I mean that cards should be drawn randomly. Not in this game, you either get cards drawn preselected by the developers or their random card drawer is extremely bad implemented. I had a deck of 50 cards and one of the cards I had five times in the deck. Next draw I get 4 of those 5 cards onto my hand! Do you know how low the odds are for that to happen?! And this did not happen only once, it happens all the time. After this the game became unplayable for me.

…

Expand