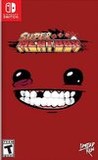 Summary:

Super Meat Boy is a tough as nails platformer where you play as an animated cube of meat who's trying to save his girlfriend (who happens to be made of bandages) from an evil fetus in a jar wearing a tux.

Our meaty hero will leap from walls, over seas of buzz saws, through crumbling cavesSuper Meat Boy is a tough as nails platformer where you play as an animated cube of meat who's trying to save his girlfriend (who happens to be made of bandages) from an evil fetus in a jar wearing a tux.

Our meaty hero will leap from walls, over seas of buzz saws, through crumbling caves and pools of old needles. Sacrificing his own well being to save his damsel in distress. Super Meat Boy brings the old school difficulty of classic NES titles like Mega Man 2, Ghost and Goblins and Super Mario Bros. 2 (The Japanese one) and stream lines them down to the essential no BS straight forward twitch reflex platforming.

Ramping up in difficulty from hard to soul crushing SMB will drag Meat boy though haunted hospitals, salt factories and even hell itself. And if 300+ single player levels weren't enough SMB also throws in epic boss fights, a level editor and tons of unlock able secrets, warp zones and hidden characters.

…

Expand
Developer:

Team Meat

Genre(s):

Action

,

Platformer

,

2D

# of players:

No Online Multiplayer

Cheats:

On GameFAQs

Rating:

T
Please enter your birth date to watch this video:
You are not allowed to view this material at this time.
Super Meat Boy - 1990 Buyer's Club Trailer
One of the best 2D platformers of the last decade, Super Meat Boy lands on the Nintendo Switch and delivers, arguably, the best version of Team Meat's game yet. The Race Mode is a fantastic addition provides a riotous multiplayer experience to what was already a superb package. If you're a fan of challenging platformers and have never played Super Meat Boy before, this is essential. If you've already played it, it's still as awesome as ever - with the added bonus of Race Mode.

Almost a decade later, Super Meat Boy still offers an excellent difficulty curve, sharp level design, and heartless, brutal platforming.

Nintendo Force Magazine

Feb 26, 2018

A great port of a classic game, and a perfect fit for Switch. [Issue #32 – March/April 2018, p. 21]

It feels great to be playing Super Meat Boy again, despite the soundtrack problem. I can't say enough good things about it, but you should know that the difficulty ramps up pretty steadily and somewhere during the third world, the gloves really come off. Enjoy the Warp Zone of World 5-7, kids! If you can find a similarly-experienced buddy, the two-player race is really quite fun.

Nearly eight years later, Super Meat Boy remains a master class in balancing difficulty into engaging level design. The quirk burst level structure holds up incredibly well, allowing players to fail repeatedly without getting discouraged as the goal is always just a few seconds of gameplay away. As more content unlocks by clearing stages with an A+, collecting bandages, and finding Warp Zones, it's incredibly easy to play "just one more level" for hours on end. Unfortunately, the replacement score pales in comparison to Danny Baranowsky's original soundtrack, but the core gameplay is strong enough where this can be overlooked even if longtime fans will surely be disappointed. For anyone who hasn't played Super Meat Boy, though, there's little reason not to give it the chance it more than deserves.

Super Meat Boy is now one of the most beloved indie legends, and the switch version makes it justice. A game that truly stands the test of time arrives to his true home.

Super Meat Boy is another excellent indie addition to Switch's library. The short, but challenging levels are a perfect fit for portable play, and the game runs perfectly in both handheld and TV modes. The tight platforming mechanics and wealth of hidden warp zones, bandages and playable characters are enough to keep us coming back for more. We wish it would add support for video capture features, if only so we can brag about our accomplishments, but it doesn't hinder our enjoyment of the game. If you haven't played this on another platform, or just want to play it on the go, pick this up.
HEEELLLLL YEEEAHH

So addictive, so diffficult, the music gets your heart racing and keeps you going through a million and one deaths.HEEELLLLL YEEEAHH

So addictive, so diffficult, the music gets your heart racing and keeps you going through a million and one deaths.

Better make sure you don't have controller drift issues because this one is _fast_.

…

Expand

What can I say? It's a tough platformer with great replay value. highly recommended!

This game feels like Sonic and Celeste fused together (for me at least). This game takes crazy dedication. If you enjoy rage games this is a must buy!

Super Meat Boy
Super Frustrating
Super Meatboy is an insta death platformer wit hpuzzle elements where you play as meat boy trying to getSuper Meat Boy
Super Frustrating
Super Meatboy is an insta death platformer wit hpuzzle elements where you play as meat boy trying to get through this games 7 different chapters and save bandage girl from the evil dr fetus
This game can be beaten in about 6 hours despite each level beign designed to be beaten in less than 20 seconds..
The hook of this game is its frustratingly addictive difficulty
The mechanics of Super Meat Boy is simple, which makes it so easy to pick up and in turn so easy to forgive as youre dying over and over..
You jump, run jump, or wall jump…
Nothing else…
Its up to you to use these mechanics to maneuver through the games many obstacle courses of blades, lava, and salt.. and you only have one life to do this…
The difficulty of levels is really up and down..
And this is thanks to the game constantly adding new obstacles and enemies to deal with as the game goes on…
When a new mechanic is introduced it will slow down a bit..
This in turn creates a great pacing.. the levels aren't constantly smacking you over the head with difficulty..
Youll at times get a nice breather…
But when levels are hard theyre hard…
and despite them making you want to pull your hair out, its just as hard to put down the controller and walk away.. at least for a little while…
For me the Charm of super meat boy started to wear off by chapter 3..
I was over the hook of dying and retrying, but that's mostly because of the kind of gamer I am…
Im not into punishment for more than a little while..
But if you are one of those sick freaks that likes getting to the point of wanting to break your controller, Super Meat Boy is a great platformer full of collectables to unlock new characters, hidden levels, charm, great characters, and surprisingly engaging boss battles that only feel cheap the first 100 times you die…
I give Super Meat Boy
an 8/10

…

Expand

A precision platformer of the die & retry kind.
It's one of those games I constantly told myself "Come on, another try!" after fails, andA precision platformer of the die & retry kind.
It's one of those games I constantly told myself "Come on, another try!" after fails, and fails I had plenty in this game.
Its art style also stands out: Basic graphics on the one hand, grandiose OST with its symphonic metal tunes on the other.
Nice game.

…

Expand

This game is insanely hard!

The difficulty may put some people off, but for many this is one of the selling points of the game. Personally,This game is insanely hard!

The difficulty may put some people off, but for many this is one of the selling points of the game. Personally, I thought I'd be up to the challenge but now I think the game's defeated me. It's fun to get through a level you've been stuck on for ages, or go for a new best time on a level you've mastered - leaderboards help keep track of this. However, although I had a good time with the first half of the game, the difficulty really ramps up and I felt like it became too difficult for me to enjoy. This isn't necessarily a fault of the game, but the crushing difficulty and the fact that I died thousands of times impeded my enjoyment and caused me to give up before finishing Super Meat Boy. I understand that there's a market for this kind of experience, but I suppose I'm not a part of it.

Give the game a go if you're into a challenge! However, bear in mind that this isn't exactly a relaxing gaming experience.

…

Expand

One of my favorite indie games, turned unplayale for me because the soundtrack, 1/3 of what made it great, was gone without advice. There

One of my favorite indie games, turned unplayale for me because the soundtrack, 1/3 of what made it great, was gone without advice. There should at least be a giant red glowing button on the shop page so you wouldn't do this tremendous mistake of wasting 15$

…

Expand