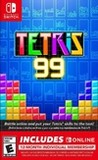 Summary:

The free to download online software, Tetris® 99, is available as a special offer for Nintendo Switch Online members. In large-scale, 99-player battles, it'll take speed, skill, and strategy to knock out the competition and become the last player standing. You can target opponents by sending

The free to download online software, Tetris® 99, is available as a special offer for Nintendo Switch Online members. In large-scale, 99-player battles, it'll take speed, skill, and strategy to knock out the competition and become the last player standing. You can target opponents by sending them Garbage Blocks, but be careful…your rivals can target you back! Defeat opponents to acquire KO badges that may give you the advantage on future attacks. Survive the onslaught and look forward to upcoming online events.

…

Expand
Developer:

Arika, Nintendo

Genre(s):

Puzzle

,

Stacking

# of players:

Up to more than 64

Cheats:

On GameFAQs

Rating:

E
Please enter your birth date to watch this video:
You are not allowed to view this material at this time.
Tetris 99 Nintendo Switch Gameplay - Victory Royale, Chicken Dinner, Tetris Champion?
If you're a Nintendo Switch Owner there's no real reason for you to not download this title. It's already a Game of the Year Contender.

The complete oddball of the family, Tetris 99 offers a truly unique way to play the tried-and-tested classic, even if the overall package feels a little lightweight. Playing live against 98 others is chaotic, and the action feels fast, precise, and wonderfully addictive. It's seriously difficult, too – we'd fancy our chances in Fortnite over this any day – and we're impressed with the fact that it's forced us to play the game with a completely different approach to our usual slow-and-steady ways. Signing up for Nintendo Switch Online just to play this game might be a bit of a stretch, but if you're already a member, what are you waiting for? It's free, and it might just become your next favourite time sink.

If you're after a royale-y good time you should look much farther than Tetris 99.

Tetris 99 is a pleasant surprise, and is my favorite content offered by the Nintendo Switch Online service to date. The idea of playing Tetris against 98 other players at once seems ludicrous but is fun in practice and delivers intense moments just like when you're among the final few in a battle royale game.

Tetris 99 is a convincing mix of the classic Tetris formula and battle royale mechanics.

Tetris 99 may not be a proper battle royale game, but it taps into the same emotional well, where a large number of players vying for supremacy creates an ever-present intensity that's difficult to shake. Add that layer to a game that's plenty capable of instilling tension on its own, and you've got a riveting experience that even at its worst is still a game very much worth playing. There's obvious room for improvement, but that's the last thing on your mind when the pieces start falling and the players start dropping.

For a quick game this "Blockbattle Royale" is good choice, but after that it becomes too tedious too soon.
This is one of the best Tetris games of all time. It is a mix between Fortnite and the puzzle game Tetris. It isn't actually great and should

This is one of the best Tetris games of all time. It is a mix between Fortnite and the puzzle game Tetris. It isn't actually great and should be tried by every Switch owner.

…

Expand

I am soo addicted to this game. Fast action, fast restarts with 98 new opponents, responsive controls, and some mildly interesting

I am soo addicted to this game. Fast action, fast restarts with 98 new opponents, responsive controls, and some mildly interesting interactions make this one heck of a good game to me. You have to like Tetris though. It gets fast quick but that is why I like it. Gets to the interesting part. I just wish you could turn off the ghost piece. But I got used to it.

…

Expand

tetris is the most sold video game of all time. if you consider that fortnite is one of the most downloaded, you have a beautiful combination.

tetris is the most sold video game of all time. if you consider that fortnite is one of the most downloaded, you have a beautiful combination. tetris battle royale

…

Expand

Tengo que reconocer que me burlé en el instante que lo mostraron en el direct, luego lo descargué y ahora vengo aquí a hacerle justicia

Tengo que reconocer que me burlé en el instante que lo mostraron en el direct, luego lo descargué y ahora vengo aquí a hacerle justicia aceptando mi error. Es un juego increíble, las batallas son realmente despiadadas jejeje, cada partida se disfruta, son rápidas y concisas. No le doy un 10 porque lo único que le falta es algún tutorial, y diréis: tutorial para Tetris??, bueno hay algunas modalidades como contraataques, k.o, insignias, aleatorio que no te las explican y tienes que ir aprendiendo sobre la marcha. Del resto es un juego mazo, el Tetris de toda la vida pero con un propósito y más violento (si lo juegan entenderán porque uso la palabra "violento" jeje)

…

Expand

Tetris 99 is missing a lot of enjoyable and alternate modes as well as a manual, but it's a beautiful, well playing Tetris game that pits you

Tetris 99 is missing a lot of enjoyable and alternate modes as well as a manual, but it's a beautiful, well playing Tetris game that pits you against other players. There's not much to say about it. If you've played Tetris, you've played this. Especially if you've played Tetris multiplayer. Easily a great game, it just needs more frills.

…

Expand

The joke of an idea actually came to life, tetris battle royale. It actually makes you want to keep playing too!

Absolute garbage unless you enjoy games that last all of 30 seconds. Constantly getting ganged up on by players 50+ levels higher than me

Absolute garbage unless you enjoy games that last all of 30 seconds. Constantly getting ganged up on by players 50+ levels higher than me making learning and improving near impossible. Also the interface and music are more annoying than anything plus there's no instructions of any kind. Maybe if you're someone who's played tetris daily for 10 years it's fun but any casual player should give it a hard pass.

…

Expand