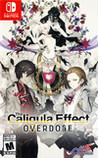 Summary:

Mobius. An idyllic world that exists for the sake of letting people forget about the pain and problems of reality. In this world created by a sentient virtual idol, μ (Mu), reality and fantasy has become blurred, allowing people to relive their high school years in bliss. Yet in this

Mobius. An idyllic world that exists for the sake of letting people forget about the pain and problems of reality. In this world created by a sentient virtual idol, μ (Mu), reality and fantasy has become blurred, allowing people to relive their high school years in bliss. Yet in this seemingly beautiful and perfect world, something is amiss. Escape from this false paradise with your fellow students and return to reality in The Caligula Effect: Overdose.

…

Expand
Developer:

Aquria

Genre(s):

Role-Playing

,

General

# of players:

No Online Multiplayer

Cheats:

On GameFAQs

Rating:

M
Please enter your birth date to watch this video:
You are not allowed to view this material at this time.
The Caligula Effect: Overdose - Announcement Trailer
An unapologetically smart and thoughtful game, one that's happy to be philosophical, and one that's willing to make you work to truly dig into what makes it so wonderful. It's like a work of literature in that way, as opposed to a page-turning novel, and it commands (and deserves) respect for that.

If you would call this a poor man's Persona, you would not be far from the truth. But is there really no beauty in poverty? Yeah, this game made us think about stuff way too much, but that does not mean it is not a great and fun title. It lacks a bit of polish but still offers plenty of reasons for you to grab a Switch and delve into its world of lies, mystery and moral dilemmas. Oh and some catchy j-pop too!

As an homage to the Persona series, The Caligula Effect: Overdose tries to utilize the same mechanics and mannerisms that made the Persona games unique, yet fails to improve over its past shadow. While it does improve many aspects, including a fantastic battle system, it still struggles to improve its storytelling and interaction mechanisms, which ultimately fail to engage players to the dark secrets of the human soul. Not a bad effort, but definitely with room to improve.

Even without prior knowledge of the Persona series, it's hard to walk away from this game without criticizing the quality. A boring story, uninteresting characters, and a soundtrack that begs you to play with the sound turned off are just a sample of the myriad reasons to avoid The Caligula Effect. For a select niche, the incredibly fun combat system may be worth overlooking all of the faults, if at least for a few hours. While I had a terrific time beating my opponents into dust, everything else is just too egregious to recommend to anyone.

While it is the strongest version of The Caligula Effect, it is hard to recommend Overdose to anyone but the most hardcore of fans given its flaws.

The new additions to the story and combat are welcome and they definitely make the experience better than the original Vita release. This is better than playing it on the PS Vita for sure but you'd rather just get this on PS4 or PC if you're really interested in Caligula.

The Caligula Effect: Overdose has one good idea, and it squanders it with a bunch of other terrible choices.
I love this game. So many diverse characters, play as girl, upgraded graphics, great combat, great social commentary. It's no wonder this game

I love this game. So many diverse characters, play as girl, upgraded graphics, great combat, great social commentary. It's no wonder this game is a cult classic in Japan. Some minor technical issues and not the most high budget production, being a vita port.

…

Expand

I can see why kids wouldn't enjoy a game like this since it falls more towards the pre-Persona 3 side of things. Specially the moron

I can see why kids wouldn't enjoy a game like this since it falls more towards the pre-Persona 3 side of things. Specially the moron complaining about japanese tropes in a japanese game. For the adults that played Persona 1/2 (dual) you'll enjoy this title however I recommend you play this on the ps4 or pc as the switch version suffers in the framerate department.

…

Expand

The beauty of The Caligula Effect: Overdose is its simplicity. A lot of JRPGs are complicated, cumbersome, and require a lot of grinding

The beauty of The Caligula Effect: Overdose is its simplicity. A lot of JRPGs are complicated, cumbersome, and require a lot of grinding before you can progress further. The combat system here is easy to pick up on, the leveling system is streamlined, and the item menu navigation is easy to understand. Add to that the intriguing story, the amazing music, and the outstanding voice acting and you got yourself a solid JRPG. Fans and newcomers alike should really consider adding this to their collection.

…

Expand

So "The Caligula Effect: Overdose" managed to become a decent remake. The new and expanded content makes for a more immersive experience and

So "The Caligula Effect: Overdose" managed to become a decent remake. The new and expanded content makes for a more immersive experience and does more right than the original in terms of plot. The fighting system is unique and is fun from the first second on. Also the improved graphics are also a benefit of the remake. However, the friendships are not always convincing and the few details in the graphics would have been more in it. Who would like to experience a different game should take a closer look at "The Caligula Effect: Overdose".

(https://www.playmoregames.de/post/the-caligula-effect-overdose-nsw--ps4-im-test)

…

Expand

This an awful game. The combat system is great and I wish I could be used in a better game. Let me give you the run down medicore story, one

This an awful game. The combat system is great and I wish I could be used in a better game. Let me give you the run down medicore story, one deminsional main and side characters, awful pacing forced and uncomfortable anime tropes shoved in, janky animations, weird looking 3d character models, and destablzing textures. After 8 hours of play I felt physically ill just playing and while notcing how the texture looked the spread out jngs. And The Difficulty curve (on Normal) goes from too easy to the game almost preventing you to attack enemys due to some **** accurcy percentage and no the percentage does not change based on how close you are to the enemy but random. Lesson here folks just play Persona 5 because at least that game wont want to make you hang your self.

…

Expand