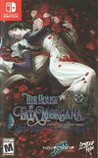 Summary:

A gothic suspense tale set in a cursed mansion. 'The House in Fata Morgana' is a full-length visual novel spanning nearly a millennium that deals in tragedy, human nature, and insanity. This version includes three games and more:
1: The House in Fata Morgana: the main storyline.
2:A gothic suspense tale set in a cursed mansion. 'The House in Fata Morgana' is a full-length visual novel spanning nearly a millennium that deals in tragedy, human nature, and insanity. This version includes three games and more:
1: The House in Fata Morgana: the main storyline.
2: A Requiem for Innocence: a prequel shedding light on the origins of Fata Morgana's terrible curse.
3: Reincarnation: a sequel featuring the central cast members reincarnated in the present day. *The part including voices
4: Other additional short stories.

…

Expand
Developer:

HuneX

Genre(s):

Adventure

,

Visual Novel

# of players:

No Online Multiplayer

Cheats:

On GameFAQs

Rating:

M
The House in Fata Morgana on Nintendo Switch is the best way to experience a true masterpiece of storytelling.

The House in Fata Morgana: Dreams of the Revenants is a true artistic work and does not fail in any aspect of its proposal. Highly recommended for fans of the genre.

There are moments where Fata Morgana becomes very uncomfortable to witness, and a little like when I played Saya no Uta, I did need to put it down from time to time. This game is nowhere near as explicit or extreme as that one, but thematically it is, if anything, more demanding of the player. It's a little like how the real Grimm brothers fairy tales are deeply uncomfortable to read, though it's certainly not of the extreme, overt violence of a Marquis de Sade novel. If you want to see how a visual novel could be elevated to something approaching "high art," you owe it to yourself to play The House in Fata Morgana. The fact that the Switch release comes with even more stories and features as a "complete" edition just makes it all the more essential.

The House In Fata Morgana had a profound effect on me: I now have an answer to the question of "what was the last game to leave you in tears", and they went from tears of sadness to joy after the main story's stinger. I'm not sure there's going to be another visual novel on Switch that hits me this hard - but I'd love to see someone try.

Sublime writing, beautiful artwork, and a haunting soundtrack combine to undertake one most nuanced and thoughtful explorations of all the best and worst of the human condition—disturbing and intense, but ultimately hopeful, and with a level of care and humanity that's rare to see in a game that goes to the dark places this one does. Perhaps most of all, it's a perfect example of how much visual novels can push the boundaries of videogames as a medium and as an art form, both because and in spite of their "gameplay" constraints. The House in Fata Morgana is, quite simply, a masterpiece on every level.

The House in Fata Morgana is over 40 hours long, and in those 40 hours, you'll maybe get to make about three decisions. It is a visual novel in the strictest sense of the word, and you must be prepared for that going in. But with a fantastic, original, slow-burn story about love, loss, hurt, forgiveness, and recovery, it's one of the best visual novels out there — and your patience will be paid off in the end.

The House in Fata Morgana: Dreams of the Revenants Edition is a long and finely constructed visual novel. It promises an intricate plot of suspense, intrigue and revenge for anyone willing to commit forty or more hours to the story.
This is, hands down, the best visual novel I've ever read. The music, the atmosphere, and the characters themselves all come together in a

This is, hands down, the best visual novel I've ever read. The music, the atmosphere, and the characters themselves all come together in a beautiful tale. Everything is perfect.

…

Expand

Literally a perfect VN. Literally a perfect VN. Literally a perfect VN. Literally a perfect VN. Literally a perfect VN. Literally a perfect VN.

Fantastic plot without visible holes, everything has been completely explained. I had a great time to read this VN. Definitely recommended

I think it's the best VN in the word. You need to read it. Don't listen haters, who like Call of duty and Fortnite.

This was the first visual novel I have ever played and I'm glad that I gave it a chance. There is a lot of content and I have spent

This was the first visual novel I have ever played and I'm glad that I gave it a chance. There is a lot of content and I have spent approximately 60 hours reading through all three stories (main story, prequel, sequel) over the course of two months. Although I think parts of the story could have been condensed a bit, the plot was excellent, character development was excellent and the soundtrack is amazing. The reading is rather easy going. At times, the story can seem a bit convoluted, but I finished the "game" fully understanding everything just fine. The entire "game" is reading, without any voice acting except for the sequel, but I turned off the voiceover because it was Japanese but the onscreen text was English, which drove me crazy, so I chose to just read. Much of the storyline is just banter here and there, but overall it left me constantly wanting to proceed to see what happens next. The game is rated M because of a lot of vulgar language, violent plotlines and "adult" themes. I would not recommend it for children. But yeah, definitely a very memorable story with memorable characters and amazing soundtrack!

…

Expand

is very boring, i'ts not a game, i'ts a novel, the history is nice, but just, is boring, with no gameplay, and the music is bad too

96/100?! That's 1 point off from amazing games like Breath of the Wild, Super Mario Odyssey, Super Mario Galaxy 1 & 2, GTA 4 & 5, Red Dead

96/100?! That's 1 point off from amazing games like Breath of the Wild, Super Mario Odyssey, Super Mario Galaxy 1 & 2, GTA 4 & 5, Red Dead Redemption II and some Tony Hawk games! And don't worry, I'm not just hating on it for the sake of it, it's bad too. It's literally just a visual novel with BARELY any interactivity, if this was like DDLC where you still do you're own thing that'd be fine, but no, you have NOTHING to do with the plot, it's basically a movie at that point… SO WHY NOT JUST MAKE A MOVIE?! Long story short isn't as good as Sonic 06 or some dumb joke

…

Expand