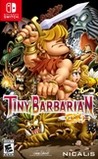 Summary:

Steel yourself for a relentless display of might and muscle…of brawn and bravery…of magic and mayhem! Can you cleave your enemies' skulls, plunder all the booty and flex to impress the barbarienne of your dreams? Inspired by heroic fantasy fiction, Tiny Barbarian DX combines engaging 2D

Steel yourself for a relentless display of might and muscle…of brawn and bravery…of magic and mayhem! Can you cleave your enemies' skulls, plunder all the booty and flex to impress the barbarienne of your dreams? Inspired by heroic fantasy fiction, Tiny Barbarian DX combines engaging 2D platform action and combo-based hack-and-slash combat with retro-style pixel art and a loincloth-stirring chiptune soundtrack. [Nintendo]


…

Expand
Genre(s):

Action

,

General

,

Platformer

,

2D

# of players:

Online Multiplayer

Cheats:

On GameFAQs

Rating:

E10+
Tiny Barbarian DX may look like just another indie platformer on the surface, but it is so much more than that.

Whether you're an older gamer like me chasing the experience we had in our youth, or a newcomer to the retro genre, it's worth your time. You're in for hours of entertainment from one playthrough alone, and even more, if you're a completionist that craves finding all the secrets a game has to offer. So do yourself a favor: load up the eShop (or Steam if you don't have a Switch), search for Tiny Barbarian DX, click the 'buy' button and settle in for a great time.

Nintendo Force Magazine

Jan 7, 2018

It can be easy to lose track of smaller releases like Tiny Barbarian DX, but do yourself a favor and make sure that doesn't happen here. [Issue #31 – January/February 2018, p. 37E]

Although the artwork is very pretty and the gameplay feels good, there really isn't anything too ground-breaking here. Playing through the game really made it feel much more of a throwback title rather than a new boundary-pushing adventure. This in no way means that the game is boring or that there aren't any surprises, just more of a tried and true experience. If you are longing for some retro action, this game's got it all. The beautiful art, killer soundtrack and punishing difficulty really help the game deliver on what the developer set out to make, a solid action-platformer.

Tiny Barbarian DX is a lot of fun, uncomplicated, challenging and yet hard to put down. It's perfectly suited to the Switch in both handheld and TV mode. Whilst it's not one of the cheapest games available on the Switch it is good value for money in terms of its overall quality and length. I would highly recommending snagging the physical release if you can as you also get some neat extra goodies.

At its budget retail price we found Tiny Barbarian DX to be a bit light on the content side, as the game can be completed in six hours or less, depending on skill levels. If you're going to pick this one up we recommend skipping the eShop download and going for the physical edition as it at least contains some cool stuff - as Nicalis is becoming known for - to add value to your purchase.

Tiny Barbarian DX is clearly a tribute to the 8 and 16-bit era of action platformers and it's a competent game at that, thanks to very sharp controls and a good lifespan. Where it fails is on its charisma, or lack thereof, as its levels turn out to be too generic and its difficulty level can be way too high for many players, not to mention its relative lack of content beyond the main campaign mode.
In an indie gaming market saturated with retro-styled 2D platformers, Tiny Barbarian DX stands out with its stellar pixel art, lengthy and

In an indie gaming market saturated with retro-styled 2D platformers, Tiny Barbarian DX stands out with its stellar pixel art, lengthy and thematically varied episodic pulp adventures, blood pumping soundtrack, and couch co-op. The bosses are extraordinary, the platforming is challenging, and the game is very speed-runner and score-chaser friendly, ensuring high replay value. If you've ever wanted to play a Mega Man 2-like game as Conan the Barbarian, this is what you've been waiting for.

…

Expand

First thing first. This is a very challenging game which I am not necessarily used to. I almost quit a good 5-6 times (3 times during the

First thing first. This is a very challenging game which I am not necessarily used to. I almost quit a good 5-6 times (3 times during the ''Final Battle'' boss/3 bosses in one after all). I got about 40% of the crystals (did not really explore the worlds). It is a simple (no new abilities, simple story, etc.), but well crafted game. It took me about 12 hours to complete it, but I probably died 400 times lol The soundtrack is actually pretty good and the bosses were average. I would recommend Tiny Barbarian DX to any gamer who likes platformer and who is looking for a challenge. My score would be 7.5 out of 10, but I could only chose between 7 and 8.

…

Expand