Publisher:

Nintendo

Release Date:

Jan 17, 2020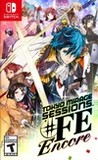 Summary:

The worlds of the Fire Emblem series and Atlus games have crossed paths again and the result is coming to the Nintendo Switch system. An interdimensional evil has invaded modern-day Tokyo, resulting in this fantastical barrage of music, style, and yes, danger. So, fight back! Battle through

The worlds of the Fire Emblem series and Atlus games have crossed paths again and the result is coming to the Nintendo Switch system. An interdimensional evil has invaded modern-day Tokyo, resulting in this fantastical barrage of music, style, and yes, danger. So, fight back! Battle through dungeons to pump up your strategy and creatively decimate your foesbefore all hope fades to black. You and the rising stars you call friends will need to call on your own creative powermanifested as iconic Fire Emblem characters -- to wage a secret war on rogue spirits that feed on creativity. Each encounter will immerse you in deep, turn-based battles that blend the combat of the Fire Emblem and Shin Megami Tensei series into one brutal harmony. Fuse items to craft weaponry; then play to your strengths and crush your foes. Around every corner you'll find fun nods to multiple fandoms, including Fire Emblem references, dungeons themed to the entertainment industry, and stunning musical performances.

…

Expand
Developer:

Atlus

Genre(s):

Role-Playing

,

Japanese-Style

# of players:

No Online Multiplayer

Cheats:

On GameFAQs

Rating:

T
Please enter your birth date to watch this video:
You are not allowed to view this material at this time.
Tokyo Mirage Sessions #FE Encore - Gangrel Boss Fight Gameplay
It's a brilliant concept, well told, and backed by Atlus' skill with turn-based combat at its peak.

The aesthetic, charm and gameplay Tokyo Mirage Sessions brings make it worthy to stand on its own and I hope that those who end up playing the game see it this way as well. Nintendo seemed to think that Tokyo Mirage Sessions #FE was worthy of an encore here on Switch, and I find it to be a worthy encore, indeed.

In the end, Tokyo Mirage Sessions #FE Encore is a simple reminder of how diverse and great was the WiiU's library of games. This is a great JRPG that Switch fans who were left out of the Persona 5 party should own.

At its heart, Tokyo Mirage Sessions #FE Encore has delivered what's expected in an enhanced port. New content, improved UI and small tweaks to make the gameplay faster all make a significant difference to the overall enjoyment. Although flawed in places, it's a JPRG that dares to be bolder and braver with its stylish sequences and kawaii (though bizarre) story. It may not be to everyone's tastes, but its whimsical ways will spoil those who can't help but enjoy adorable things. Thanks for reincarnating this one, Atlus.

If you have a Switch, Tokyo Mirage Sessions is an essential purchase – and if you harbour a fondness for anime and its aesthetic, it is worth buying a Switch for. This is, simply, the first cult-classic game of 2020.

Tokyo Mirage Sessions #FE Encore is still the colorful, bizarre and satisfying RPG we already played on Wii U.

Gone pretty unnoticed during its first release on the Wii U back in 2015, the title developped jointly by Atlus and Intelligent Systems was and still is a niche game, mainly aimed at both JRPG and J-pop enthusiasts. This second iteration only provides some new minor features such as costumes and an original dungeon, where the characters dreams can be fulfilled... Quite a program, but still technically flawed, specially on TV mode.
Plays like a really good JRPG, has a persona feel to it with fire emblem characters 10/10 would buy again

Muito bom! Não comprei mas sei que é bom por que é e acabou, e pau no cu de Junior Flwww

Amazing... the disappointment of not getting a persona 5 on the switch is being cured by this game. Forget about censorship and just play the

Amazing... the disappointment of not getting a persona 5 on the switch is being cured by this game. Forget about censorship and just play the game, if you're a fan of persona series or SMT you will enjoy this game. Didn't play on wii U back in the days. But this switch version i believe is the best. Faster loading screen and beautiful in handheld.

…

Expand

#FE Encore is a very enjoyable game full of life and love. Any RPG fan should check this game out.

Um Jrpg que poucos tiveram a oportunidade de jogar no Wiiu onde eu terminei, neste port para Switch nao se teve um ganho real na parte visual,

Um Jrpg que poucos tiveram a oportunidade de jogar no Wiiu onde eu terminei, neste port para Switch nao se teve um ganho real na parte visual, nem se quer o uso mais apurado do hd rumble, isso somado as poucas novidades inclusas nao o coloca em prioridade para quem jogou no Wiiu, espero que venha ter uma continuação com novos personagens de Fire Emblem.

…

Expand

I am not one who typically plays JRPG games and I hesitated to get this but I am very glad I got this game. The graphics are ok but the play

I am not one who typically plays JRPG games and I hesitated to get this but I am very glad I got this game. The graphics are ok but the play and the controls are excellent. I like the strategy of this game and how it plays out. There are a few things that could improve on albeit trivial such as finding exactly where to go for missions and so forth but aside from that I have really enjoyed playing this game.

…

Expand

When this game was announced I was hyped and i was really looking forward for it, but in the end we ended with a butchered game, thanks to

When this game was announced I was hyped and i was really looking forward for it, but in the end we ended with a butchered game, thanks to Treehouse for ruining it 0/10

…

Expand