Publisher:

Nintendo

Release Date:

Jan 17, 2020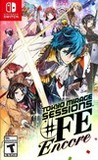 Summary:

The worlds of the Fire Emblem series and Atlus games have crossed paths again and the result is coming to the Nintendo Switch system. An interdimensional evil has invaded modern-day Tokyo, resulting in this fantastical barrage of music, style, and yes, danger. So, fight back! Battle through

The worlds of the Fire Emblem series and Atlus games have crossed paths again and the result is coming to the Nintendo Switch system. An interdimensional evil has invaded modern-day Tokyo, resulting in this fantastical barrage of music, style, and yes, danger. So, fight back! Battle through dungeons to pump up your strategy and creatively decimate your foesbefore all hope fades to black. You and the rising stars you call friends will need to call on your own creative powermanifested as iconic Fire Emblem characters -- to wage a secret war on rogue spirits that feed on creativity. Each encounter will immerse you in deep, turn-based battles that blend the combat of the Fire Emblem and Shin Megami Tensei series into one brutal harmony. Fuse items to craft weaponry; then play to your strengths and crush your foes. Around every corner you'll find fun nods to multiple fandoms, including Fire Emblem references, dungeons themed to the entertainment industry, and stunning musical performances.

…

Expand
Developer:

Atlus

Genre(s):

Role-Playing

,

Japanese-Style

# of players:

No Online Multiplayer

Cheats:

On GameFAQs

Rating:

T
Please enter your birth date to watch this video:
You are not allowed to view this material at this time.
Tokyo Mirage Sessions #FE Encore - Gangrel Boss Fight Gameplay
It's a brilliant concept, well told, and backed by Atlus' skill with turn-based combat at its peak.

The aesthetic, charm and gameplay Tokyo Mirage Sessions brings make it worthy to stand on its own and I hope that those who end up playing the game see it this way as well. Nintendo seemed to think that Tokyo Mirage Sessions #FE was worthy of an encore here on Switch, and I find it to be a worthy encore, indeed.

In the end, Tokyo Mirage Sessions #FE Encore is a simple reminder of how diverse and great was the WiiU's library of games. This is a great JRPG that Switch fans who were left out of the Persona 5 party should own.

Tokyo Mirage Sessions #FE Encore is one of the most colourful, approachable and downright endearing RPGs you'll find on the Switch. Its new story chapter, music tracks and character assists improve on the original to an extent, but not enough to greatly affect its overall quality. Thankfully, what was there was already fantastic, meaning those who missed out on it the first time around really have no reason not to get stuck in now.

For good or ill, Tokyo Mirage Session #FE: Encore's biggest strength and biggest weakness is that it's pretty much the same game you may have played on the Wii U. It runs better, it looks better, and it has some nice quality-of-life improvements, but it's basically the same game. Is that worth $60? It depends on how much you enjoyed the game in the first place, or if you missed it due to it being a Wii U title. Anyone who is a fan of Persona-style games will almost certainly enjoy it. JRPG fans hoping for something to tide them over until Persona 5 Royale should find a comfortable home in the weird world of Tokyo Mirage Sessions.

Even if with a porting that adds little in terms of new content, Tokyo Mirage Sessions arrives on Switch as the same, great JRPG it was on Wii U. Just don't expect to be surprised again if you've already played it four years ago.

Gone pretty unnoticed during its first release on the Wii U back in 2015, the title developped jointly by Atlus and Intelligent Systems was and still is a niche game, mainly aimed at both JRPG and J-pop enthusiasts. This second iteration only provides some new minor features such as costumes and an original dungeon, where the characters dreams can be fulfilled... Quite a program, but still technically flawed, specially on TV mode.
Very underrated in the west compared to how good it is. Awesome combat system, characters and music also makes it a very enjoyable experience.

Very underrated in the west compared to how good it is. Awesome combat system, characters and music also makes it a very enjoyable experience. A must-play JRPG on Switch and Wii U.

…

Expand

Para los fans de este tipo de juegos de nicho es muy bueno, definitavente Nintendo acertó con este port, encantado de el.

Amazing... the disappointment of not getting a persona 5 on the switch is being cured by this game. Forget about censorship and just play the

Amazing... the disappointment of not getting a persona 5 on the switch is being cured by this game. Forget about censorship and just play the game, if you're a fan of persona series or SMT you will enjoy this game. Didn't play on wii U back in the days. But this switch version i believe is the best. Faster loading screen and beautiful in handheld.

…

Expand

The gameplay is TOP tier. I love the ability to make long chains of combos with party members. The very colorful, up-beat, JPOP tone of the

The gameplay is TOP tier. I love the ability to make long chains of combos with party members. The very colorful, up-beat, JPOP tone of the game is visually appealing. I'm NOT a fan of JPOP or idols but I still found the character special moves entertaining due to their novelty and it seeming kinda goofy to me. All in all a good time if you don't take it too seriously. The dungeon puzzles and mechanics are very mediocre and so is the story. Even with this though, the gameplay is so great I feel I have to give this a high score.

…

Expand

Objectively speaking, this is a very good JRPG from the end of the Wii U's life cycle that didn't get a lot of attention when it first came

Objectively speaking, this is a very good JRPG from the end of the Wii U's life cycle that didn't get a lot of attention when it first came out. It felt like a precursor to Persona 5's visual style and the combat was excellent, some of my favorite combat sequences in JRPG's to date. While the story is a VERY cookie-cutter JRPG/Anime snorefest (with a ton of "Friendship is Magic!" scenerios throughout), the characters are fairly fun and entertaining to play through it with.
However, if you had, like me, played the game on the Wii U, there's nothing here that would would constitute a second play-through. There is one very basic and short extra dungeon that adds next to the nothing to the game, except to get a few new costumes and 1 brand new song. That's it. Personally, that makes this closer to a 6-7 for me since I was under the impression there was more here for returning players. However I can't deny how good the game actual is and how well it functions for people who may have not played a Persona game before and are wanting to see what they're like before diving into P5: Royal in a few months. For that reason, this game is a solid 8/10

…

Expand

Great game, its really nice it came to the switch. The Combat is enjoyable, and i like the story and characters. But... i have to dock it 2

Great game, its really nice it came to the switch. The Combat is enjoyable, and i like the story and characters. But... i have to dock it 2 points for the pointless censorship i mean come on. We already have a niche genre and on top of it the Japanese idol premise makes it even more so, and with all that considered they think this stupid censorship helps them? The people who buy this type of game with somewhat odd premise for the west honestly dont care about the things they think need censoring. And the people who are the level of sensitive snowflake that this would be necessary for probably were not gunna play it to begin with.

…

Expand

This game was vandalized with censorship and anyone who says otherwise doesn't know what he's talking about. I played the original version in

This game was vandalized with censorship and anyone who says otherwise doesn't know what he's talking about. I played the original version in Japanese on Wii U and this version makes the stupid decision to ruin a lof of the outfits (In a game where modeling and fashion matters) because someone in America may be offended at some cleavage or panty shot because everyone over here is 12 apparently.

Allow me to explain, one of the main character is a GRAVURE model, basically she models underwear and bathing suits. There's also a part of the story that revolves around this. She's also a Pop Idol and does various songs in different cute outfits. Well apparently being cute is considered disgusting in the west and so even the japanese version has to suffer these clown outfits instead.

To Summarize, this is a NICHE game with a hardcore fanbase and they basically managed to piss off the Persona fans, piss off the puritans (because they don't like cute anime girls anyways) and piss off fire emblem fans.

Good Job! NOBODY is happy because of the stupid localization and tons of people cancelled their game in Japan getting the Wii U version instead. All you had to do was include both versions like in the Wii U but you went above and beyond the call of duty to prove how stupid you are and for that you deserve a big fat 0.

…

Expand