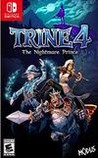 Summary:

The Trine series returns to the magic of 2.5D with Trine 4: The Nightmare Prince! The three heroes of the best-selling adventure series are back, sent on a quest to retrieve the troubled young Prince Selius. Amadeus the Wizard, Pontius the Knight, and Zoya the Thief are joined together once

The Trine series returns to the magic of 2.5D with Trine 4: The Nightmare Prince! The three heroes of the best-selling adventure series are back, sent on a quest to retrieve the troubled young Prince Selius. Amadeus the Wizard, Pontius the Knight, and Zoya the Thief are joined together once again on a thrilling quest through fantastical fairytale landscapes teeming with danger. Prince Selius suffers from intensely dark dreams and, due to his magical talents, monstrous nightmares are able to slip into reality and wreak havoc on the waking world. Amadeus, Pontius, and Zoya must find the afflicted prince and resolve the desperate situation before the world is engulfed by the Nightmare Prince's shadows.

…

Expand
Developer:

Frozenbyte, Inc.

Genre(s):

Action

,

Platformer

,

2D

# of players:

Up to 4

Cheats:

On GameFAQs

Rating:

E10+
Please enter your birth date to watch this video:
You are not allowed to view this material at this time.
Trine 4: 13 Minutes Of Single-Player And Co-Op Gameplay | E3 2019
Trine 4: The Nightmare Prince is hands down one of the best titles in the puzzle platformer genre. It's packed densely with charm, enjoyable gameplay, and some damn good puzzles. The combat leaves a lot to be desired, and there are times when it can be unbearable, but that's a price worth paying when the rest of the game is so astonishingly good.

Even playing the entire game solo I still had an absolute blast from start to finish, and performance on the Switch version keeps a consistent locked framerate throughout (the resolution in handheld can drop pretty low during some of the busier scenes). The combat is an unfortunate drag, but the puzzles stand on their own so well that it's worth pushing through the dull battles to keep solving more of them until you've found the Nightmare Prince.

Trine 4: The Nightmare Prince re-establishes the series as a leader in the genre. I can't remember the last time I played a puzzle game that made me feel so smart and satisfied. It's magical world is full of wonderful inhabitants that further bring the world to life. If you're even remotely interested in puzzle games or are just after your next great co-op experience, you owe it to yourself to play this one.

Trine 4: The Nightmare Prince is a beautiful title that will delight every fan of the saga. In this new adventure we will enjoy beautiful landscapes while defeating enemies and solving puzzles. Its combat system is a bit simple, but it is still a title as enjoyable as the previous ones, both alone and in company.

If you are looking for a magical co-op puzzlegame, then this is the game for you. This is the most beautiful and the longest entry in the series yet. There are new skills and lots of puzzels to enjoy. Whilst the battles are not so impressive, this is still a game you must have played.

Despite some physics issues and dated animations, Trine 4 is a great experience with its magical atmosphere, which offers to the fans everything they could have asked for.

PC is the ideal method of playing Trine 4: The Nightmare Prince. If you have a PC that can run it, I recommend grabbing Trine 4 for PC because after trying the Nintendo Switch version in both docked and portable mode, the experience isn't as magical. The core gameplay, story and puzzle solving are all still quality but the experience feels more clunky with a controller or Joy-Con.
This game is a beautiful combination of challenging puzzles, outstanding visuals, a nice story that's not trying to be deep but fun and easy

This game is a beautiful combination of challenging puzzles, outstanding visuals, a nice story that's not trying to be deep but fun and easy to follow and a well developed progression system that makes you go "uuuh - nice!" each time you get a new skill. Playing the game was like eating a good meal: you don't want it to be over but you don't want to stop eating either.

…

Expand

Trine 4 was enjoyable for the puzzles and leveling structure. I ended up beating it after 12 or so hours.

Game(s) like: Other Trine games,Trine 4 was enjoyable for the puzzles and leveling structure. I ended up beating it after 12 or so hours.

Game(s) like: Other Trine games, Unruly Heroes

Pros:
- The puzzles and levels were well done
- The environments looked great
- The powers of each character were fun

Cons:
- The characters themselves seemed sort of cheesy
- The combat was not very fun

…

Expand

I could not experience the game on the Nintendo Switch a lot because the button layout does not make sense, it is not intuitive and breaks the

I could not experience the game on the Nintendo Switch a lot because the button layout does not make sense, it is not intuitive and breaks the game. I hope the controller button layout gets fixed in future updates.

…

Expand