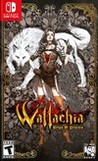 Summary:

Fast-paced! Non-stop action! Retro-style! A platform game inspired by great video game classics (Castlevania). Full of shooting and deadly traps that will quench your thirst for blood.

FEATURES: ▪ 100% of retro, ▪ 100% of action, ▪ 7 action-packed levels, ▪ story based on Vlad theFast-paced! Non-stop action! Retro-style! A platform game inspired by great video game classics (Castlevania). Full of shooting and deadly traps that will quench your thirst for blood.

FEATURES:
▪ 100% of retro,
▪ 100% of action,
▪ 7 action-packed levels,
▪ story based on Vlad the Impaler,
▪ waves of enemies to fight,
▪ bosses that won't give you a chance,
▪ minigames, unlockables and bonuses (e.g. exclusive bonus from Bloodstained Ritual of the Night),
▪ full English voiceover by professional actors (Kira Buckland and Robert Belgrade),
▪ unique & ultra ambient soundtrack!

ABOUT THE GAME:
Wallachia: Reign of Dracula is an action & shooter platformer inspired by great video game classics (e.g. Castlevania).
The game will challenge your reflex, aim and agility skills.
It's unparalleled difficulty will satisfy fans of old-school, unforgiving and complex gameplay.
Watch out for enemies attacking you from every direction, hidden traps and ruthless bosses!
The game has a full, professional voice-over by professional actors, Kira Buckland and Robert Belgrade.
You will enjoy a unique soundtrack and story revolving around the one and only true vampire - Vlad the Impaler.

Thirsty for some blood?
Then get ready for a brutal, yet satisfying adventure!
Travel through the land of Wallachia and face the forces of Vlad Dracula!


…

Expand
Developer:

Migami Games

Genre(s):

Action

,

Platformer

,

2D

# of players:

No Online Multiplayer

Cheats:

On GameFAQs

Rating:

T
Wallachia: Reign of Dracula is a solid, old-school experience. The decision to make this more of a shooter than a faithful Castlevania-style clone can be initially jarring, but it feels natural thanks to some excellent arrowplay and good boss fights. The high difficulty level due to some design decisions stretches out the seven-stage experience, but the endless continues make that bearable. While it may not appeal to everyone, those looking for something that mimics a good 16-bit adventure shooter will find this to be an easy recommendation.

It might be more old-school than other similar games, but Wallachia: Reign of Dracula still offers rewarding action, skilful level design, and some excellent music. With Konami seemingly content to sleep on its popular Castlevania series for the time being – outside of smartphone games, of course – this (alongside the likes of Bloodstained: Curse of the Moon and its sequel) might be as close as we're likely to get to a brand-new "old-school" Castlevania outing on Switch. It's a good job, then, that Migami Games knows Konami's franchise so well that it has created a truly convincing imitation – but one which has enough ideas of its own to stand out from its inspiration.

A short but intense and well done run & gun arcade experience inspired by Contra, Shinobi and Castlevania.

Though I appreciate you can save and quit without losing progress, I do wish stages had more checkpoints. I often would have to start from the very beginning of a stage after dying several sections in, which is irritating. But as an old school gamer, there wasn't anything game-breaking here. Hell, there's not even knockback on the easier difficulties. It just might be more of a challenge for those unversed in such adventures. Overall, I'd recommend this to fans of retro games who want something new to check out.

Wallachia: Reign of Dracula is a fun and compelling action platformer that acts as a good tribute to its inspirations and stands out amid its peers. While its lifespan might not be too impressive, the game's difficulty level helps in mitigating that aspect, at the same time that its game design and movements help with creating the impression of a game that works fine. Top marks for its soundtrack too, especially the voice works.

Wallachia sticks to the 16-bit gaming template – warts and all – to deliver a fun ride for fans of retro 2D scrolling adventures. Repetition may limit the appeal however; this is a Dracula story that perhaps lacks bite.

A serviceable addition to the genre that will appease fans of the genre and likely frustrate everyone else.