| A Wilderness of Error | Fargo: Season 4 | Utopia (2020): Season 1 |
| --- | --- | --- |
| | | |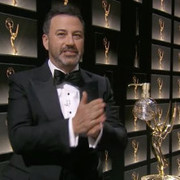 Find a full list of winners at the 72nd Primetime Emmy Awards, read reviews of the broadcast from TV critics, and find out how accurate the expert and user predictions turned out to be.
1.

PEN15: Season 2

The 14-episode second season split into two halves (the second half will premiere in 2021) finds Anna (Anna Konkle) and Maya (Maya Erskine) back in middle school as they try to fit in while attending parties, school plays and sleepovers.

2.

The Last Dance: Season 1

The 10-part documentary series directed by Jason Hehir about Michael Jordan and the Chicago Bulls' 1997-98 championship season includes interviews and never-before-seen footage.

3.

A Parks and Recreation Special

Leslie Knope checks in with her friends while under self-isolating at home in this special episode that will raise money for Feeding America's COVID-19 Response Fund.

4.

The Windermere Children: Season 1

A group of children rescued from Nazi concentration camps were brought to the Calgarth Estate by Lake Windermere in August 1945 to recuperate with the help of child psychologist Oscar Friedmann (Thomas Kretschmann), art therapist Marie Paneth (Romola Garai), philanthropist Leonard Montefiore (Tim McInnerny) and sports coach Jock Lawrence (Iain Glen). [Originally premiered in the UK on BBC2 on 27 Jan 2020.]

5.

Lenox Hill: Season 1

The eight-part docuseries follows four doctors at New York's Lenox Hill Hospital over an 18-month period as they juggle their personal lives while trying to save lives.

6.

The Baby-Sitters Club (2020): Season 1

Stoneybrook, Connecticut middle schooler Kristy Thomas (Sophie Grace) and her friends: Mary-Anne Spier (Malia Baker), Claudia Kishi (Momona Tamada), Stacey McGill (Shay Rudolph), and Dawn Schafer (Xochitl Gomez) start a babysitting business in this series based on the popular children's book series by Ann M. Martin.

7.

Mrs. America: Season 1

Phyllis Schlafly (Cate Blanchett) seeks to stop the ratification of the Equal Rights Amendment championed by feminists such as Gloria Steinem (Rose Byrne), Betty Friedan (Tracy Ullman), Shirley Chisholm (Uzo Aduba), Bella Abzug (Margo Martindale) and Jill Ruckelshaus (Elizabeth Banks) in the limited series created and written by Dahvi Waller.

8.

I May Destroy You: Season 1

Arabella (Michaela Coel), an up-and-coming writer was living her best life in London, but after she is assaulted at a nightclub, she begins to reconsider parts of her life.

9.

The Innocence Files: Season 1

The documentary series from Liz Garbus, Alex Gibney, and Roger Ross Williams focuses on eight cases from The Innocence Project.

10.

Immigration Nation

The six-part documentary series about America's current immigration system directed by Christina Clusiau and Shaul Schwarz features candid interviews with agents of Immigrations and Customs Enforcement (ICE), Border Patrol, Homeland Security Investigations (HSI) and detainees as well as footage of raids and the detentions centers.