Network:

FX

Series Premiere Date:

Oct 5, 2011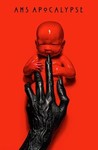 Starring:

Kathy Bates

,

Angela Bassett

,

Connie Britton

Summary:

After a miscarriage and nearly breaking up, Ben and Vivien Harmon (Dylan McDermott and Connie Britton) move from Boston to Los Angeles with their daughter to start a new life in a house with an eerie past.

Genre(s):

Horror
Please enter your birth date to watch this video:
You are not allowed to view this material at this time.
I loved the pilot, mostly because I could never predict where the story was going, a rarity in prime-time TV.

It's funny and moves blindingly fast, barely giving you time to blink or gulp--Dark Shadows for the PlayStation age. [10 Oct 2011, p.39]

The show may be ridiculous, but the humiliation and panic feel real. And there's something to be said for surprise.

The hot mess of American Horror Story is berserk to a fault, though it does have an unnerving originality compelling us to watch while we cringe, or perhaps smirk.

American Horror Story is a big ol' brooding, baffling, ridiculous and occasionally compelling mess of a show.

The scariest thing about American Horror Story, the highly anticipated FX series from the guys who brought you "Glee" and "Nip/Tuck," is that almost everything in the entire show has been cribbed (or crypt-ed, in this case) from every other American horror story.

It doesn't work as a character drama and it's tiresome more often than it's freakily scary.
This show did a good job at keeping viewers wanting more. Other than the show "Supernatural", this is the only show with a horror theme on

This show did a good job at keeping viewers wanting more. Other than the show "Supernatural", this is the only show with a horror theme on basic cable. The Pilot is one of the best I've seen the fall season so far. This show is an example why well written shows and good actors makes for great television.

…

Expand

At first blush I thought, not another fantasy/horror show in prime time's cable lineup, but it was clear within a few episodes that this is

At first blush I thought, not another fantasy/horror show in prime time's cable lineup, but it was clear within a few episodes that this is something completely different. A great show for the horror buff, American Horror Story has fantastically woven all of the elements of traditional horror with those of true American horrors into the plot lines. Character development drags a bit, but that is expected when it comes to current television.

…

Expand

It wasn't the best season, but it's so good at all, all the characters had something special and the story it's creative, I'd say it's one of

It wasn't the best season, but it's so good at all, all the characters had something special and the story it's creative, I'd say it's one of the best season.

…

Expand

Two things will most likely apply to American Horror Story (AHS): One, is the fact that people are going to eiither love this show or hate it.

Two things will most likely apply to American Horror Story (AHS): One, is the fact that people are going to eiither love this show or hate it. The second fact is that whether you love it or hate it, AHS is a show that is definitely none like you will ever see. For me, it was at first shocking and then compelling, to the point where I put this show at the top of my watch list. Whether you like it or not, AHS has a lot going for it. Just about all of its production values are top-notch, cinema quality. The production design is dazzling, the cinematography is more movie-like than TV-like, and the acting is superb, whether it's Jessica Lange as the weirdo neighbor next door, Connie Britton as one of the two main leads, or Dylan McDermott as the other main lead. They all show some of their best work here, along with the entire cast. Ultimately, AHS is for horror fans, especially those fed up with plain Jane slasher movies and routine haunted house films. There is some real depth to the story here and there is much going on, both thematically and in the narrative. The genius of this series is that, according to producers, the story will begin anew with every season--new characters, new storylinme and new house--an element that allows AHS to re-invent itself over and over, hopefully with the same shock and awe that we have seen here.

…

Expand

Sometimes I find the show too graphic and disturbing, but the storyline and writing keeps it interesting. It also certainly helps to have such

Sometimes I find the show too graphic and disturbing, but the storyline and writing keeps it interesting. It also certainly helps to have such stellar actors such as Jessica Lange and Kathy Bates (though I think Bates' character doesn't equal her talent).

…

Expand

Just finished watching S1 on Netflix.

The show started out strong but by episode 3 I had begun to lose interest. The show relies onJust finished watching S1 on Netflix.

The show started out strong but by episode 3 I had begun to lose interest.

The show relies on scaring you more than telling you a good story, which is a shame because the cast, especially Jessica Lange, is highly talented. As the season progressed, the writing became sort of lame and in turn made the show very predictable. (I am speaking specifically about the final episode, which could not decide when it should end.)

There were a few good twists in the season, but at times it was hard to keep up with every backstory of the characters involved.

The main question I walked away with after watching the show, was how some of the spirits in the house age over time but others do not. For example, Tate Langston should have been nearly 40 years old but was still a teenager, while Moira the maid had aged normally.

Overall, the acting is great, which is what kept me watching because the story itself I felt left much to be desired. I'm gonna give this one a seven based mostly on the acting.

…

Expand

I was a huge fan of american horror story ! BUT THIS ONE SUCKED! I was hoping this one would of been better then the last one but this one was

I was a huge fan of american horror story ! BUT THIS ONE SUCKED! I was hoping this one would of been better then the last one but this one was worse ! Dont waste your time watching this crappy show lol
hope for next season is better :)

…

Expand