Network:

Hulu

Series Premiere Date:

Mar 29, 2017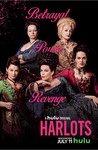 Summary:

Margaret Wells (Samantha Morton) juggles life as an owner of a brothel and the mother of two daughters as a rival (Lesley Manville) seeks to shut her down in this drama set in 1700s London.

Genre(s):

Drama
Season 1 premiere date:

Mar 29, 2017
The first two episodes effectively set up the larger conflict that's brewing, but they also revel in the colorful cast.

It's a bawdy, funny, gritty, and at times moving drama that flies in the face most of the period costume dramas we've seen on TV over the years.

Any potential discomfort one may have with the subject is soon overwhelmed by the spirited intelligence and sharp style with which this series is executed.

Forgive the salacious hook for a show that is not so much titillating as it is gripping, surprising, at times humorous and even a bit thought-provoking when it comes to exploring how sex is just as valuable as money or power.

Shocking and fascinating, Harlots will keep you watching not for the sex and nudity but for the women trying not to sell their souls along with their bodies.

In spite of its flaws, Harlots is far more addictive and even thoughtful than I initially gave it credit for. It doesn't shy away from its characters' more morally horrifying choices, nor the devastating circumstances that led them there.

There's a hesitancy to confront the thicket of conflicting emotions that are being hinted at underneath the not-so-charmed life of the Wells girls and the women they work with (or against) but the origins and the precariousness of these feelings never quite explored with any daring or seriousness. ...There is the constant use of the titular term, which rips you out of the action without care whenever it's hurled about, but that's not half as annoying as the music.
I'm usually not a fan of period films or shows but Harlots is my absolute favorite addiction on Hulu right now. Each character has had such a

I'm usually not a fan of period films or shows but Harlots is my absolute favorite addiction on Hulu right now. Each character has had such a captivating storyline so far, and has been brilliantly acted. There is sex, love, romance, mystery, comedy, drama.. everything one could ask for in a good series. Cannot wait for Season 2!

…

Expand

AMAZING show...salacious, intriguing, and fun. It's not meant to be a stuffy historical drama and does a damn good job delivering gritty

AMAZING show...salacious, intriguing, and fun. It's not meant to be a stuffy historical drama and does a damn good job delivering gritty action that keeps you hooked!

…

Expand

A ripping good period drama that combines the exuberant depravity of 18th-century pornography (remember MEMOIRS OF A WOMAN OF PLEASURE?) with

A ripping good period drama that combines the exuberant depravity of 18th-century pornography (remember MEMOIRS OF A WOMAN OF PLEASURE?) with a more sober-sided look at the costs of sex-for-hire. Great casting, especially Lesley Manville and Samantha Morton as rival madams, great sets, great costumes, hair, and makeup. I wrote a longer review but lost it when I tried to fix a spelling mistake, so let me summarize by giving it a thumbs-up. Or perhaps a #@#$%-up?

…

Expand

Great start to a pretty different period drama about the bawdy side of London in the 18th century. An excellent cast and solid writing along

Great start to a pretty different period drama about the bawdy side of London in the 18th century. An excellent cast and solid writing along with superb sets ensure a gripping series.

…

Expand

Sub-standard, at times awful show.
Acting is poor, music is bad, realism is not there and writing and camera is average at best.
London andSub-standard, at times awful show.
Acting is poor, music is bad, realism is not there and writing and camera is average at best.
London and its streets are far too clean for the year 1763 but almost every person is trash or "unlearning" to be like trash. It seems that London and its different classes are the same, apart from wearing different clothing. Few people who actually are educated or well mannered? That is unfair towards most lower and middle class people and towards some upper class people as well considering years after years of lenghty upbringing at the time. The " harlot" parts are there, even numerous, but also fail in their intended effect: a cheap shot or suggestion every few minutes which does not trigger anything. So, if you expect some easy, straight out of its convenience bag snack TV with costumes on, go watch it. For me, I wish I had stopped after episode 1 but I continued to torture myself for 5 episodes more.
Comparing a show like this with perhaps Black Sails (which is set about 40 years earlier, not exactly the same period, but fairly close) can hardly be done. Black Sails laughs at Harlots: much better acting, better music, more realistic and superior camera and writing.

…

Expand

Dreadful acting, vacuous script, the clothes are just too clean, the whites are white. The characters faces are clean and clear of disease,

Dreadful acting, vacuous script, the clothes are just too clean, the whites are white. The characters faces are clean and clear of disease, along with their hands, even the trash in the street is clean. During this time period decades of dirt built up in the streets and the smell was horrendous, all day every day. Pointless faux sex, all over the place and as believable, as the modern day music, out of place and just plain bad. A second season? Don;t make me laugh.

…

Expand

Another show about women where they are either screeching or Victims. Or both. Lots of sex, all of it ugly and distasteful. I can hear the

Another show about women where they are either screeching or Victims. Or both. Lots of sex, all of it ugly and distasteful. I can hear the critics glowing about it, even though it's just another melodrama. A soap. With nice costumes stuffed with hackneyed stereotypes. Not anything to see. Move along.

…

Expand