Please enter your birth date to watch this video:

You are not allowed to view this material at this time.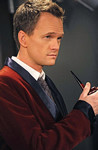 Episode Details & Credits
CBS |
Air Date:
October 21, 2013
Summary:
When Ted finds himself with three prospects to be his date for the wedding weekend, he chooses poorly. Meanwhile, Barney and Robin have a confrontation with their minister, and Marshall learns more about his driving companion, Daphne.
Seasons & Episodes
Season 9

Season 9 Overview

Air Date: September 23, 2013

S9:E26. The Possimplible

Air Date: June 8, 2019

S9:E25. Dowistrepla

Air Date: August 12, 2018

S9:E25. I Love NJ

Air Date: June 5, 2019

S9:E24. Last Forever Part Two

Air Date: March 31, 2014

S9:E23. Last Forever Part One

Air Date: March 31, 2014

S9:E22. The End of The Aisle

Air Date: March 24, 2014

S9:E21. Gary Blauman

Air Date: March 17, 2014

S9:E20. Daisy

Air Date: March 10, 2014

S9:E19. Vesuvius

Air Date: March 3, 2014

S9:E18. Rally

Air Date: February 24, 2014

S9:E17. Sunrise

Air Date: February 3, 2014

S9:E16. How Your Mother Met Me

Air Date: January 27, 2014

S9:E15. Unpause

Air Date: January 20, 2014

S9:E14. Slapsgiving 3: Slappointment in Slapmarra

Air Date: January 13, 2014

S9:E13. Bass Player Wanted

Air Date: December 16, 2013

S9:E12. Rehearsal Dinner

Air Date: December 2, 2013

S9:E11. Bedtime Stories

Air Date: November 25, 2013

S9:E10. Mom and Dad

Air Date: November 18, 2013

S9:E9. Platonish

Air Date: November 11, 2013

S9:E8. The Lighthouse

Air Date: November 4, 2013

S9:E7. No Questions Asked

Air Date: October 28, 2013

S9:E6. Knight Vision

Air Date: October 21, 2013

S9:E5. The Poker Game

Air Date: October 14, 2013

S9:E4. The Broken Code

Air Date: October 7, 2013

S9:E3. Last Time in New York

Air Date: September 30, 2013

S9:E2. Coming Back

Air Date: September 23, 2013

S9:E1. The Locket

Air Date: September 23, 2013

Season 8

Season 7

Season 6

Season 5

Season 4

Season 3

Season 2

Season 1