Network:

TBS

Series Premiere Date:

Oct 31, 2016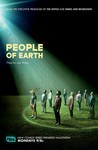 Summary:

Reporter Ozzie Graham (Wyatt Cenac) investigates a support group for people who believe they were abducted by aliens run by Gina Morrison (Ana Gasteyer) and he soon begins to suspect he may have been abducted as well in this comedy created by David Jenkins.

Genre(s):

Comedy
Season 1 premiere date:

Oct 31, 2016

Episode Length:

30
It's a set-up that leads to one of the most humanist shows I've seen in a while, truly spotlighting the unique energy of its ensemble in a way that suggests real love is involved.

From the setup to the incidentals, People of Earth is packed with humor and heart forever revealed in clever ways.

People of Earth deserves praise more for its high concept and intelligence than for its ability to generate laughs. It's the kind of show that doesn't make you LOL so much as chuckle softly while admiring its subtext.

People of Earth has built a small-town universe with just enough quirks and intrigue to keep its premise in play. It has both heart and a sense of the absurd, making it increasingly "accessible" with the proviso that you're just not going to get a laugh riot.

It follows the tenets of each genre it tackles with little attempt at straying into its own cosmic path. That's okay, because it does what it does well, and where it does feel original and worthwhile is in its total confidence to be unusual without trying to excuse its unusualness for a broader audience.

The overall result is pleasant, even beguiling, but it feels a little inconsequential in a season that has brought us new comedies like "Atlanta," "Insecure" and "Fleabag." ... Through the first four episodes, though, the human characters don't really come into their own in comic terms, except for Brian Huskey as Richard, who's the most conspiracy-minded of the group.

Instead of ridiculing the abductees, the show is a surprisingly earnest look at a group of lonely oddballs struggling with hazy but traumatic memories. But both its humor and its more serious themes feel undernourished, and the end result is a comedy that, despite its potential, feels slight.
This is my favorite new TV show. Funny, original, and at times deeply emotional. They aren't just goof ball weirdo's to laugh at. These are

This is my favorite new TV show. Funny, original, and at times deeply emotional. They aren't just goof ball weirdo's to laugh at. These are people suffering, and yet the show still keeps the comedy of life at its heart

…

Expand

This is a fantastic show, I love it. It's funny, warm and uplifting. It's about outsiders trying to find acceptance and support, with the

This is a fantastic show, I love it. It's funny, warm and uplifting. It's about outsiders trying to find acceptance and support, with the added twist of everything happening amidst possible alien invasion. It's hilarious, I hope there are many more seasons to come.

…

Expand

I love this show. It's amazing. I laughed through the whole first episode. It's got everything: self help groups, reptilians, sleek corporate

I love this show. It's amazing. I laughed through the whole first episode. It's got everything: self help groups, reptilians, sleek corporate geeks with stand up desks, and of course, alien abductions.

…

Expand

People of Earth is a great show with intelligent and genuinely creative writing that keeps getting funnier as the season progresses. Wyatt

People of Earth is a great show with intelligent and genuinely creative writing that keeps getting funnier as the season progresses. Wyatt Cenac's performance hits it out of the park, and he joins the ranks of the most distinguished The Daily Show alums.

…

Expand

this truly is one of those types of programs NOT TO BE TAKEN SERIOUSLY its full of heart good humor and a slight lesson ,teamwork tolerence

this truly is one of those types of programs NOT TO BE TAKEN SERIOUSLY its full of heart good humor and a slight lesson ,teamwork tolerence ,its very sweet and charming u cant go wrong with it really just mabey watch a coupel of times before letting kids join but aside from that word of warning everything is great tbs has once agin made a huge hit comedy

…

Expand

This one is a hell of a surprise! It's refreshing and creative. Even with its low budget, "People of Earth" shows that television can still

This one is a hell of a surprise! It's refreshing and creative. Even with its low budget, "People of Earth" shows that television can still make good sci-fi with big laughs.

…

Expand

Slow and disjointed is how I would explain this show. It reminds me of a play with scenes that don't flow well. I think there is potential

Slow and disjointed is how I would explain this show. It reminds me of a play with scenes that don't flow well. I think there is potential with this show, so I will continue to watch it. Also, I am an Experiencer and have been to support groups, so I want to see just how "real life" they will make this show. So far it's a little "real life" with comedy thrown in. I LOVE the interaction between "Don the White" and "Jeff the Grey", they are so funny. What I don't like is the profanity that Jeff the Grey sometimes says. Hey writers, you don't need profanity to be funny. And Jeff the Grey's finger are tooooo big.

…

Expand