Network:

AMC

Series Premiere Date:

Oct 31, 2010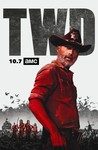 Starring:

Michael Cudlitz

,

Lennie James

,

Lauren Cohan

Summary:

In Alexandria, Rick tries to bring together his group with the Alexandrians to fight the Wolves but finds himself challenged by both familiar faces and the newcomers like Carter (Ethan Embry).

Genre(s):

Drama

,

Action & Adventure

,

Fantasy

,

Horror

,

Suspense

,

Science Fiction
Season 6 premiere date:

Oct 11, 2015

Episode Length:

60
Please enter your birth date to watch this video:
You are not allowed to view this material at this time.
Sunday's episode is exceptional, marred only in a few spots by padding that's inevitable with these supersized episodes.

By casting Rick's protagonist status into question, showrunner Scott Gimple has opened The Walking Dead to new possibilities--both in its narrative and philosophical foundations--and is successfully crafting a rare series of rising caliber and still-widening potential deep into its run.

As usual with TWD, it's hard to say where the season will go next. But judging by the premiere, it'll be worth the walk. [9 Oct 2015]

The show has constantly reinvented itself by both shifting venues and turning over characters, a formula that has kept the program's soap opera aspects fresh, even if the threat from marauding zombies remains continuous.

A complicated, and occasionally whimsical, series of tactics lend the 90-minute premiere the wide-open, yet tensely meticulous feel of a good heist film.

The Walking Dead in its sixth season premiere wants you to remember the nightmare started here, and this show owns it.

It still reigns supreme in the gore department, with skin and ribcages falling off with gusto in the opening minutes alone, but it's just not enough to counterbalance the circuitous nature of the show the longer it continues.
The show is actually getting better and better with every season now, I don't know what the heck helohe is talking about just another stupid

The show is actually getting better and better with every season now, I don't know what the heck helohe is talking about just another stupid troll trying to get score the lowered. Predictable? Yeah sure, you don't believe that either.

…

Expand

We are 3 episodes into season 6 and already I can say this is the best season yet. 3 very intense episodes so far with no signs of letting off

We are 3 episodes into season 6 and already I can say this is the best season yet. 3 very intense episodes so far with no signs of letting off in the foreseeable future. The production value has been noticeably improved along with the ambience of the series' setting. Looking forward to the next 13 episodes with abated breath!

…

Expand

The show manages to handle the beginning of a transition to the way things used to be quite remarkably. This season feels a tad off, but it

The show manages to handle the beginning of a transition to the way things used to be quite remarkably. This season feels a tad off, but it still continues to be amazing in character development, drama and god damn good action and gore

Rating - 92%

…

Expand

Honestly, the first half of The Walking Dead season 6 is absolutely awful, the story is poor, the plot never seems to move forward and it's

Honestly, the first half of The Walking Dead season 6 is absolutely awful, the story is poor, the plot never seems to move forward and it's just frustrating to watch. However the second half of the season slowly starts to improve, if only by a small amount. I have to say, the saviours storyline is much more interesting than just about everything else in the first half. The season actually ends very strongly, with a really intense, action packed, gut wrenching finale. The introduction of Jeffery-Dean Morgan's character is outstanding and despite the season overall being average at best this finale really got me excited for season 7.

…

Expand

Regrettably the series has side stepped the obvious plot developments. For example there is no mentioned of a short or long term cure, as

Regrettably the series has side stepped the obvious plot developments. For example there is no mentioned of a short or long term cure, as remember someone in a Paris disease research centre was "Closet", or someone in government somewhere in the world survived, to name but a few possibilities. Instead the show is unable to advance beyond the "Lets all continue on until the next big group attempts to murder everyone", plot line.

Further disappointment comes from the dialogue becoming increasingly thin and I wonder if the
series should not have been titled "You give us half your stuff". It is hardly awarding winning or involving dialogue, leaving the show to limp on like one of the very walking dead which inhabit the world it depicts

…

Expand

This review contains spoilers

, click expand to view

. The ending of this season was truly awful. We've been waiting over a year to find out who bites the bat, and then they give us a cliffhanger. All that did was server to piss the fans off, and destroy what should have been an emotional episode. Nobody will care in 6 months time. I give up on this show.

#FireGimple! The Walking Dead deserves a lead writer who is against cheap tricks, and one who can write believable characters.

…

Expand

bad performances, boring story and trash. direction and poor production. tiring and sleepy. I never come back to watch trash. this series is

bad performances, boring story and trash. direction and poor production. tiring and sleepy. I never come back to watch trash. this series is proof that success, not meant anything.

…

Expand