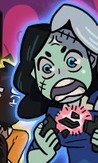 Summary:

You have 3 weeks to get a date for Monster Prom. Go through absurd and funny situations, raise your stats and seduce one of your classmates. Beautiful art, bold, unapologetic dialogue and hard choices make up this Multiplayer (1-4 players) Dating Sim. Be your worst self.
As someone who did not attend his own prom, something about Monster Prom just clicked and made me really invested into learning more about these monster young adults and their fates before the big dance. I found myself immediately starting a new session after a rejection in hopes of finally getting the monster of my dreams to finally say yes. The sheer amount of events and possible outcomes meant it would be hard for me to get bored.

I never would have imagined a multiplayer dating sim working, but boy, does Monster Prom work. It rests on a framework of superb character art and hilarious scenario writing, then goes several steps further to offer a challenging competitive experience and an addictive solo one.

Monster Prom is a dating sim that's ready to scare away the competition with drop-dead gorgeous art, killer writing, and music that's to die for.

Games Master UK

May 18, 2018

It's fun, with great art and enjoyable characters, but lacks narrative depth and gets repetitive. [June 2018, p.77]

Monster Prom's charm stems from its thematic elements. Fantastic interactions, its satirical narrative, and the monster theme offer a unique spin, even if it doesn't deviate all that much from known formulas. But, it does bring a little more to the table, a party for daters who are in it more for the ride than the destination.

Truly hilarious, brilliant dialogues are not enough to compensate for random, grind-oriented gameplay. [07/2018, p.74]

Monster Prom had so much potential and so much to offer that I couldn't wait to tear into it. And on a superficial level, it's an interesting experiment that I thought I would love. Unfortunately, just like the monsters you're courting, once you get to know it it's only a great-looking shell with some fairly rotten insides.
hours of possibly multiplayer ridiculous fun! it can be hard to figure out what quirks will really matter in this game, but it makes it that

hours of possibly multiplayer ridiculous fun! it can be hard to figure out what quirks will really matter in this game, but it makes it that much more rewarding when you finally get your date to the prom

…

Expand

This game is incredibly fun to play with friends, the characters are well written and the dialogue Is funny. Grab some friends and sit down to

This game is incredibly fun to play with friends, the characters are well written and the dialogue Is funny. Grab some friends and sit down to play this great game.

…

Expand

A delightfully fun game where pop culture references and sexy jokes are the norm are just my cup of tea. This new spin to dating sims that

A delightfully fun game where pop culture references and sexy jokes are the norm are just my cup of tea. This new spin to dating sims that gladly pokes fun at everything under the sun is a great way to spend your time. Me and my friends killed an afternoon playing it together and just laughing all the way through as one of them just fell in love with Miranda. It takes a while for you to learn how to actually play the game, but the exploration for secret endings is worth it.

…

Expand

a competitive dating sim, which other game as ever done something like this before? great party game for teens and adults alike. with a

a competitive dating sim, which other game as ever done something like this before? great party game for teens and adults alike. with a lovable cast of different monsters to date and not to date!. add in many possible outcomes, dialogues and hilarious humor and you'll have a blast for ages. the only downside is that the single player mode is really boring.

…

Expand

Funny game, based on Monster High's popularity. Sometimes humor is too stupid, but this game is really fun to play with friends. I like

Funny game, based on Monster High's popularity. Sometimes humor is too stupid, but this game is really fun to play with friends. I like collector system in game, hardness to get some characters and fiercely random.

Voice actors are **** sometimes, i'm terribly sorry. I know that it indie-game, but it will be better if they will not talking. Music is fine. Characters is not very inspiring but fine.

I don't think that game is 10 outta 10, but it's nice to play when you don't want to think much and want to chill.

…

Expand

Monster Prom has one major positive going for it but it is hampered by one equally major negative. The humour is some of the best I have ever

Monster Prom has one major positive going for it but it is hampered by one equally major negative. The humour is some of the best I have ever seen in a game. I loved the dialogue; the choices; and the events that happen in game. What I couldn't stand was the randomness of the game. I have done two play throughs of the game and tried to romance a different character each time and each time got rejected even though many of my interactions with that character were positive leading up to prom and I had high stats in areas they liked. The game does a very poor job letting you know where you stand with potential dates. Most of what I know about where to find them or what they like had to be guessed based on what little info you're given and even then didn't make sense with some of the reactions you get. It all seemed so random each time I played and not in a fun way. The art was great. The music and sound effects were all right but nothing special.

I played Monster Prom on Linux. It never crashed on me and I didn't notice any spelling issues or bugs. There were no graphics options. Alt-Tab didn't work. There was no save system at all. Each play through is pretty quick but this is still a terrible option for a game with as many choices as you make.

Graphics Engine: Unity
Input Used: Keyboard and Mouse
Disk Space Used: 3.0 GB

GPU Usage: 5-12 %
VRAM Usage: 1008-1072 MB
CPU Usage: 2-5 %
RAM Usage: 2.3 GB

Overall my love for what Monster Prom did right was nowhere near my hate for what I didn't like about it. I paid $5.39 CAD for it and while that is a fine price for the amount of content and replayability it didn't make the game more enjoyable.

My Score: 4.5/10

My System:

AMD Ryzen 5 2600X | 16GB DDR4-3000 CL15 | MSI RX 580 8GB Gaming X | Mesa 21.0.3 | Samsung 970 Evo Plus 500GB | Manjaro 21.0.5 | Mate 1.24.1 | Kernel 5.12.2-1-MANJARO

…

Expand