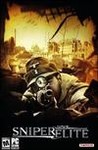 Summary:

In Sniper Elite, players assume the role of an American sniper, disguised as a German soldier and dropped into war torn 1945 Berlin by the American OSS to gather intelligence on the top-secret German Atomic research. If his mission fails, control of the world's Atomic technology will fall

In Sniper Elite, players assume the role of an American sniper, disguised as a German soldier and dropped into war torn 1945 Berlin by the American OSS to gather intelligence on the top-secret German Atomic research. If his mission fails, control of the world's Atomic technology will fall into the hands of Stalin and the Soviet Army, throwing the world's political climate into chaos. In the undercover mission, players utilize their sniper training to gain access to key positions by taking out machine guns, armored vehicles, guard posts and sentries through stealth and pinpoint accuracy. Like a true sniper, players must follow their wits and instincts and utilize both first and third-person perspectives to negotiate through 28 open-ended levels in war-torn Berlin. In taking aim at enemy soldiers, players need to consider gravity, wind speed, heart rate, breathing and posture to successfully hit their target in one of the most authentic sniping mechanics ever devised. Players can even take up the fight or go head-to-head with a friend in the cooperative or competitive offline play modes, or even engage in a game of worldwide cat-and-mouse with up to eight players online. [Namco]

…

Expand
Developer:

Rebellion

Genre(s):

Action

,

Shooter

,

Shooter

,

Third-Person

,

Tactical

,

Historic

,

Historic

# of players:

No Online Multiplayer

Cheats:

On GameFAQs

Rating:

M
Please enter your birth date to watch this video:
You are not allowed to view this material at this time.
Sniper Elite Official Trailer 1
Only the best of the best will see the final missions in Sniper Elite mode, but for the rest of us, Rebellion has created a remarkable, beautifully brutal WWII game that's smarter than the usual fodder lining game store shelves.

Its setting and antagonists are among the most frequently-used in the genre today, and frankly, neither of them add so much to the game that they couldn't've been removed. This could've easily been set in Baghdad or Somalia or some future city without compromising its gameplay.

Headshot heaven for FPS addicts. [Dec 2005, p.92]

A tense, sweaty-palmed experience that will appeal to your inner sniper. [Feb 2006, p.39]

Though Sniper Elite doesn't do anything revolutionary, it's still a fun game. But what happened to the cooperative mode?

The realism may turn off some run and gun gamers, but even those fans will have a hard time not appreciating what Sniper Elite brings to the table in terms of great and entertaining game play.

As it stands it's just a good game with a few very awkward parts.
Brilliant, I'm glad I have to think before I fire. I'm really looking forward to this!!

i had finished play it.. i like, as if i was a real sniper.. the graphic is outstanding, especially the slow motion effect, it;s kind a

i had finished play it.. i like, as if i was a real sniper.. the graphic is outstanding, especially the slow motion effect, it;s kind a realistic plot, so it make you can wait to move to next mission..

…

Expand

Highly underrated game. This is a first class shooter and probably the most realistic one ever. Tired of walking godlike through though other

Highly underrated game. This is a first class shooter and probably the most realistic one ever. Tired of walking godlike through though other games with all your armor/shields/suits providing you with all but immunity while your single shots take out legions of super cool but super weak opponents? Well in Sniper Elite a bullet will kill you and opponents won't just stand there waiting to be fragged. In this game you better keep your head down, move carefully, and make sure that your shots are carefully aimed, or you're toast and quickly so. Most of the bad reviews here are from kids who are used to blasting there way through hordes of 100 foot aliens without getting scratched. For them it is very frustrating when an enemy who you can see perfectly can also see you and who can fire their weapon just as accurately as you. And yes, if you fire a rifle, it can actually be heard from a mile away. And yes, you will be hunted down and killed if they can find you. The idea that a single soldier should easily be able to wade through a few dozen enemy soldiers every time is just a joke. Snipers in war have some of the highest casualty rates and so will you when you play this game, which I think is a good thing. The situation with some of the complainers here reminds me of paintball, where all the kiddies come out thinking they will be Rambo and then get pissy when they get taken out quickly over and over again. Anyway, this is a great game, I rank it right up there with Crysis as one of the best FPS sniper games ever. Highly recommended for those willing to face the realistically bad odds of a war zone.

…

Expand

YYea , at last a good sniper game, yes the balistics its good , like all the situation around the shot. it is a game for sniper, that mean

YYea , at last a good sniper game, yes the balistics its good , like all the situation around the shot. it is a game for sniper, that mean "stealth" machineguns are somehow more hard to handle, but silent pistol works well. Only one item i have to mark the distances appear to be more , than in real life. I.E. at 61 Mts long th head of soldierds appear more small that can be with a cheap short range scope(if i was the sniper i would complained ; ) But GREAT GAME

…

Expand

All round a good shot at a sniper game - excuse the pun The bullet physics are definitely very well done but the use of other weapons is

All round a good shot at a sniper game - excuse the pun The bullet physics are definitely very well done but the use of other weapons is quite poor. The handling of the non-scoped weapons is quite difficult barring the grenade throwing which is marvellous. It's amazing just how much the addition of right clicking to throw as opposed to left releasing to throw improves the action. All in all, despite it's minor flaws/limitations - which all games have - this is one of my favourite games which is providing me with some very memorable moments. Let's hope Sniper Elite 2 extends the appeal!

…

Expand

This game deserves 8 rating.Because ,this game should have better graphics like FEAR which was also released in same year.The length of game

This game deserves 8 rating.Because ,this game should have better graphics like FEAR which was also released in same year.The length of game is also satisfying.

…

Expand

My rating is strictly regarding the online games rooms, that suck out loud, because there are some gamers that make a game out of remote game

My rating is strictly regarding the online games rooms, that suck out loud, because there are some gamers that make a game out of remote game cheats etc......

…

Expand