| Evil Dead: The Game | Sniper Elite 5 | Kao the Kangaroo |
| --- | --- | --- |
| | | |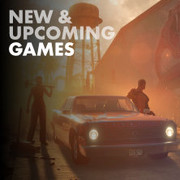 Find release dates, trailers, and scores for major upcoming and recent videogame releases for all platforms, updated weekly.
1.

The Stanley Parable: Ultra Deluxe

The Stanley Parable: Ultra Deluxe is an expanded re-imagining of 2013's The Stanley Parable. You will play as Stanley, and you will not play as Stanley. You will make a choice, and you will become powerless. You are not here to win. The Stanley Parable is a game that plays you.

2.

Paradise Killer

Paradise Island, a world outside reality. There's been a murder that only "investigation freak" Lady Love Dies can solve. Gather evidence and interrogate suspects in this open world adventure. You can accuse anyone, but you'll have to prove your case in trial to convict. It's up to you to decide who's guilty.

3.

Gran Turismo 7

From classic vehicles and tracks to the reintroduction of the legendary GT Simulation Mode – GT 7 brings together the best features from past installments of the series alongside the future. An even more realistic driving experience awaits thanks to haptic feedback, which brings to life what it's like when the tires hit the road. PS5's immersive 3D audio allows players to sense the position of other cars and drivers around them.

4.

Unpacking

Unpacking is a zen game about the familiar experience of pulling possessions out of boxes and fitting them into a new home. Part block-fitting puzzle, part home decoration, you are invited to create a satisfying living space while learning clues about the life you're unpacking. Over the course of eight house moves, you are given a chance to experience a sense of intimacy with a character you never see and a story you're never told.

5.

Crusader Kings III: Console Edition

Paradox Development Studio brings you the sequel to one of the most popular strategy games ever made. Crusader Kings III is the heir to a long legacy of historical grand strategy experiences and arrives with a host of new ways to ensure the success of your royal house.

6.

Kombinera

Control multiple colored balls simultaneously in this brain-bending puzzle platformer. It's up to you to combine every ball and complete each perilous level. Can you solve them all? Can you save King Kombine from the Kave of Kaos? Core Features: -Progress through 300 increasingly complex puzzles. -Encounter new hazards and abilities. -Replay levels to achieve best times. -Grab collectibles to unlock new levels -Vibrant neon visual style accompanied by ambient electronic audio tracks. -In-depth, complex, heart-tugging emotional storyline. -Accessible controls.

7.

LEGO Star Wars: The Skywalker Saga

LEGO Star Wars: The Skywalker Saga will feature hundreds of playable characters - the most ever for a LEGO Star Wars game - and ships, LEGO's signature sense of humour and fun, and new innovations, options, and gameplay features. Players can start the game at any point in the Star Wars timeline; fans can jump in with Star Wars: The Phantom Menace, begin the original trilogy with Star Wars: A New Hope, or launch right into Star Wars: The Rise of Skywalker. LEGO Star Wars: The Skywalker Saga marks the return to the franchise that kicked off the LEGO video game series. The game will give fans an all-new LEGO Star Wars experience with complete freedom to explore the LEGO Star Wars galaxy. With the Skywalker saga coming to an end, LEGO Star Wars: The Skywalker Saga will bring to life all those Star Wars adventures remembered and undiscovered in an epic culmination of all nine saga films as fans celebrate the closing of this chapter in Star Wars.

8.

What Lies in the Multiverse

What Lies in the Multiverse is a story-driven puzzle platformer filled to the brim with hijinks, chaos, and reality-bending adventure. Harness the power of the multiverse! Switch worlds in mid-air, turning pitfalls into bridges, walls into tunnels, and foes into friends. Just be careful when you mess around with gravity Embark on a journey across gorgeous pixel-art worlds, each with a unique parallel reality you can dive into at will. Explore temples, towns, harbors, the wilderness and more as you race to unlock the secrets of the Multiverse. Meet a vast cast of quirky characters: mad scientists, secret agents, sweet old ladies, enlightened monks, and a charismatic, reality-hopping genius named Everett, who promises to take you on a whirlwind adventure and is definitely telling you the whole truth about himself, yes siree, nothing suspicious there at all!

9.

This War of Mine: Final Cut

The Remastered Final Cut version for PS5 is finally here! In This War Of Mine, you do not play as an elite soldier, rather as a group of civilians trying to survive in a besieged city; struggling with a lack of food, medicine and constant danger from snipers and hostile scavengers. During the day you need to focus on maintaining your hideout: crafting, trading and taking care of your survivors. At night, take one of your civilians on a mission to scavenge for items that will help you stay alive. Make life-and-death decisions driven by your conscience. Try to protect everybody from your shelter or sacrifice some of them for longer-term survival. During war, there are no good or bad decisions; there is only survival. The sooner you realize that, the better. This War of Mine: Final Cut main features: - Inspired by real-life events - Control your survivors and manage your shelter - Craft weapons, alcohol, beds or stoves―anything that helps you survive - Make decisions―an often unforgiving and emotionally difficult experience - Randomized world and characters every time you start a new game - Charcoal-stylized aesthetics to complement the game's theme - All updates and free expansions added along the way to create the Final Cut

10.

Road 96

Summer 1996. Today is the day! You hit the road. Adventure. Freedom. Escape. Run. Flee the Regime. Try to survive. On this risky road trip to the border, you'll meet incredible characters, and discover their intertwined stories and secrets in an ever-evolving adventure. But every mile opens up a choice to make. Your decisions will change your adventure, change the people you meet, maybe even change the world. There are thousands of roads across the authoritarian nation of Petria. Which one will you take?