| The Lord of the Rings - Gollum | Street Fighter 6 | Diablo IV |
| --- | --- | --- |
| | | |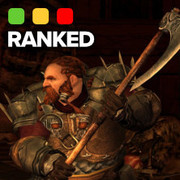 We rank every modern video game inspired by the Lord of the Rings books and films from worst to best by Metascore.
1.

Resident Evil 4

Resident Evil 4, 2005's legendary survival horror, is brought fully up-to-date in this ground-up remake. Six years after the events of Resident Evil 2, Raccoon City survivor Leon Kennedy has been dispatched to a secluded European village to investigate the disappearance of the US president's daughter. What he discovers there is unlike anything he has faced before. Every aspect of the classic game has been updated for the current generation, from modernized graphics and controls, to a reimagined storyline that may surprise even hardened fans of the original game.

2.

Walkabout Mini Golf

Escape into a fun and beautiful world filled with the best mini golf courses you've ever seen! Play by yourself, meet someone new, or challenge your friends in a private game with up to 8 people. Extremely realistic physics create the perfect experience for hardcore golfers and casual players alike. 8 unique 18-hole courses to master Unlock NIGHT MODE for more challenging versions of all courses Play solo, 1v1 online quick match, or create a private room with up to 8 players Extremely accurate physics feel just like the real thing Collect over 188 custom balls hidden throughout Solve treasure hunts on each hard course to earn special putters Supports cross-play Teleport and Smooth locomotion supported, as well as the ability to fly Additional DLC courses available for purchase Includes driving range, practice green and more! Custom avatars featuring lip sync, a quadrillion+ combinations

3.

Monster Hunter Rise: Sunbreak

Monster Hunter Rise: Sunbreak is an expansion to the original Monster Hunter Rise. Featuring improved gameplay and nimble-feeling additions to combat mechanics, unique new monsters and hunting locales, and a new difficulty level in the form of Master Rank quests. As the hunter who saved Kamura from calamity, you must now journey to the far-off reaches of Elgado, an outpost near a Kingdom beset by a sinister new nemesis -- the elder dragon Malzeno!

4.

Star Wars Jedi: Survivor

Star Wars Jedi: Survivor picks up five years after the events of Star Wars Jedi: Fallen Order. Cal must stay one step ahead of the Empire's constant pursuit as he continues to feel the weight of being one of the last remaining Jedi in the galaxy. Developed by the veteran team at Respawn Entertainment, Jedi: Survivor will expand upon iconic Star Wars stories, worlds, and characters, and thrilling combat first experienced in Jedi: Fallen Order.

5.

Humanity

A unique blend of puzzle-solving and action-platforming, HUMANITY puts the fate of all mankind in your hands. Er, paws. Did we mention you're a dog? You are a Shiba Inu charged with commanding massive, marching crowds to jump, turn, push, float, shoot, and climb their way to salvation. Guide the masses through 90-plus stages filled with obstacles, enemies, puzzles, unlockable skills, and wild boss fights in the narrative campaign, or browse a wide array of user-made levels (or build your own!) crafted via the super easy-to-use in-game Stage Creator.

6.

Live A Live

The legend is alive! LIVE A LIVE, originally only released for the Super Famicom in Japan, is being revived on Nintendo Switch! Experience this legendary RPG for the first time in the west, brought alive in the same HD-2D visual style as OCTOPATH TRAVELER and TRIANGLE STRATEGY. Meet seven heroes, each with their own unique abilities and lives to live across different time periods. Experience their stories in any order you choose, uncovering shocking developments along the way: * Prehistory: A tribesman comes of age in a world without words. * The Wild West: A wanderer with a bounty on his head fights for his life. * Imperial China: A kung fu master searches for a worthy successor. * Twilight of Edo Japan: A shinobi undertakes an important secret mission. * Present Day: A martial artist strives to become the strongest there ever was. * The Near Future: A youth with psychic powers takes a stand against evil. * The Distant Future: A newly built robot is swept up in a tragedy in space. Featuring remastered music from original composer Yoko Shimomura and produced by Takashi Tokita (the director of the Super Famicom version), this remake retains everything that players loved about the original game while also being accessible to newcomers.

7.

Anno 1800 Console Edition

Welcome to the 19th century, a time of industrialization, diplomacy, and discovery. Rich with technological innovations, conspiracies, and changing allegiances, this era presents the perfect setting for classic Anno gameplay. Anno 1800 provides players ample opportunity to prove their skills as a ruler as they create huge metropolises, plan efficient logistic networks, settle an exotic new continent, send out expeditions around the globe, and dominate their opponents by diplomacy, trade, or warfare.

8.

Citizen Sleeper

From the developer of In Other Waters, and featuring the stunning character art of Guillaume Singelin, Citizen Sleeper is a narrative RPG set on Erlin's Eye, a ruined space station that is home to thousands of people trying to survive on the edges of an interstellar capitalist society. You are a sleeper, a digitised human consciousness in an artificial body, owned by a corporation that wants you back. Thrust amongst the unfamiliar and colourful inhabitants of the Eye, you need to build friendships, earn your keep, and navigate the factions of this strange metropolis, if you hope to survive to see the next cycle. Inspired by the flexibility and freedom of TTRPGs, explore the station, choose your friends, escape your past and change your future.

9.

Atelier Ryza 3: Alchemist of the End & the Secret Key

Ryza and her friends are living their lives on Kurken Island when news of a sudden appearance of a mysterious group of islands in nearby waters arrives. To find a way to save her island, Ryza and her friends will set off on final adventure surrounding the "roots of alchemy." The stage for this adventure is a vast open field! The field is made up of multiple maps that are connected seamlessly. Enjoy this adventure in a vast and 'living' field that is one of the largest in the Atelier series. You can do many things with the key! Obtain various types of keys which can be used in different instances of exploration, synthesis, and battle. Each key has a different effect, so use it to enjoy the adventure conveniently!

10.

MLB The Show 23

MLB® The Show™ 23 gets you closer than ever to living your Baseball dreams on the diamond. Shock The Game and Own The Show™ with your favorite players, your favorite rivalries, and all your favorite MLB® moments.