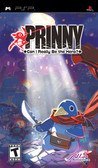 Summary:

Prinny: Can I Really Be the Hero? is a side-scrolling action game and will have you slashing your way through various Netherworlds.
It's an action game full of great characters, funny writing and plenty of floating platforms. Throw in some devilishly clever level designs and a non-linear story, and you have a game that you'll want to replay over and over again!

If you think you can handle the absurd difficulty of Prinny: Can I Really Be the Hero?, you'll have fun with it. The charming sprites and modest 3D backgrounds work well with the PSP and the music and voice acting is commendable.

The game is short if you're only into a single run-through, but all the unlockables and multiple endings give this game serious legs.

Prinny's a simple throwback title for gamers who simply like to have fun with their games. Good gameplay, graphics, and sound, along with a decent challenge make this one worth picking up.

Prinny: Can I be the Hero? is a complex platformer with burst of actions where the story is all based upon the Disgaea Universe, offers a pleasing experience for gamers. It is an innovative game of humongous difficulty and limited control, although there is a great sense of humor and a nice artistic touch.

It's not just Nippon Ichi fans who will love Prinny. Masochists will too. For them, the endless death and difficult platforming will taste as good as a vanilla milkshake on a summer's day. The controls, though, really do have the potential to put everyone off.

So, is Prinny worth it? Perhaps if you're into this hard-to-be-hard sort of thing. You masochist. But for the rest of us, the game is going to be too much of a pain to really enjoy.
I am sickened....... deeply sickened by you all. How can you give this game such a low rating just because it is difficult? You guys are a

I am sickened....... deeply sickened by you all. How can you give this game such a low rating just because it is difficult? You guys are a fucking disgrace to the gaming community. This game has great music, great gameplay, great humor and great action but you just sit there and bitch like a bunch of pussies that this game "is too hard." cry me a fucking river you pansies. You mother fuckers are so used to games like bioshock and gears of war and shit thats not even hard. just because a game is difficult, that doesn't make it bad. some people even went so far as to call it "masochistic." masochistic my ass, mother fuckers. you need to learn how to play a fucking game and then come back and make a review. until then, quit whining like a bunch of pussies and bashing a great game just because you have no gaming skill.

…

Expand

This game is pretty challenging, even in standard mode. Jumping seems to be a little bit awkward, but that's what you get for being a Prinny.

This game is pretty challenging, even in standard mode. Jumping seems to be a little bit awkward, but that's what you get for being a Prinny. Some of the bosses in this 2d platformer are pretty tough and unforgiving, but satisfaction guaranteed if you manage to beat the boss, even if you lost 50 prinnies in the battlefield. Luckily, the game gives you an army of 1000 Prinny soldiers at the beginning, so you probably have at least a hand full of them in the end. There are 2 game difficulties here: Standard and Hell's Finest. I chose the first, because I am a n00b. Standard mode gives you 3 hit points, while Hell's Finest is mocking you with a one-hit kill. I bought this game for 10 euro's (in the Dutch PSN store), and Prinny: Can I Really Be The Hero is one of the best PSP games I have ever played. And to answer Prinny's question: "Yes, you can really be the hero, dood!"

…

Expand

Destined to be overlooked and unloved, it'll be a little boxout in articles on the history of Disgaea. It deserves better, because,

Destined to be overlooked and unloved, it'll be a little boxout in articles on the history of Disgaea. It deserves better, because, though of an entirely different genre, it is the equal of its parent game. I don't think there's any higher praise.

…

Expand

Great, great game, really reminds me of the NES megaman series. I'm new to Disegea series, but this 2d/3d side scroller was great, great

Great, great game, really reminds me of the NES megaman series. I'm new to Disegea series, but this 2d/3d side scroller was great, great visuals, funny story and a game that was hard enough to make you feel like you accomplished something after beating it.
Truly one of the best PSP games I have played.

…

Expand

Hard as hell even on the normal difficulty, but that's what this masterpiece is about. You could play it hours and hours until your psp runs

Hard as hell even on the normal difficulty, but that's what this masterpiece is about. You could play it hours and hours until your psp runs out of battery, recharge it, and then repeat for several hours until the end, just to remember there's a harder difficulty level. The replay value is also great, and the asagi mode adds just the right spice

…

Expand

A pretty hard platformer with graphics that still hold up today.
easily one of the best games for PSP

The game itself is rather nice, with pleasing graphics and interesting music. However, the Jump controls are rather lazy, and really kills

The game itself is rather nice, with pleasing graphics and interesting music. However, the Jump controls are rather lazy, and really kills the game. Once you jump, you can't change directions. Since the prinny dies the moment it gets touched by almost anything in the game, it's just unfair. Hit an enemy? Dead. Landed on a statue? Dead. The difficulty is quite high, but one of the things that make these kinds of games fair is missing. POWER UPS. There is not a single power up at all. Besides that, the prinny only has one attack. It was a game with lots of potencial. Another thing to slap it in the face is it's length. With less than 15 levels in the game, it's very very short. In the end, it's a game with a lot of interesting promises, but everything just feels lazy, and incomplete. If you really want to find a good old-school platformer, go for Henry Hatsworth in a puzzling adventure for the DS. Much better.

…

Expand
| | |
| --- | --- |
| 31 | |
| 19 | #19 Most Discussed PSP Game of 2009 |
| 19 | #19 Most Shared PSP Game of 2009 |